'Hé, Rome is niet op één dag gebouwd hè.', een veelgehoord spreekwoord dat betekent dat alles zijn tijd nodig heeft. Te snel iets willen, is vaak niet heel verstandig. 'Rome in a Day' speelt op een leuke manier op dit spreekwoord in, omdat het een heel toegankelijk verdeel-en-kies-spel is dat hooguit dertig minuten in beslag neemt en duurt doorgaans minder lang. Een andere gelijkenis met het spreekwoord is dat er tegels neergelegd moeten worden (oftewel: er wordt gebouwd). Tot zover de gelijkenissen.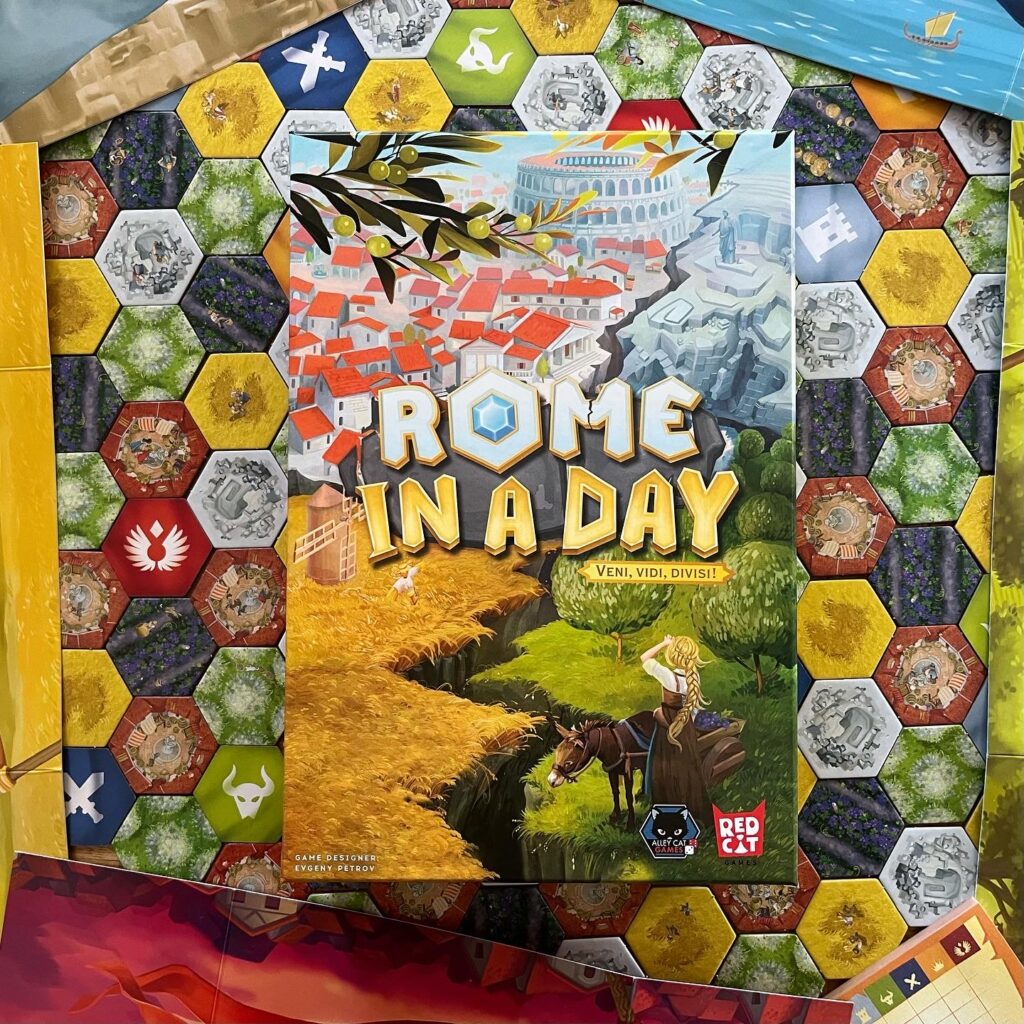 Iedere speler krijgt zijn eigen set tegels, twintig in het totaal. Op de tegels staan olijfgaarden, velden, wijngaarden, stadswijken en steengroeven. Daarnaast krijgt iedere speler een schermpje, twee keuzekaarten, een herinneringskaart, een bouwkaart (inclusief gebouwen!) en vier kristallen. Op de bouwkaarten moeten acht gebouwen worden geplaatst die overeenkomen met de plaatjes op de kaarten.
'Rome in a Day' (of 'Rome in about Twenty Minutes') wordt in vier rondes gespeeld. In een ronde pakt iedere speler vijf tegels en legt de bovenste twee gebouwen op de eerste twee tegels. Vervolgens pak je het scherm erbij waardoor je in het geheim twee groepen kunt maken van de vijf tegels. Voor de snelle rekenaar: er zal dus altijd één groep zijn met meer tegels dan de andere groep. Bij de kleinere groep plaats je één kristal. Dan wederom een geheime actie: je legt ofwel de keuzekaart 'groot' gedekt tussen jou en de speler waarvan je de landen steelt ofwel de keuzekaart 'klein'. Iedereen draait op hetzelfde moment zijn of haar keuzekaart om en pakt de groep die daarmee overeenkomt. Nu heb je een groep van jezelf en heb je een groep bij een ander weggepakt. De laatste fase is de uitbreidingsfase. In deze fase leg je alle tegels in jouw gebied. Doe dit tactisch, want dan scoor je de meeste punten en ben je (hopelijk) na vier rondes de winnaar en mag je jezelf voortaan Julius noemen? Nog een kleine gelijkenis erbij dan.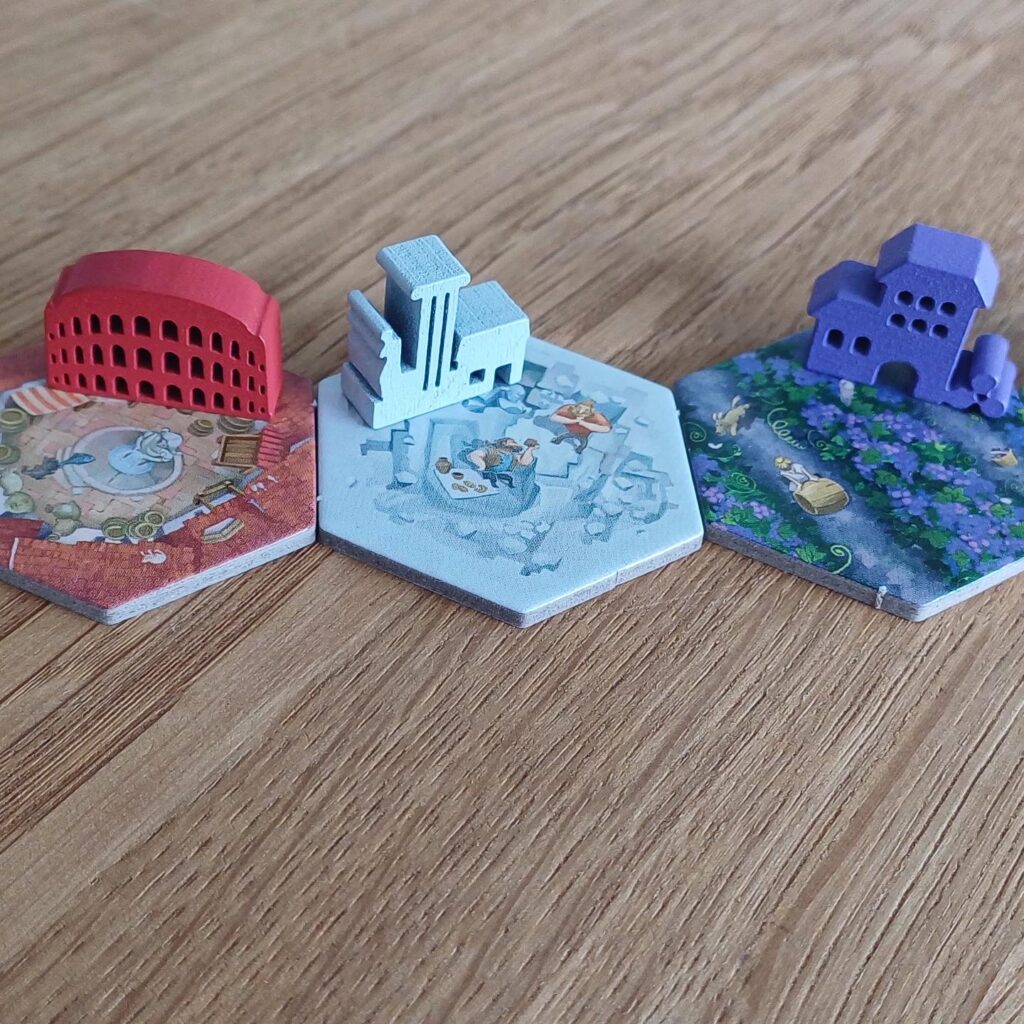 Hoe werkt de puntentelling? Er zijn twee manieren om punten te verzamelen: kristallen en gebouwen. Alle kristallen moeten worden opgeteld en op de bouwkaart is te zien hoe veel kristallen waard zijn. Zo krijgt de speler voor twee kristallen vijf punten en voor zes kristallen achttien punten. Ook de gebouwen zorgen dus voor punten. Als een gebouw op een bijpassende tegel staat of eraan grenst, dan levert dat per tegel een punt op. Het gebouw hoeft maar aan één tegel te grenzen om zo een keten aan punten te kunnen verdienen.
Ik zei het al, het is een toegankelijk spel dat niet al te lang duurt. Is het daarmee een snel tussendoortje wat je hoe dan ook maar een keertje speelt? Nee, dat niet. Het concept spreekt namelijk erg aan. Je zorgt er met jouw keuzes voor dat anderen punten verdienen, waardoor je niet alleen aan je eigen gebied kan denken. Daarnaast zijn de gebouwen leuk gemaakt (en stevig) en ziet ook de rest er gelikt uit. Voldoende tactisch element, maar ook goed uit te leggen voor nieuwe spelers. Gewoon een goed spel dus!