Moet er een partyspel getest en gereviewed worden, dan kom ik doorgaans in beeld. Wat dat betekent? Ik heb geen flauw idee, maar dat moet uitsluitend iets positiefs zijn. Als je het hebt over partyspellen, dan zijn dat altijd zeer toegankelijke spellen. Je krijgt ze makkelijk op tafel en ze zijn meestal sfeerverhogend. Als ontzettend fanatieke speler (iedere soort wedstrijd wil ik winnen), mag ik het eigenlijk niet zeggen maar wie er met een partyspel wint,is niet zo belangrijk. It's all about the ambiance.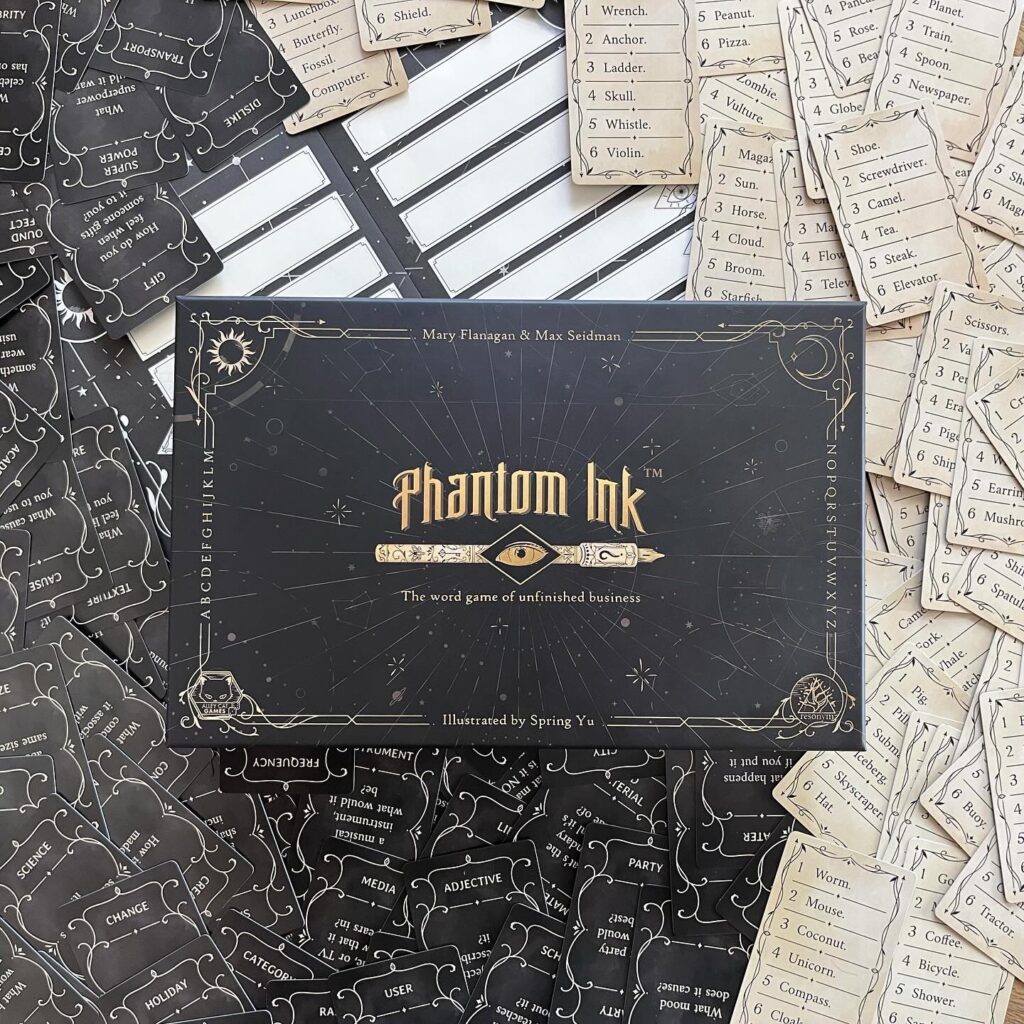 Phantom Ink is net zo'n spel. Hoewel, een hard core partyspel is het ook weer niet. Winnen is namelijk net even iets belangrijker dan bij bijvoorbeeld een Hitster of een Doodle Dash. Hoe het werkt? De spelers worden verdeeld in twee teams: een zonteam voor de sprankelende spelers die met veel enthousiasme tekeer gaan en een maanteam die dat niet heeft. In elk team is er één geest en de overige spelers van het team zijn mediums. De geesten pakken een objectkaart waarop meerdere woorden staan. Samen kiezen ze één woord. Dit woord moet door de mediums worden geraden.
Het is aan de geesten om ervoor te zorgen dat hun teamgenoten het juiste woord raden. Het zonteam begint en pakt zeven vragenkaarten. Het zal niet heel verwonderlijk zijn, maar op de kaarten staan vragen. Twee van de zeven kaarten worden aan de geest van het team gegeven. De geest kiest vervolgens één vraag die hij gaat beantwoorden. Het antwoord wordt op het speelbord/speelboekje op de eerste regel geschreven. Letter voor letter. Op ieder moment kan een van de mediums aangeven dat de geest niet verder hoeft te schrijven. Dit kan alléén door 'Silencio' (niet te verwarren met het gelijknamige bordspel) te zeggen, anders kan de geest niet stoppen, alsof hij bezeten is door een of andere hogere macht.
Nadat het zonteam is geweest, is het maanteam aan de beurt, en zo verder. In plaats van het beantwoorden van een vraag, kan een team er ook voor kiezen om het woord te raden. Als de mediums die keuze maken, dan moet een van de mediums aan de slag met het potlood om ook nu letter voor letter het woord op te schrijven. Als de letter goed is, klopt de geest twee keer op tafel. Is de letter fout, dan geen 'Silencio', maar een simpel handgebaar (ter vrije invulling, maar eigenlijk: één vinger opsteken) waardoor het medium stopt met schrijven.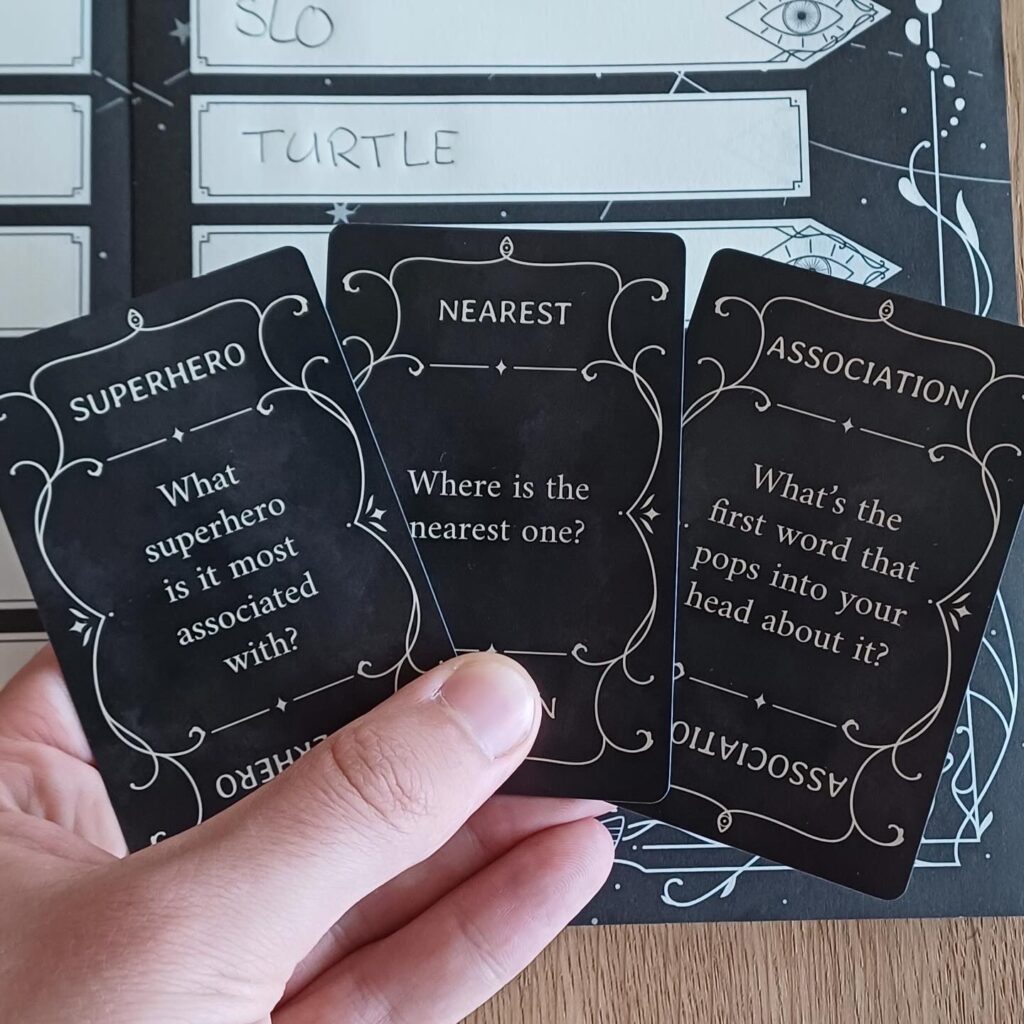 Let op: op sommige regels komt er een nieuwe spelregel aan bod. De allesziende ogen op het speelbord betekenen dat dat team, voordat de beurt begint, een van de spokenmag vragen om de eerstvolgende letter op te schrijven van één van de antwoorden.
Phantom Ink is een bijzonder partyspel als je het mij vraagt. Het thema is op zich leuk bedacht, maar het spelmechanisme spreekt mij nog meer aan. Ik houd ervan om met woorden bezig te zijn en als ik dat ook in een spel kwijt kan, is dat natuurlijk erg fijn. Maar een ruime vocabulaire is niet zozeer belangrijk. Het is belangrijker om creatief én tactisch te zijn. Sommige vragen sluiten totaal niet aan bij het woord dat geraden moet worden, dus word je gedwongen om out of the box te denken, en sommige vragen zijn juist perfect voor het te raden woord, maar je wilt ook het andere team niet te veel helpen. Beide teams zien immers welke antwoorden er worden opgeschreven (het andere team ziet natuurlijk niet de vraag). Goed bedacht en mooie uitvoering! Het gebruik van een potlood is dan wel weer discutabel in Phantom Ink.