Veiling! Hoor ik daar honderd? Hoor ik duizend? Eenmaal… Andermaal… Verkocht aan de man met de grote pinda's! Ben jij je gewicht in geld waard, of toch in pinda's of kamelen? Niet getreurd, want in Peanut Club van Lumberjacks Studio kunnen kamelen meer waard zijn dan geld! Sjacher jij de meeste veilingobjecten bij elkaar en combineer je de kleurenicoontjes het beste van iedereen? Dan pluk jij de (peul)vruchten!
In Peanut Club start iedereen met een nagenoeg willekeurige set kaarten, die bestaan uit pinda's, kamelen en miljoenen dollars. Ook kies je een karakter met een bepaalde bonus. Iedere ronde worden er een of meer objecten geveild en dienen spelers tegen elkaar op te bieden. Afhankelijk van de waarde van de veilingobjecten en je eigen doelstellingen wil je een bepaalde veiling juist wel of niet winnen. Of je wilt ervoor zorgen dat de ander veel biedt voor een net iets te goedkoop object…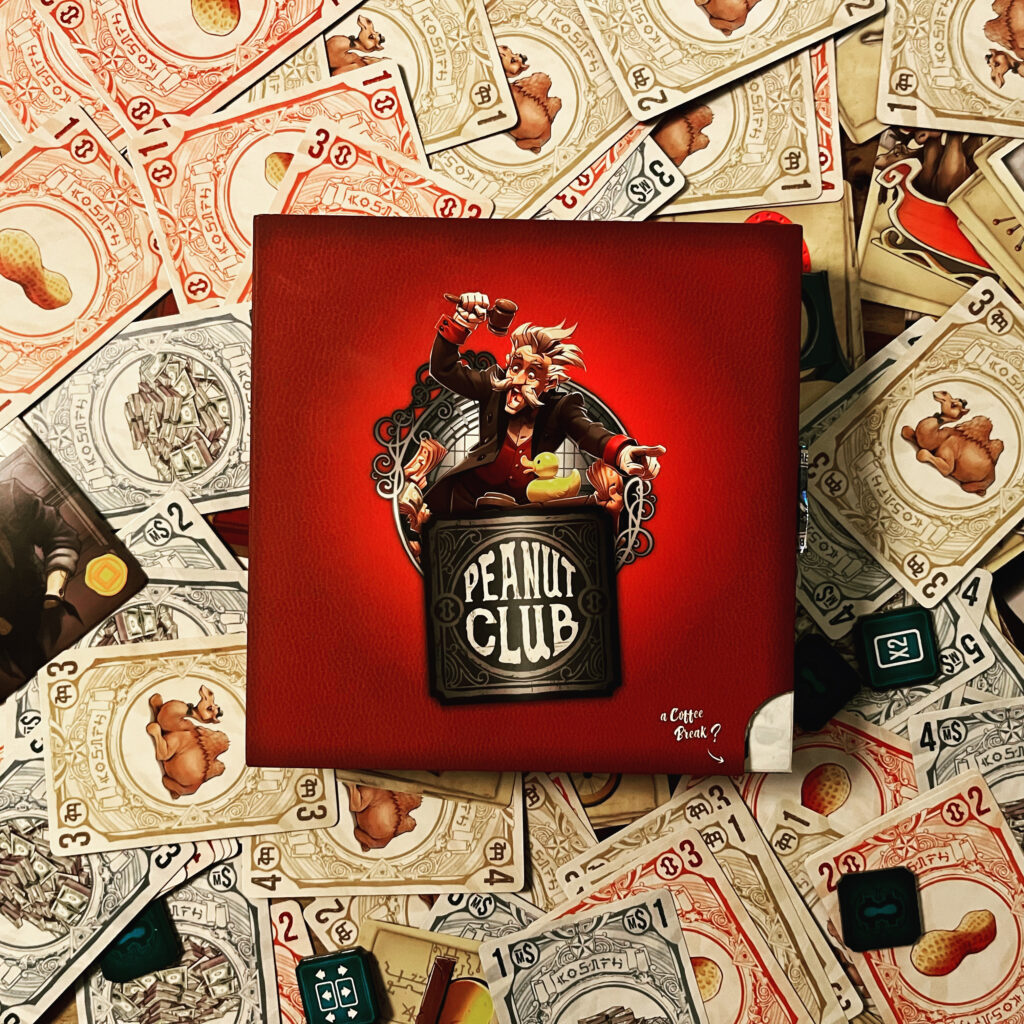 Ook heb je diverse krachten tot je beschikking die je 1 of 2 keer kunt inzetten. Zo kun je bijvoorbeeld ervoor zorgen dat pinda's meer waard worden dan miljoenen dollars, of toch de kameel het waardevolst maken. Ook kun je spelen met de waarde van je kaarten of de hoeveel kaarten die je moet afleggen.
Peanut Club is een tof biedspel met veel plezier, verhuld in een bijzondere naam. Heb je een leuke vriendengroep en vind je sluwe spellen met een bluf én tactiekelement leuk? Dan heb je met Peanut Club goud in handen! Of pinda's, of kamelen, of miljoenen dollars. Wat dan ook meer waard zou mogen zijn. Verkocht!