Krijg jij nooit genoeg van politieseries zoals Baantjes, Flikken Maastricht of CSI of andere detective thrillers? In Partners, een rollenspel geschreven door Steve Dee en uitgegeven door Tin Star Games, kunnen de twee spelers doen alsof zij de hoofdpersonages zijn van een politieserie. Spelers bedenken zelf de verschillende personages, hun achtergrondverhaal en het verloop van de verschillende scenes in de aflevering van hun zelfbedachte politieserie. Spelers hebben zelf de touwtjes in handen en hoeven dus nooit te wachten op een nieuw seizoen! Weten jullie de moord te verzinnen en ook op te lossen?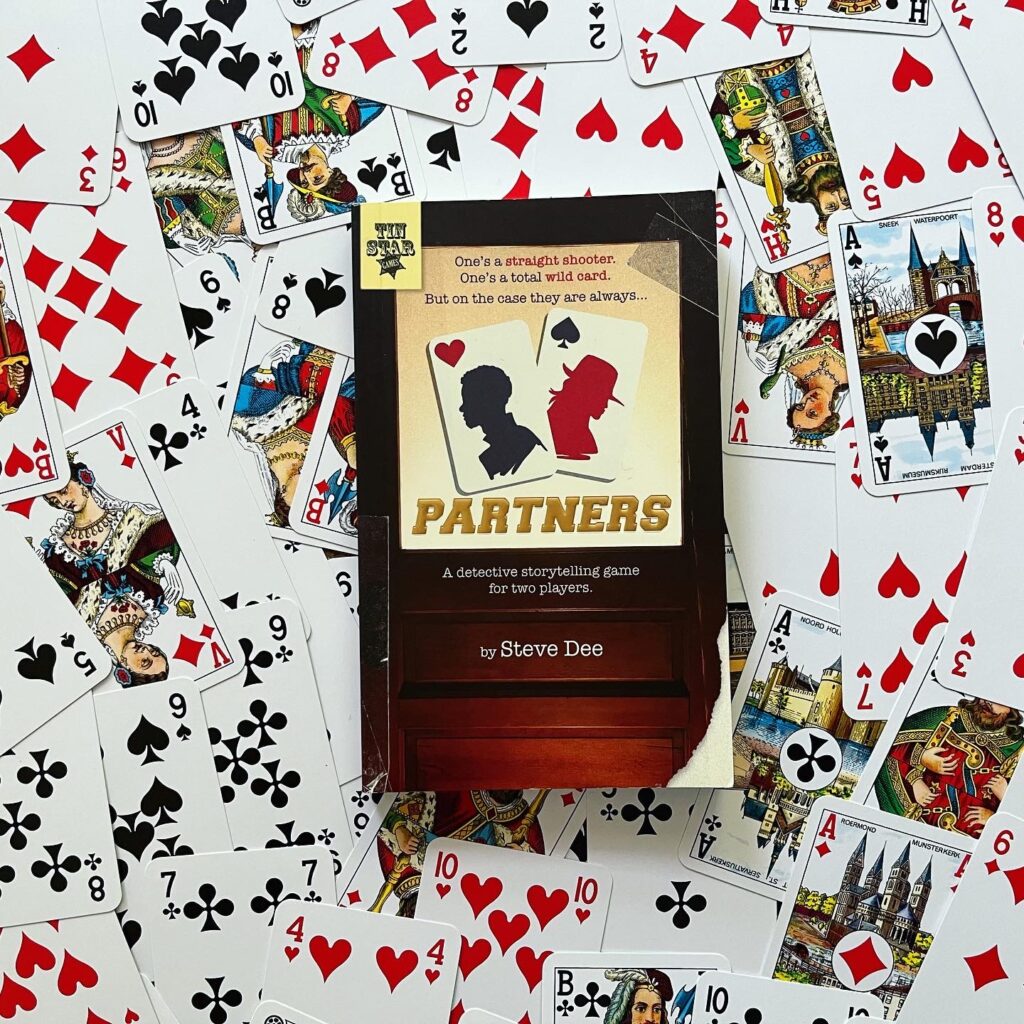 Partners is een rollenspel, denk als Dungeons & Dragons, Call of Cthulhu en Pathfinder, maar dan voor 1 of 2 spelers. In plaats van het gebruikelijke fantasiethema, waarin meerdere spelers op pad gaan om monster te bestrijden, laten spelers in Partner hun fantasie de vrije loop om misdaden te bestrijden. Met behulp van een pakje speelkaarten en een (online)n woordenboek gaan de spelers zelfs scenes schrijven en een moord oplossen. Spelers kiezen hun hoofdpersonages en ondersteunende personages en schrijven/bedenken voor elk personage een (kort) achtergrondverhaal. Een van de spelers neemt de rol aan van de straight shooter: een serieuze agent die recht door zee is. De andere speler is de onberekenbare wild card. De rol heeft een invloed op "speelstijl" en ook op het rollenspel.
Met de hulp van het pakje kaarten en willekeurige worden, worden de moord, het slachtoffer en verdachten samengesteld. Een bepaalde kaart trekken staat bijvoorbeeld gelijk aan beroep, motief, moordwapen, etc. om spelers op weg te helpen. Nadat het verhaal is gestart gaan spelers een series scenes spelen. In deze scenes worden onthullingen over de verschillende verdachten gedaan en gaan spelers discussiëren over deze onthullingen. In de laatste scene wordt de moordenaar onthult. De kaarten en de willekeurige woorden geven spelers telkens uitgangspunten voor deze scenes.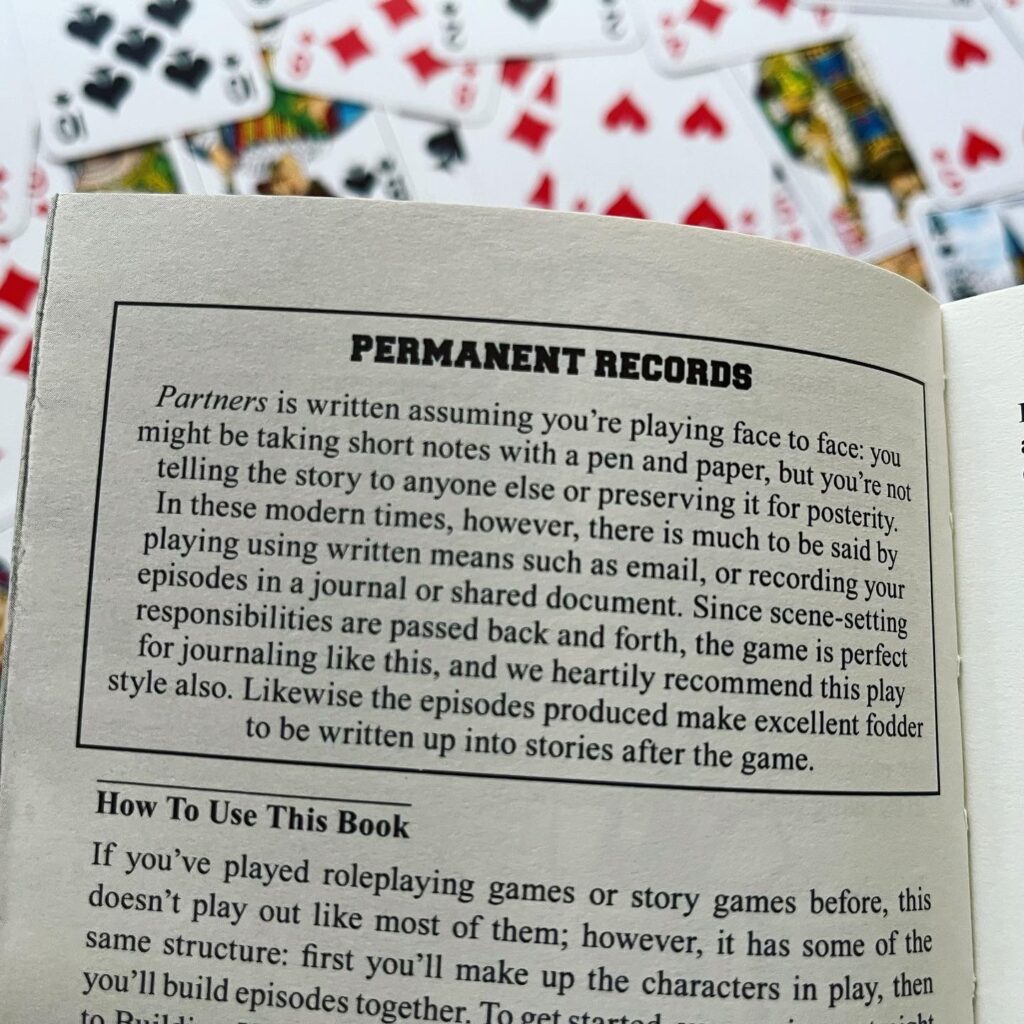 Partners is vrij puriteins rollenspel, hierdoor ligt de nadruk voornamelijk op creatief denken, acteren en gezamenlijk fantaseren. Het is hierdoor minder een "spel" dan andere rollenspellen die vaak wat meer gebonden zijn door een vast omlijnde set aan regels. Het boekje van Partners geeft spelers met name een leidraad voor hun zelfbedachte avontuur. Het boek leest erg prettig en geeft voldoende aanknopingspunten en hints voor spelers om op avontuur te gaan. Het boek zit tevens bomvol met grappige verwijzingen naar politieseries en popcultuur in het algemeen.
Aangezien het een rollenspel betreft, is het uiteraard niet voor iedereen weggelegd, maar voor liefhebbers van bijvoorbeeld improvisatiekomedie is dit perfect. Naast dat het een leidraad voor een rollenspel is, kun je dit spelsysteem ook gebruiken als middel om je eigen korte politieverhalen te schijven of te gebruiken ter inspiratie voor het opzetten van moordmysterie groepsactiviteiten.