In Next Station: London beleef jij hoe het is om een echte beleidsmedewerker of planoloog gespecialiseerd in het openbaar vervoer – specifiek het metronetwerk van Londen – te zijn. Dat klink wellicht niet extreem sexy, want zeg nou zelf advocaat of brandweerman spreekt nu eenmaal veel meer tot de verbeelding, maar ruimtelijke inrichting van het openbaar vervoer is ontzettend belangrijk. Autorijden is vaak slecht voor het milieu, snelwegen zijn grijs en saai en files zijn tergend langdradig: een gestroomlijnd metronetwerk is daarom van levensbelang. Eigenhandig zorg jij dat forensen eenvoudig en (hopelijk) tijdig naar hun werk, dates, dagjes uit en andere belangrijke zaken kunnen reizen. Ah planoloog, het droomberoep van elk daadwerkelijk fantasierijk kind. Laat je treinbaan maar eens staan en all-aboard, want we gaan het belang van de metrokaart aankaarten. Rijden jouw metro's op tijd of moet je gestrande reizigers gaan compenseren?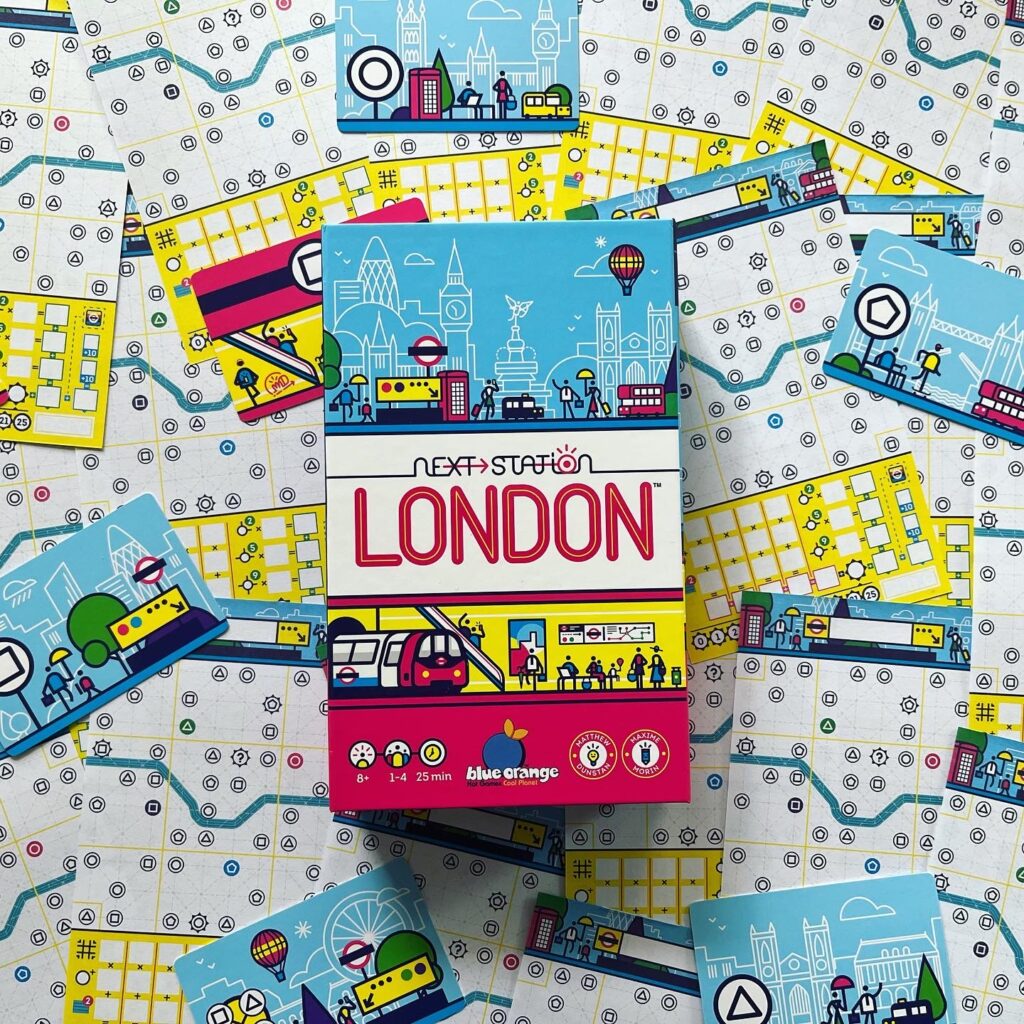 Next Station: London is een roll-and-write spel van Blue Orange Games waar spelers tijdens vier verschillende rondes in vier verschillende kleuren potlodenstreepjes op hun velletje gaan krabbelen. Elke ronde neemt een speler een ander kleurpotlood en iedere kleur symboliseert een verschillende metrolijn. Je hebt dus maar een ronde de kans om deze metrolijn goed in te richten door zoveel mogelijk stations in verschillende wijken te bereiken, toeristische hoekjes te bezoeken en spelers een ruime mogelijkheid te geven om over te stappen op een andere metrolijn. Door een lekker lijntjes te trekken, kun je veel punten scoren en is de overwinning de laatste halte en moeten je tegenstanders de laatste trein naar huis pakken, want de amicaliteit is een gepasseerd station.
Elke speler krijgt een velletje. Op dat velletje staan 13 wijken en meerdere stations (cirkels met symbolen). Elke ronde worden er verschillende kaartjes opengedraaid totdat er vijf kaarten in een specifieke kleur zijn opengedraaid. Je weet dus nooit exact hoe lang of kort een ronde zal duren. Op de opengedraaide kaartjes staan specifieke stations. Spelers mogen op hun kaartje vanaf een uiteinde van hun huidige lijn een rechte lijn naar het corresponderende station zetten. Spelers beginnen iedere ronde bij het beginstation in de kleur van het potlood waar zij die ronde mee spelen. Lijnen mogen elkaar niet doorkruisen, watch your step met het tekenen zodat je jouw volgende metrolijnen niet teveel blokkeert.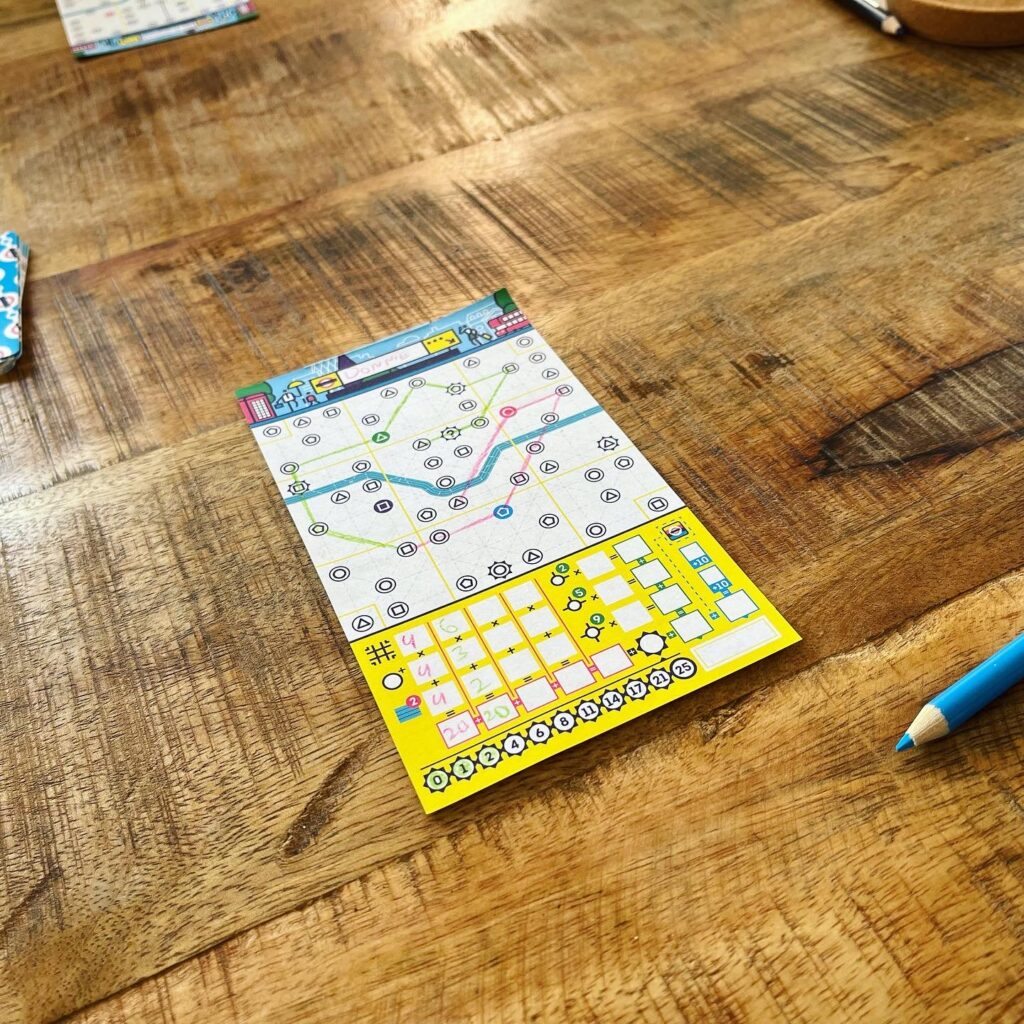 Next Station: London is een erg vermakelijk en in mijn ogen unieke roll-and-write. Doordat je in de vier rondes vier verschillende metrolijnen tekent, kun je enigszins voorruit gaan plannen, maar doordat de rondeduur onzeker is, kunnen jouw plannen flink falen. Spelers moeten dus enigszins een risico nemen om tot het beste resultaat te komen, maar ook voldoende opening houden voor een plan b: in tegenstelling tot de echte Londense metro: don't mind the gap. De structuur en opzet van het regelboekje zijn echter minder gestructureerd en als spoorboekje minder duidelijk dan je van het spel kan verwachten. Laat de opzet en omvang je echter niet afschrikken, want het spel is makkelijker dan reizen met een strippenkaart.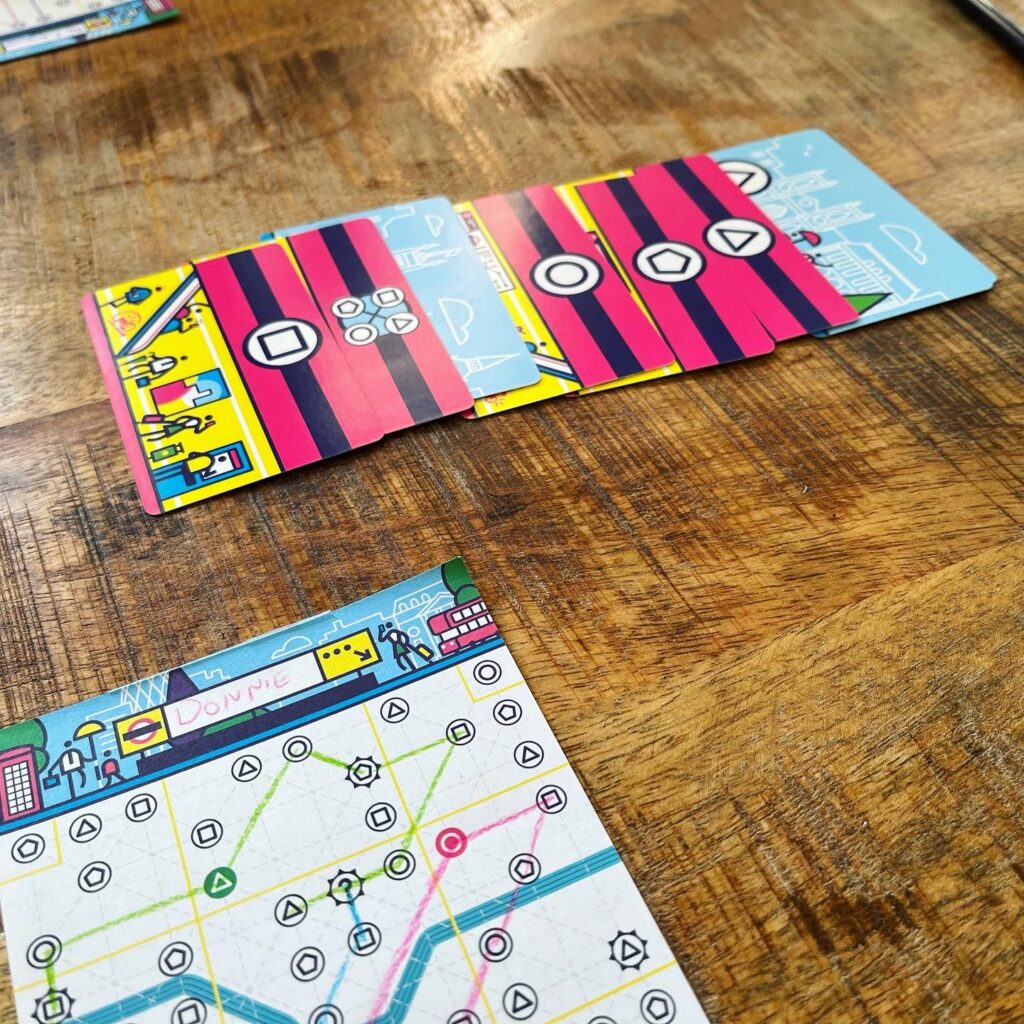 Verder zijn er meerdere mogelijkheden om punten te halen, maar vooral mogelijkheden om je punten te optimaliseren. Spelers behalen voornamelijk punten door verschillende wijken en stations aan te doen. Het is dus een enorme puzzel om jouw metrolijnen op de kaart zetten. De interactie met andere spelers is in dit spel vrijwel tot niet aanwezig. Dat pas wel bij het thema, want ook in het openbaar vervoer probeer je jouw medereizigers zoveel mogelijk te vermijden. Voor spelers die zoeken naar interactie zijn in de verkeerde trein ingestapt, maar voor liefhebbers van een goede puzzel is dit spel de (sub)way.