Richard Garfield is een bezige bij in onze bordspelwereldbol. Naast liefhebber van lasagne is Garfield namelijk ook de ontwerper van King of Tokyo, Bunny Kingdom, KeyForge, The Hunger en niet te vergeten: Magic the Gathering. Met Magic the Gathering heeft, onder andere, Garfield in 1993 leven gegeven aan trading card games. Met andere woorden: Garfield is de Walter White die miljoenen nerds verslaafd heeft gemaakt aan kartonnen crack. Met schuimende monden pakjes kaarten open scheuren in de hoop die ene bijzondere kaart te pakken te krijgen. Kaarten die duizenden euro's waard kunnen zijn. Zonder Garfield hadden we geen MTG, Pokémon kaarten, Yu-Gi-Oh of Hearthstone. Naast verslaving is Magic the Gathering ook een geweldig en uitdagend spel. Met Mindbug heeft Garfield (samen met Skaff Elias, Marvin Hegen en Christian Kudahl) weer een enorm leuk kaartspel voor twee spelers ontwikkeld: Mindbug!
In Mindbug stellen spelers geen deck met 60 kaarten samen, maar ontvangen zij 10 kaarten uit een standaarddeck voor een snel en vlot potje knokken. Spelers hoeven slechts 1 van 2 mogelijke handelingen te verrichten tijdens hun beurt: een kaart spelen of een aanval starten. In Mindbug spelen spelers hybride monster om hun tegenstander te verslaan, maar er is een twist: elke speler heeft tweemaal de mogelijkheid om een gespeelde kaart van een andere speler te stelen met zijn of haar mindbugs.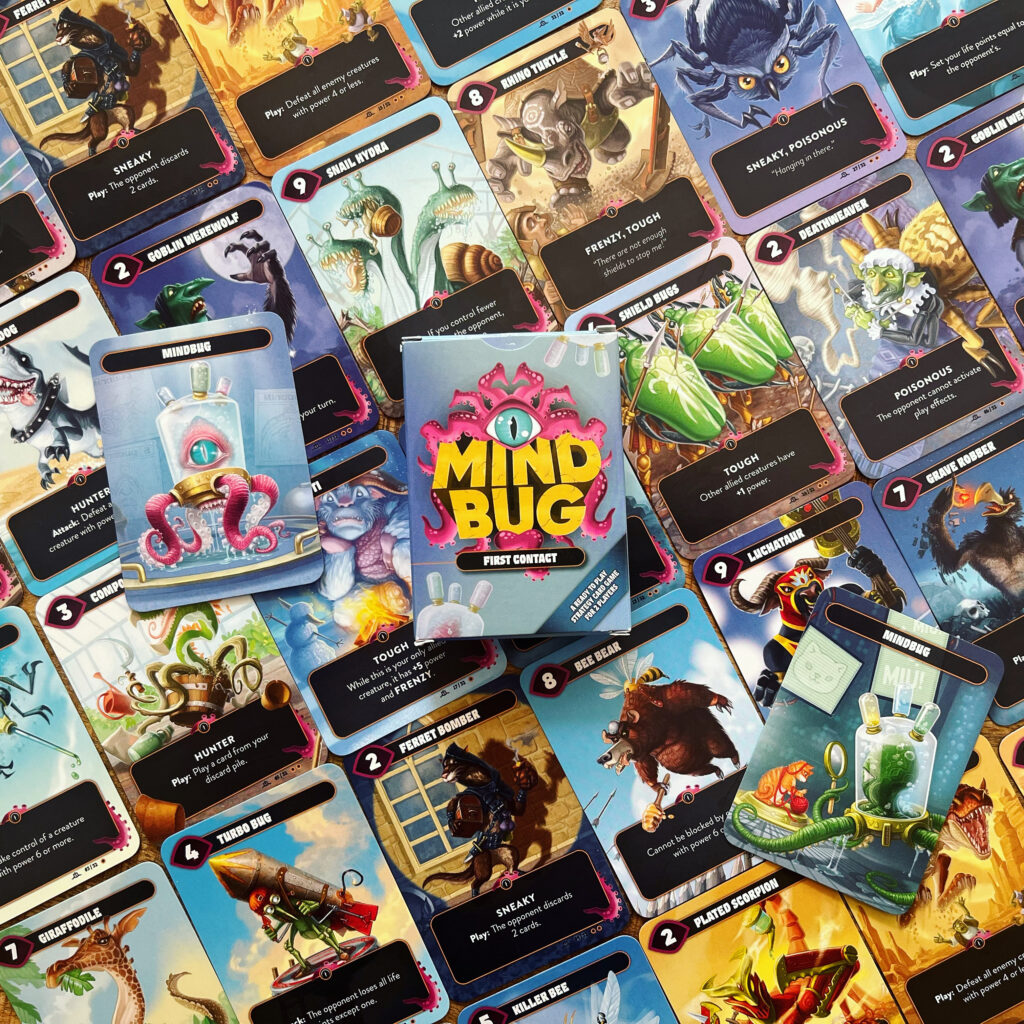 Door kaarten te spelen krijgen spelers nieuwe strijdkrachten maar kunnen zij ook mogelijk effecten activeren. Door aan te vallen kunnen spelers monsters van andere spelers verslaan en mogelijk wederom effecten activeren. Een speler die wordt aangevallen kan verdedigen met een van zijn of haar monsters. Het monster met de hoogste waarde wint, maar sommige monsters hebben speciale eigenschappen die het verloop van het gevecht kunnen beïnvloeden. Als een speler niet kan of wil verdienen verliest deze speler een leven. Zodra een speler al zijn of haar levenspunten heeft verloren is het spel afgelopen.
Mindbug is een heerlijk simpel en vlot kaartspel met bijzonder grappige artwork, scherpe tactieken en leuke combinaties. Een klein maar fijn spelletje dat gemakkelijk in elke tas past!