Als een ware Link die een van de guardians probeert te trotseren in Breath of the Wild gaan spelers de Mechanical Beast te lijf. Dit beest bestaat uit meerdere kamers die tezamen een puzzel vormen die spelers dienen te ontsnappen. Weet jij het beest te trotseren?
Achtergrond
Side Room Games ken je wellicht vanwege de commerciële en professionele uitgaves van solo games die hun oorsprong kennen in de print and play scene. Zo heeft Side Room Games eerder Black Sonata, Maquis en Orchard uitgegeven. Drie fantastische en unieke solospellen met kenmerkende thema's voor de solospelers onder ons. Mechanical Beast kun je met meerdere spelers doen, maar de solo variant is wellicht de beste manier om dit spel te ervaren en een groot voordeel, het speelt hetzelfde ongeacht de hoeveelheid spelers.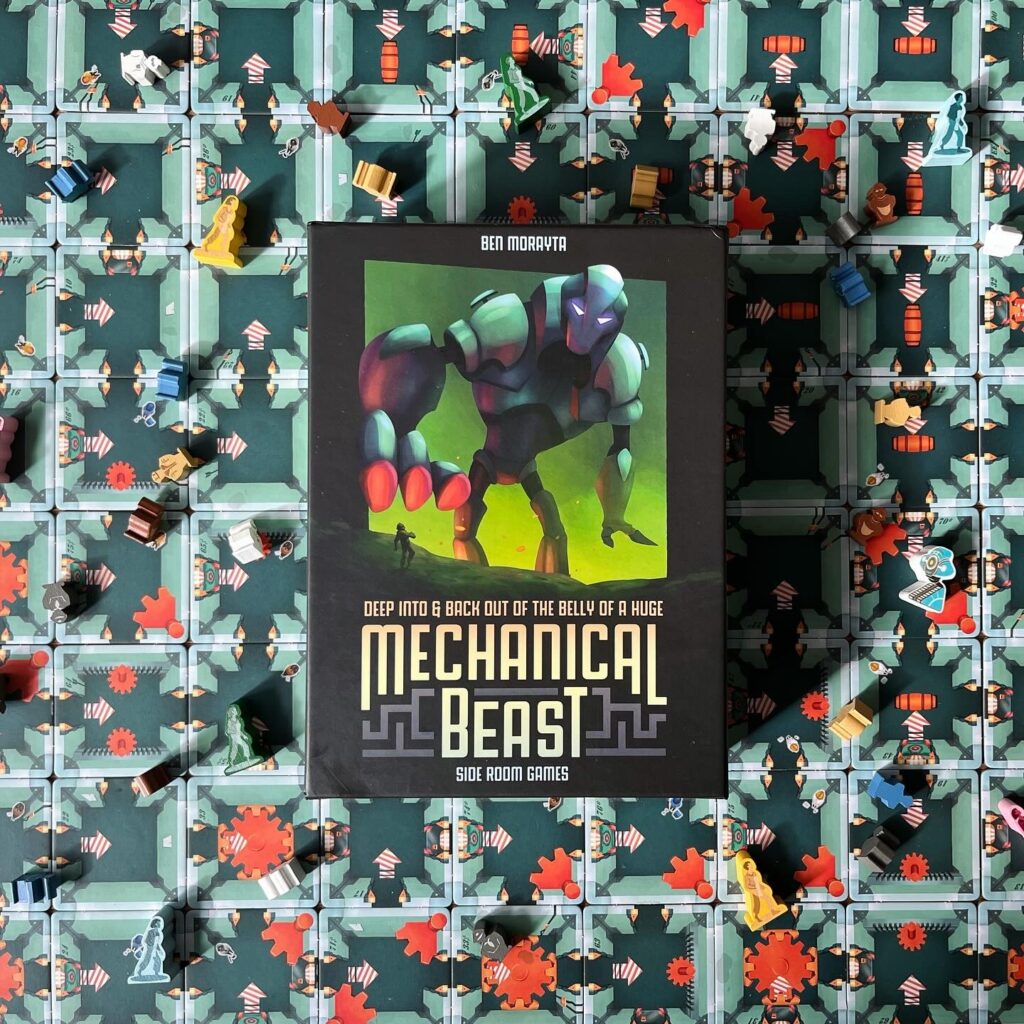 Spelers proberen in Mechanical Beast het titulaire mechanische beest te ontsnappen. Het beest bestaat uit verschillende kamers die spelers moeten ontdekken terwijl ze de uitgang zoeken. Deze kamers worden vertegenwoordigd door vierkante tegels die langzaam een tableau op tafel vormen. Sommige van deze kamers bevatten deuren die mogelijk onomkeerbaar zullen sluiten. Sommige kamers bevatten mensen die gered moeten worden. En tot slot: sommige kamers bevatten tandwielen de de spelers de kamers laat verplaatsen, schuiven en draaien om naar de uitgang te puzzelen.
Spelopzet en spelverloop
Aan het begin van het spel maak je trekstapel met de verschillende tegels (kamers). Sommige van deze tegels dienen door een bepaald deel van de stapel geschud te worden. Een houder zorgt dat de grote trekstapel makkelijk op z'n plaats blijft staan.
De ingang wordt in het midden van de tafel geplaatst en iedere speler plaatst een meeple in diens kleur. Daarnaast wordt ook een gezamenlijk robot geplaatst. Hopelijk geen gevalletjes Bishop van Alien of HAL van 2001 – A Space Odyssey.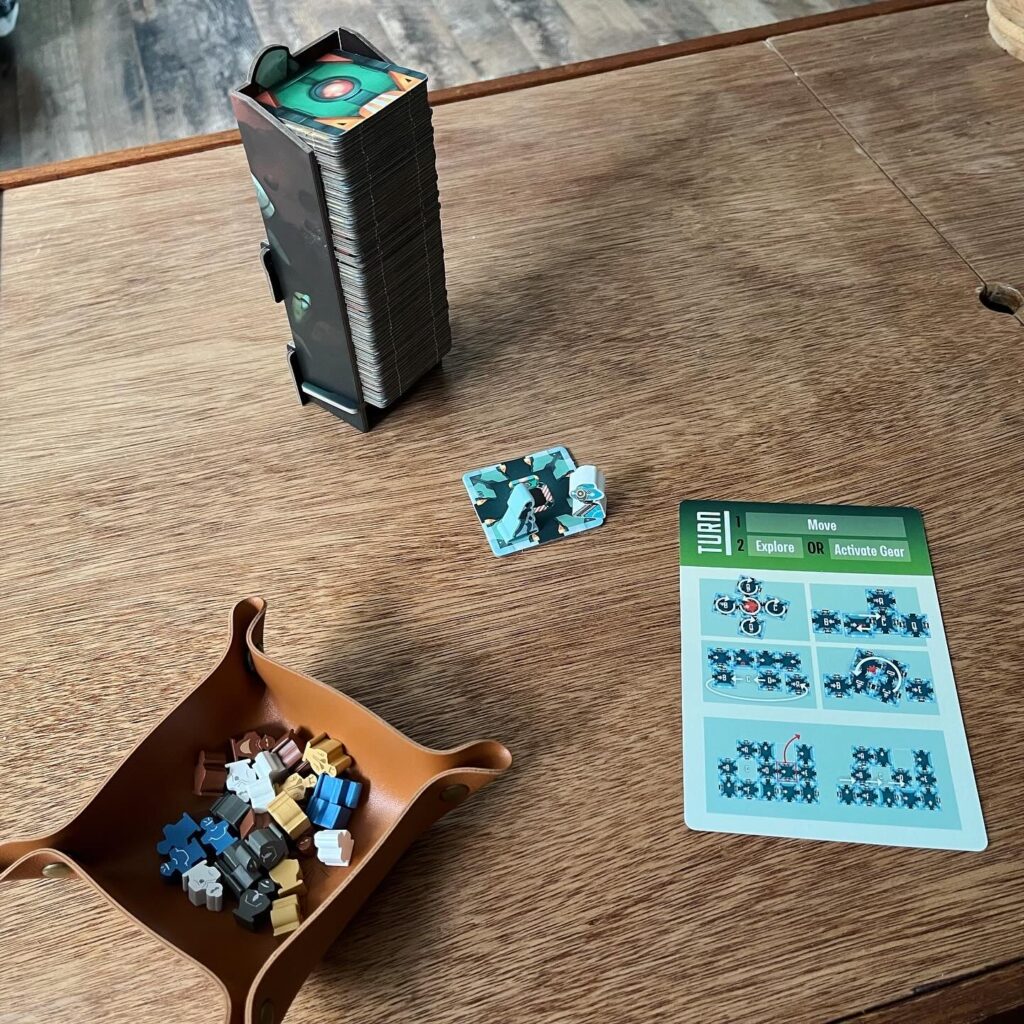 Elke beurt kun je verplaatsen (jouw eigen meeple of de gezamenlijke robot) over alle ontdekte tegels zolang er maar een ingang is en daarnaast een actie doen. Je kan een nieuwe tegel plaatsen en naar deze tegel verplaatsen. Sommige tegels bevatten mensen en dan dien je een meeple te plaatsen. Sommige tegels hebben andere effecten.
Je kan tijdens je beurt in plaats van ontdekken ook de tandwiel van jouw kamer activeren. Er zijn verschillende tandwielen met verschillende effecten, maar door tandwielen kunnen kamers draaien, schuiven, wisselen, etc. Hierdoor verandert het mechanische beest en speel je mogelijk nieuwe paden vrij naar de ontsnapping.
Op een gegeven moment activeer je de kill switch van de Mechanical Beast door een kamer te ontdekken. Nu dien je zo snel mogelijk te ontsnappen, want elke keer als iemand een (verder) lege kamer verlaat, stort deze kamer in. Het beest bezwijkt en de kansen om te ontsnappen worden kleiner. Weten jullie op tijd te ontsnappen? Je dient met alle spelers te ontsnappen en het liefst ook met de peperdure robot. Daarnaast dien ook alle aanwezige mensen te redden.
Conclusie
Mechanical Beast is een interessante puzzel met een hersen krakend mechanisme die veel ruimtelijk inzicht vereist. De effecten van de tandwielen zijn interessant, maar wel enorm pietepeuterig omdat je de tegels in het beest moet draaien, verplaatsen, etc. De tegels zijn kleiner en hierdoor ben je soms een beetje aan het prutsen met het vastpakken van de tegels en zorgen dat je de verschillende onderdelen niet omstoot. Ik raad spelers dan ook aan om wellicht wat ruimte tussen de tegels te laten.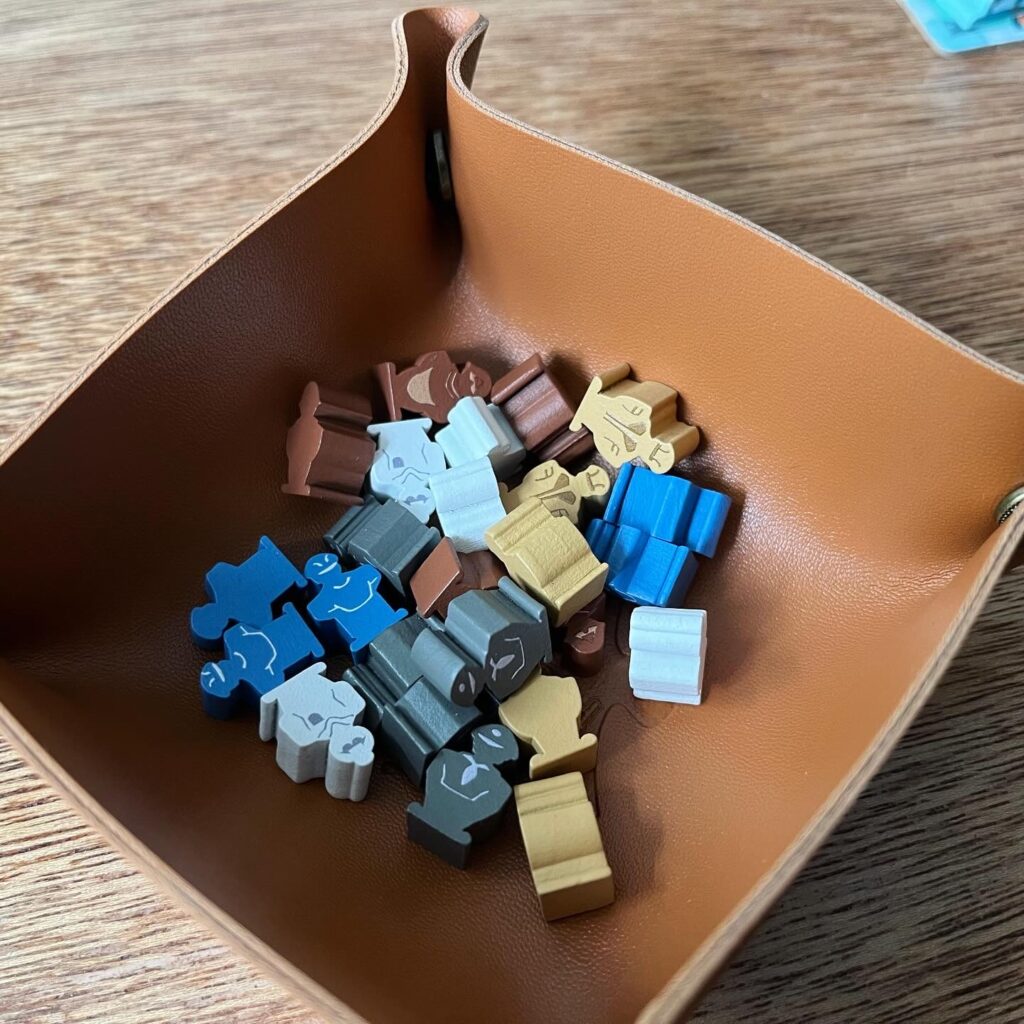 De tweede helft van het spel (nadat de kill switch is ontdekt) is een uitdagende race tegen de klok. Onverbiddelijk waardoor je de uitdaging graag wilt doorstaan. Als je het spel nog uitdagender wilt hebben, zijn er zelfs meerdere moeilijkheidsgraden.