Griekenland kent vele mythes en legendes. Deze mythes en legendes zijn tevens een populaire bron van inspiratie voor verschillende spellen. Al eerder schreef ik uitgebreidere recensies met bijpassende historische context over dit thema (zie bijvoorbeeld de recensie van Khora waarin ik de Oedipus tragedie op eigenzinnige wijze samenvat of mijn recensie van 300: Earth & Water over de Grieks-Perzische oorlogen). Deze oude Griekse verhalen zitten vol met drama, monsters, helden, steden en goden. Denk aan Herakles die 12 uitdagende werken moest verrichten, Perseus die de Gorgo Medusa letterlijk en figuurlijk een kopje kleiner wist te maken en de heldin Atalanta die jaagde op het Calydonische zwijn. In Legends of Hellas komen verschillende helden samen om tijdens 12 beproevingen verschillende monsters te verslaan. Ben jij een held of een lafaard?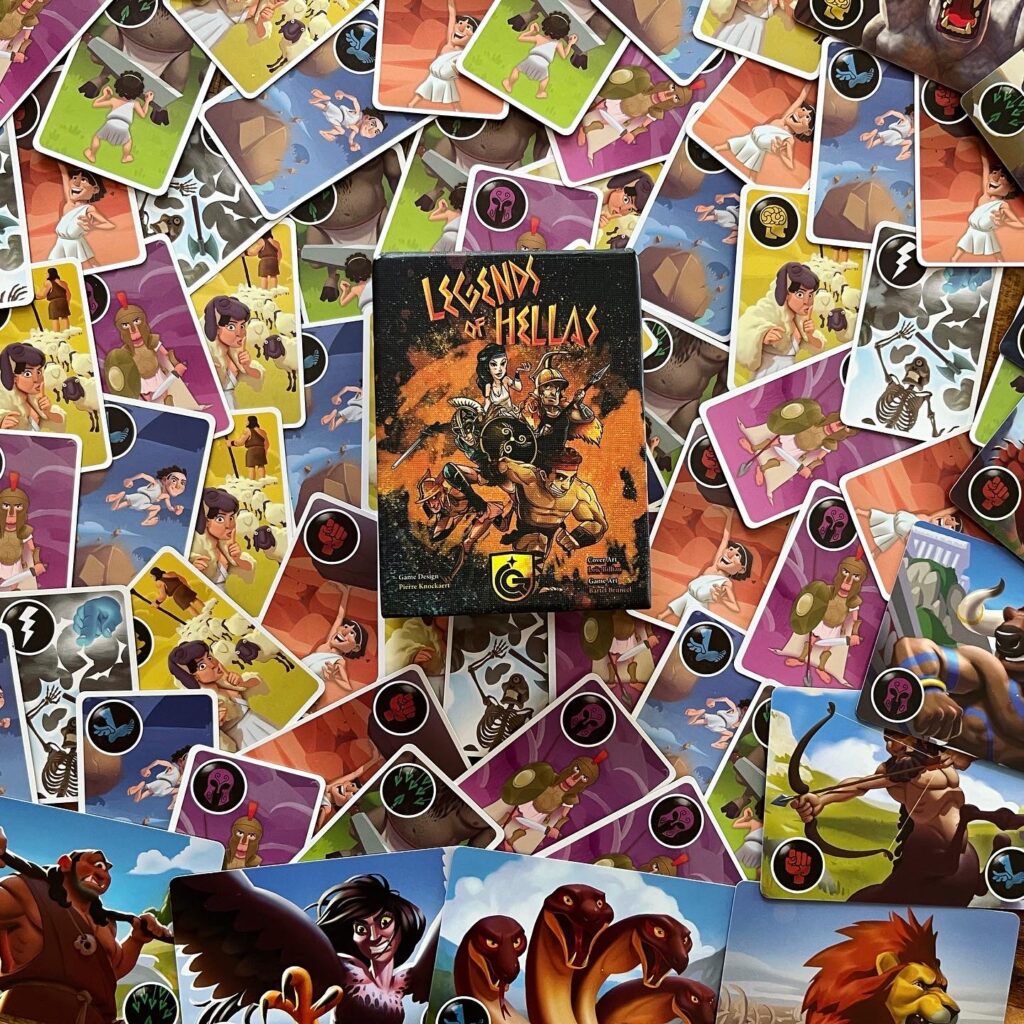 Legends of Hellas is een coöperatief spel van Quined Games. In Legends of Hellas beproeven spelers 12 uitdagingen in oplopende moeilijkheidsgraad. Tijdens een beproeving proberen 1 tot en met 5 spelers (ieder een held vertegenwoordigd door een houten fiche) gezamenlijk een set aan monsters te verslaan waarvan het laatste monster een Chimera is (een samentrekking van verschillende monsters). Elk individueel monster heeft een tweetal zwakke plekken en spelers proberen, door hun kaarten te spelen, deze zwakke plekken als een ware achilleshiel bloot te leggen voordat de algemene trekstapel leeg is.
Tijdens een beurt kan een speler een van de volgende acties verrichten:
– Vechten: een speler kan een actiekaart uit zijn of haar hand spelen. Door voldoende actiekaarten te spelen, kunnen spelers monsters verslaan. Ieder monster heeft twee zwakke plekken. Speel minstens 1 kaart per corresponderende kleur om het monster te verslaan. Met de "joker"-kaarten kunnen spelers een kleur naar keuze spelen of een monsters eerder verslaan als er al kaarten in de benodigde kleuren liggen. 
– Verplaatsen: spelers moeten naar monsters verplaatsen om deze monsters te verslaan. Om te verplaatsen moet de speler een handkaart afleggen.
– Herstellen: deze actie kunnen spelers gebruiken om hun handkaarten aan te vullen. De actieve speler trekt actiekaarten van de trekstapel tot deze speler weer 5 actiekaarten op hand heeft, daarna moet deze speler 1 handkaart afleggen. 
– Steun: met deze actie kun je kaarten aan een andere speler geven. Deze speler moet vervolgens wel een kaart afleggen.
– Het Orakel raadplegen: de actieve speler trekt de bovenste 6 actiekaarten van de stapel en legt deze kaarten open op tafel. Een van de kaarten wordt afgelegd en de andere kaarten mogen op een volgorde naar keuze terug op de stapel worden gelegd.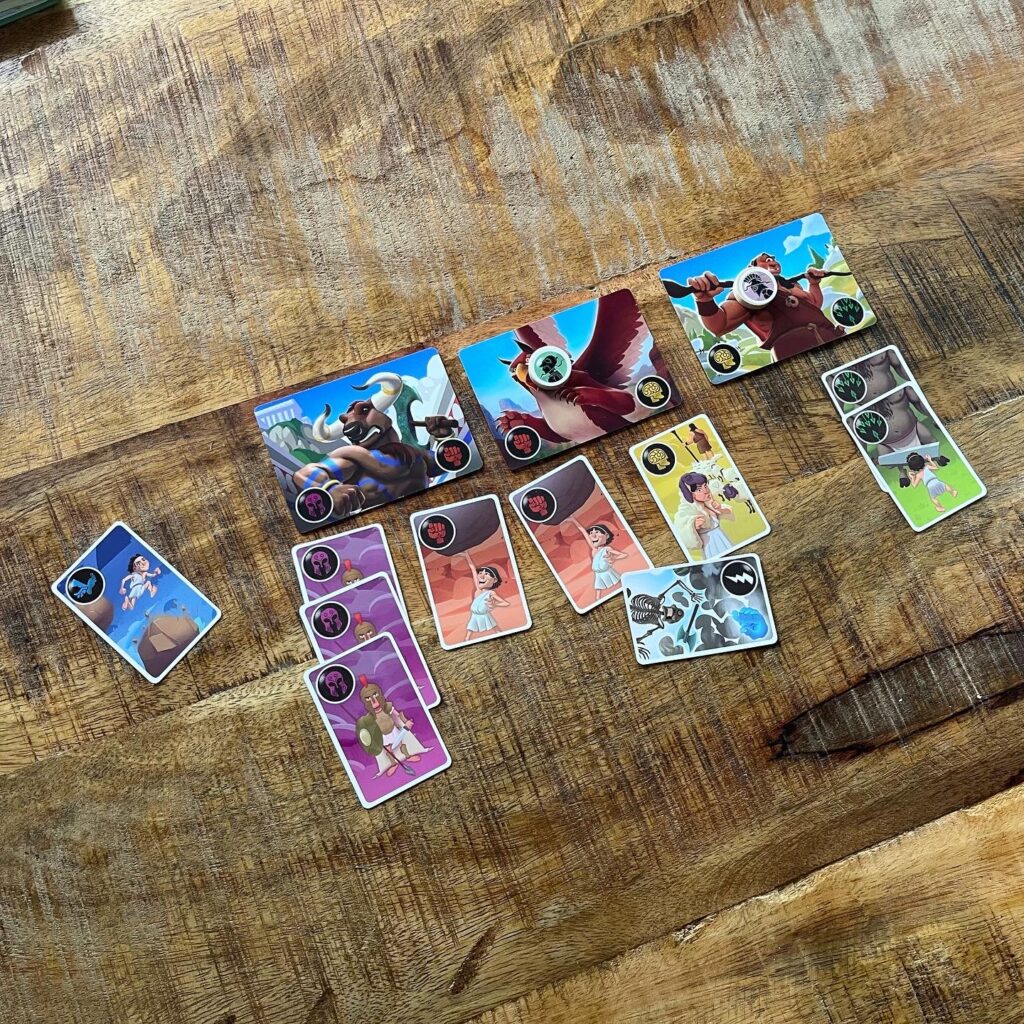 Iedere beurt worden er dus kaarten gespeeld of afgelegd. Het spel is verloren zodra een speler geen kaarten meer van de trekstapel kan pakken. Legends of Hellas is dus met name een race tegen de klok. Spelers winnen een beproeving als ze alle monsters weten te verslaan. In totaal zijn er 12 beproevingen. Elke beproeving kun je uiteraard zo vaak spelen als je wilt, maar het zorgt voor variatie in de moeilijkheidsgraad.
Legends of Hellas is een simpel coöperatief spel waarbij spelers vooral hun handkaarten dienen te managen. Ze moeten in de gaten houden welke monsters ze mogelijk nog moeten trotseren en welke kleuren kaarten ze hiervoor nodig hebben. Door de "verkeerde" kaarten of te vaak kaarten af te leggen, kunnen spelers zichzelf in het nauw drijven. Legends of Hellas is wellicht niet complex genoeg voor doorgewinterde spelers, maar voor liefhebbers van coöperatieve spellen is dit een klein en luchtig spel voor na het eten of aan het einde van een avond.