KLASK! Als je dat geluid hoort weet je dat je scoort in dit behendigheidsspel dat niet misstaat op een feestje, een familie- en/of vriendenweekend, in een barretje of gewoon tijdens een gezellige spelletjesavond. Hou je van tafelvoetbal, crokinole, air hockey of sjoelen dan zal KLASK je ook bevallen.
Achtergrond
Wat een beetje Viking nijverheid al niet kan bereiken. De Deense timmerman met de Deenste naam ooit (Mikkel Bertelsen) bedacht tijdens zijn vrije tijd in zijn werkplaats een tafelvoetbalachtig spelletje, waarbij je met wat sterke magneten een pion kon bewegen om een balletje over te schieten. KLASK was geboren en nadat hij het spel lokaal weg wist te zetten bij vrienden, werd het na wat mond-tot-mondreclame al snel populair in Denemarken en de rest van de wereld. Mikkel wist in het eerste jaar met de hand maar liefst 3000 spellen in elkaar te timmeren.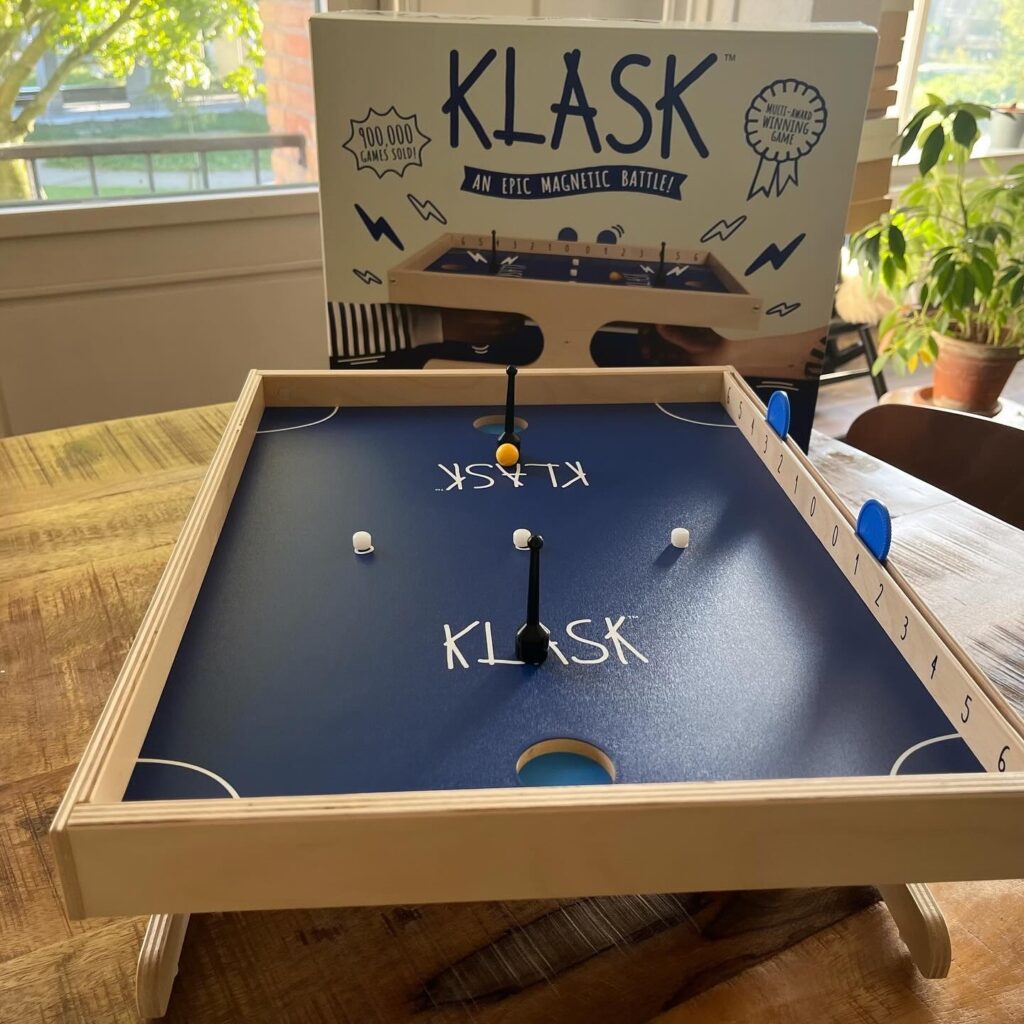 Fervente lezers weten dat wij van behendigheidsspelen houden. Anders schreven we natuurlijk ook geen blog over dit onderwerp. Crokinole is bij ons ook vaste prik op feestjes en ik heb zelf al heel wat potjes tafelvoetbal gespeeld. Ik was daarom al langer geïnteresseerd om eens KLASK te proberen.
Spelverloop
Zet de tafel klaar, plaats de pionnen op het bord en de magnetische hendeltjes onder het bord. Leg de drie witte blokjes in het midden en spelers zijn klaar om het gele balletje af te trappen.
Bij veel spelletjes op feestjes moet je je handen boven tafel houden om het enigszins kindvriendelijk te houden, maar bij KLASK gaan de handjes wel onder de speeltafel. Spelers gebruiken het hendeltje om hun pion te bewegen en het balletje naar de overkant te tikken, maar ze kunnen op meerdere manieren scoren.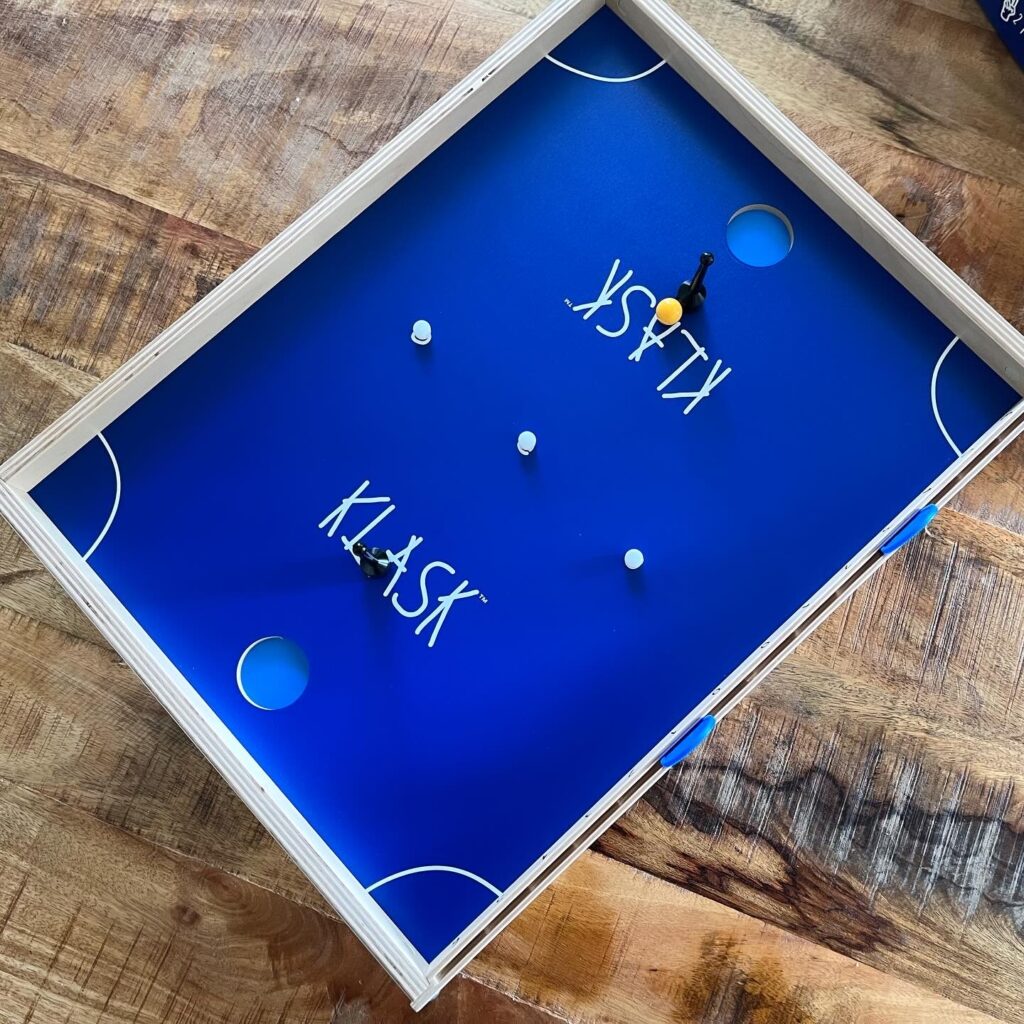 Spelers kunnen scoren als hun tegenstander twee witte blokjes aan diens pion heeft hangen (door de magneten). Spelers kunnen ook scoren als de tegenstander de pion laat vallen en niet meer overeind weet te krijgen of de pion in hun doel laat vallen. Natuurlijk krijg je ook een punt als het balletje in het doel van je tegenstander blijft zitten. Eigenlijk scoor je dus een punt als je aan de overkant "KLASK!" hoort!
Conclusie
KLASK is een heerlijk simpel spelletje met voldoende diepgang en behendigheid. Je kan kan je focussen op scoren, maar je tegenstander uit de tent lokken met snelle bewegingen of door de witte blokjes op die speler af te sturen zijn ook erg bevredigende manieren om te winnen. Met 6 punten op de teller win je! Een dingetje: daarna wil je nog een potje en daarna nog een potje en daarna nog een potje en daarna nog een potje…