Eeuwen geleden, in een land hier ver vandaan, was er een heuvel met vallei omringt door 4 koninkrijken. De 4 koninkrijken werden geregeerd door 4 koningen naarstig op zoek naar onderdanen om behagen en te regeren en uiteraard ook belasting bij te innen. Om als koning te rijk te zijn en te leven en wonen met gouden tronen en met juwelen bedekte kronen ofschoon hun armoede niet te laten tonen en dus wel dikwijls zichzelf onbezonnen te belonen. De inwoners van het land doolden doelloos rond door berg en dal op zoek naar sturing en leiderschap. Iedere koning zag derhalve zijn kans schoon om deze zielen die daar doelloos zwerven voor eigen gewin uit het dal te werven. Moge het beste hof winnen, maar om koning van de vallei te worden, moet je bergen verzetten. Rekruteer onderdanen, in belasting en speel slim om in jouw kasteel de beste koninklijke canon aan keuzes te verzamelen. Wordt jouw overwinning gekroond of gaat jouw strategie bergafwaarts?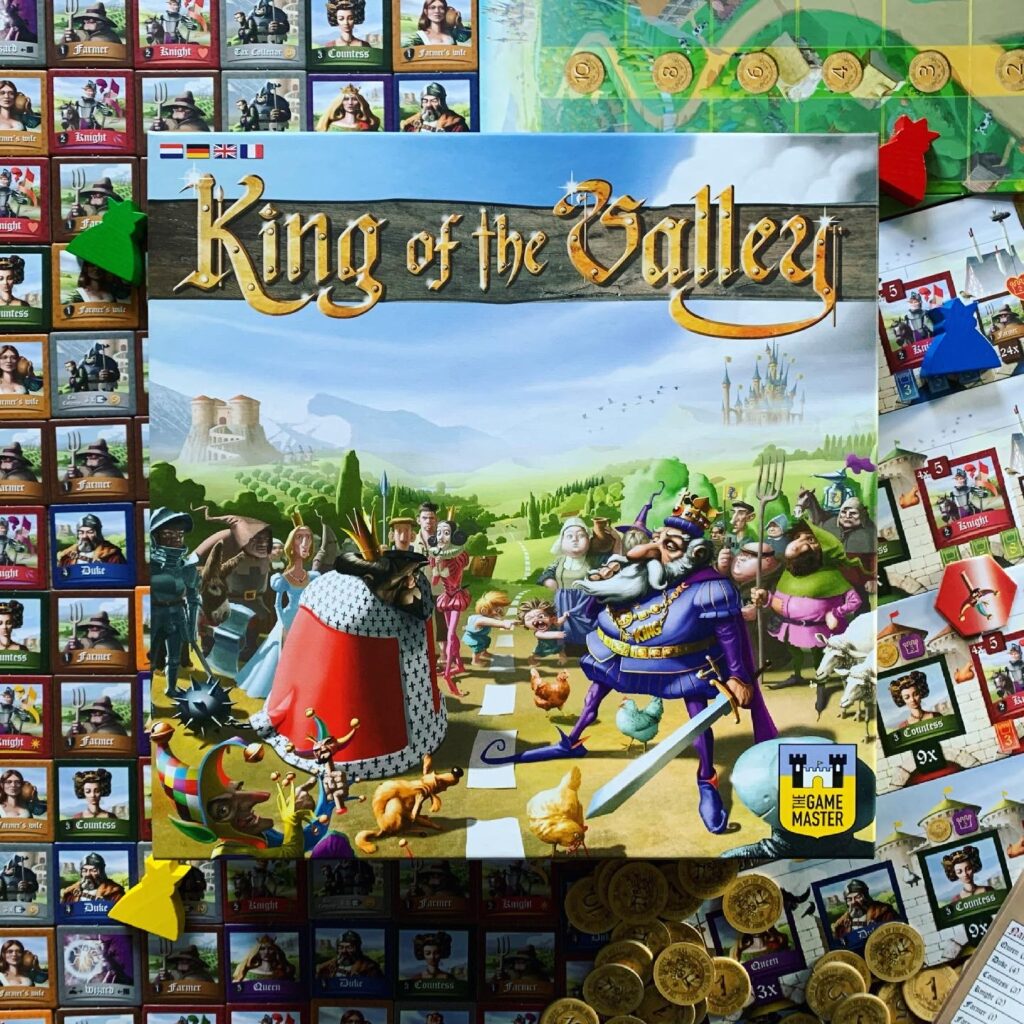 King of the Valley is het nieuwe spel van Nederlands spelauteur Hans van Tol. De komst van dit nieuwe spel kondigde we lang lang geleden (in mei) al tijdens onze podcast aan, maar eens moest het spel gepubliceerd worden. Adel verplicht. In King of the Valley strijden spelers om de onderdanen in de vallei (een grid van 25 onderdanen in de vorm van tegels) en de heuvel: een letterlijke kartonnen helling waar spelers onderdanen kunnen rekruteren door in hun buidels te tasten.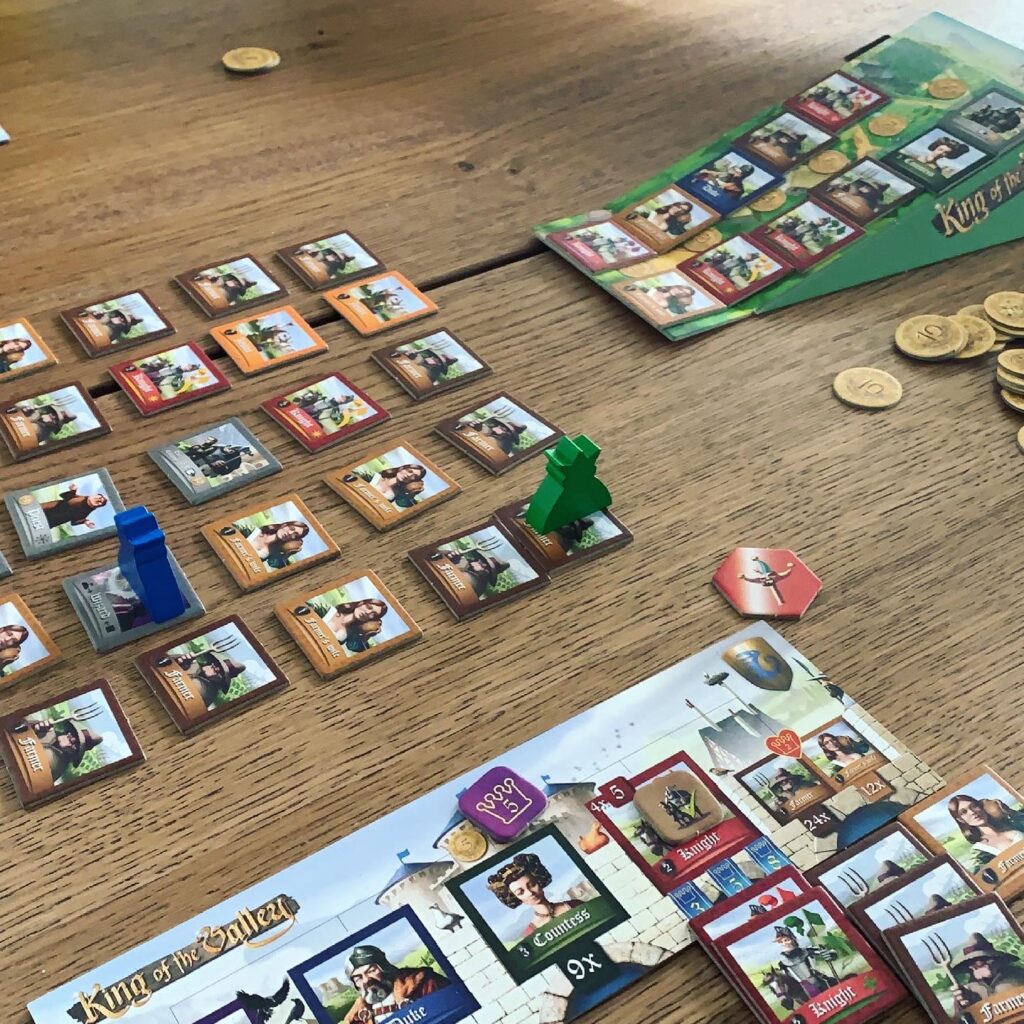 Tijdens een beurt mag een speler rekruteren van de heuvel door de benodigde goudstukken af te leggen. Vervolgens mag deze speler zijn of haar koning over het grid verplaatsen en onderdanen naar diens kasteel te lokken of speciale personages activeren om acties te verrichten. Met verworven onderdanen verdienen spelers punten aan het einde van het spel. Een koningin levert veel punten op, maar er zijn er slechts een paar van in het spel. Door juiste combinaties met ridders te maken, kun je flink scoren en ook door setjes boeren en boerinnen te koppelen, kun je bonuspunten verdienen. Setjes met verschillende onderdanen kunnen tevens worden gebruikt om eenmalige bonussen te verdienen of om belasting te innen en geld te ontvangen om extra onderdanen te kopen of om punten te verzamelen.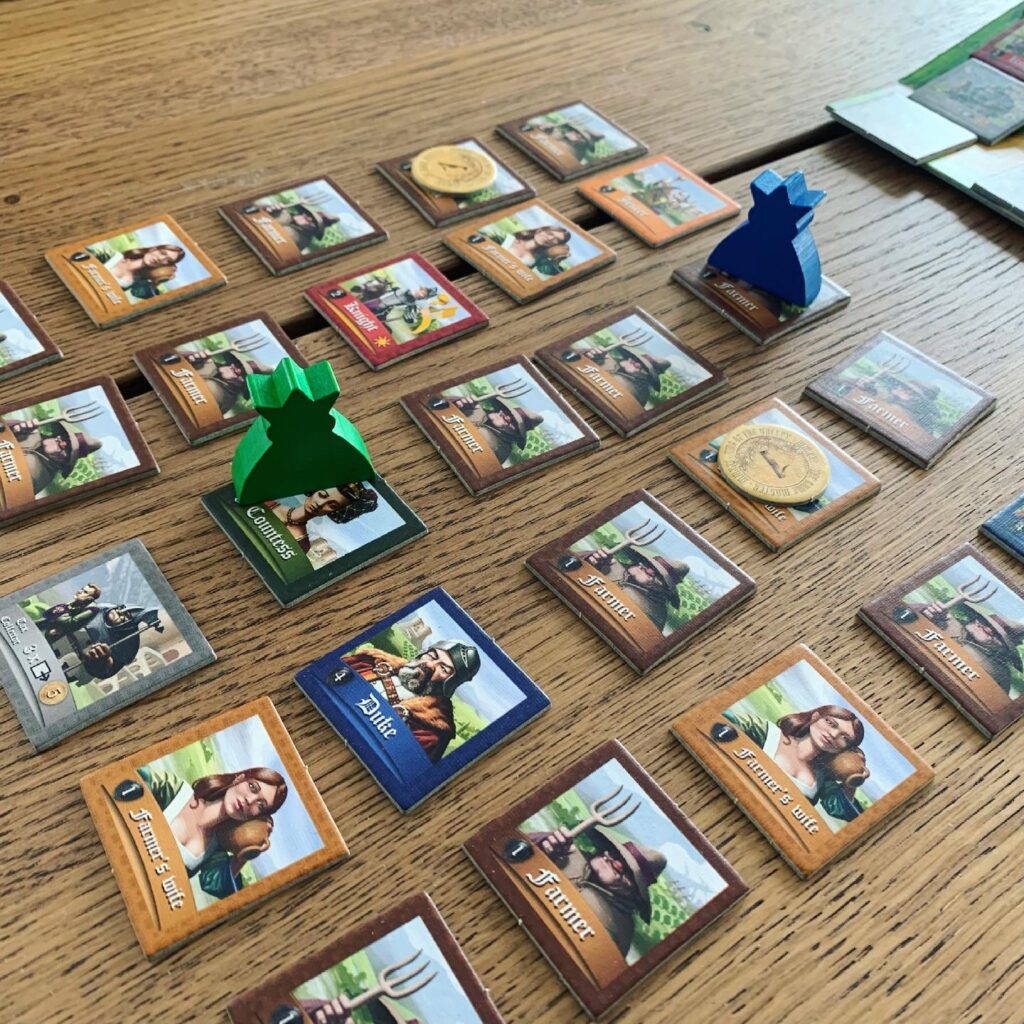 Door de schaarste en keuzemogelijkheden moeten spelers tactische beslissingen maken, goed plannen en rekening houden met hun tegenstander of tegenstanders. Doordat je op verschillende manieren kunt scoren, is het een uitdaging om tijdens het spelen met de beste strategie de overwinning te verzegelen. Daardoor is King of the Valley een elegant en abstract strategisch spel met voldoende diepgang. De kartonnen heuvel is een grappig hulpmiddel en het artwork roept nostalgische gevoelens op en doet mij denken aan computerspellen uit begin 2000 zoals Bard's Tale. Dit spel mag wat mij betreft geridderd worden!