Ken jij alle letters van het alfabet, de beste woorden en heb jij de grootste woordenschat? Hou jij van woordspelletjes zoals Scrabble/Wordfeud? Simpele spelletjes zoals Rummikub? Dan kan ik misschien een goed woordje doen voor Het Letterspel.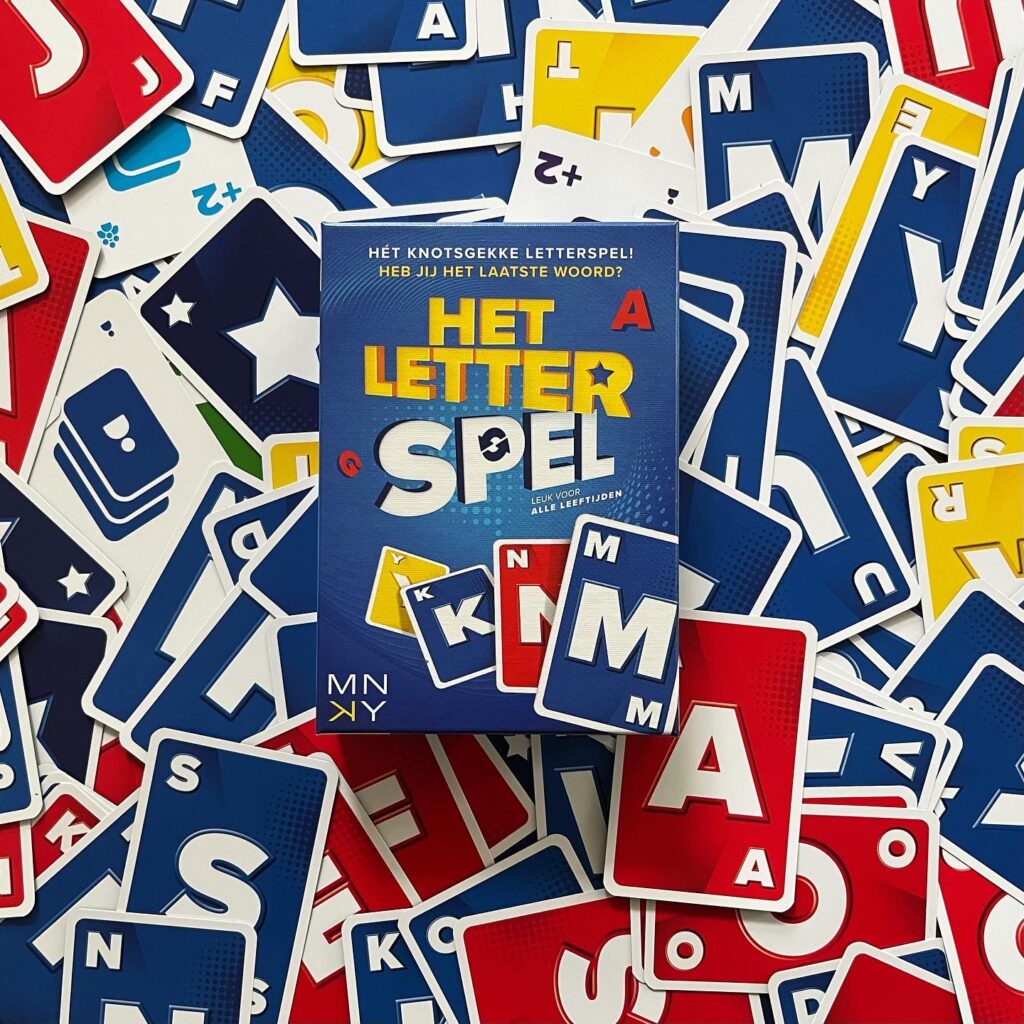 Het Letterspel heeft een hele letterlijke titel: het is een spel met letters. Ben je bekend met Rummikub, dan zal Het Letterspel niet vreemd aanvoelen. 

Aan het begin van het spel ontvangt iedere speler een handje vol kaarten. Het doel van het spel is om als eerste je kaarten weg te spelen. Tijdens je beurt mag je letterkaarten spelen als je woorden maakt of je mag een actiekaart spelen (als je een actiekaart hebt tenminste). 

Letters kun je spelen als je met deze letters woorden kunt vormen. Je kan nieuwe woorden beginnen die uit minstens drie letters bestaan, maar je kunt ook aan woorden toevoegen of zelfs letters van eerdere woorden gebruiken. Er moeten echter altijd woorden overblijven die daadwerkelijk in het woordenboek staan, dus geen verzinsels. Ik heb je wel door Tante Sjaan, vlierbeppel is geen echt woord – hoe hoog of laag u nu springt! 
Met actiekaarten kun je kaarten wisselen met andere spelers, andere spelers kaarten laten pakken van de trekstapel zodat ze meer kaarten moeten uitspelen of een speler zelfs een beurt laten overslaan. Het Letterspel is dus niet enkel een spel met letters, maar ook een spel, waarbij spelers elkaar flink kunnen pesten.

Het Letterspel is een kaartspelletje met een flinke dosis Rummikub, gecombineerd met woordjes leggen zoals Scrabble en wat pestelementen die je wellicht kent van kaartspellen zoals Uno. De combinatie levert een vlot en snel kaartspel op waar hooggeletterde liefhebbers graag op aftekenen.