"Great Scott!" de catchphrase van gekke uitvinders zoals Doc Brown van de Back to the Future films. Steek je vinger maar in het stopcontact om van dat gekke haar en ideeën te krijgen en probeer de gekste uitvindingen te verkopen aan je vrienden in het knotsgekke partyspel voor uitvinders en gekke genieën: Great Scott!
Spelers krijgen een flinke hand met kaarten waarmee ze iedere beurt een onderdeel toevoegen aan hun uitvindingen. Uitvindingen moeten altijd bestaan aan drie verschillende concepten (met nummers I, II en III) en twee dingen/voorwerpen/dieren/bezittingen (zogeheten assets). Aan het begin van het spel vormen de spelers 5 afzonderlijke trekstapels met deze kaarten. Iedere speler krijgt ook een aantal puntenkaarten, waarmee ze andere spelers tijdens het spel moeten belonen nadat spelers hun uitvindingen hebben gepresenteerd.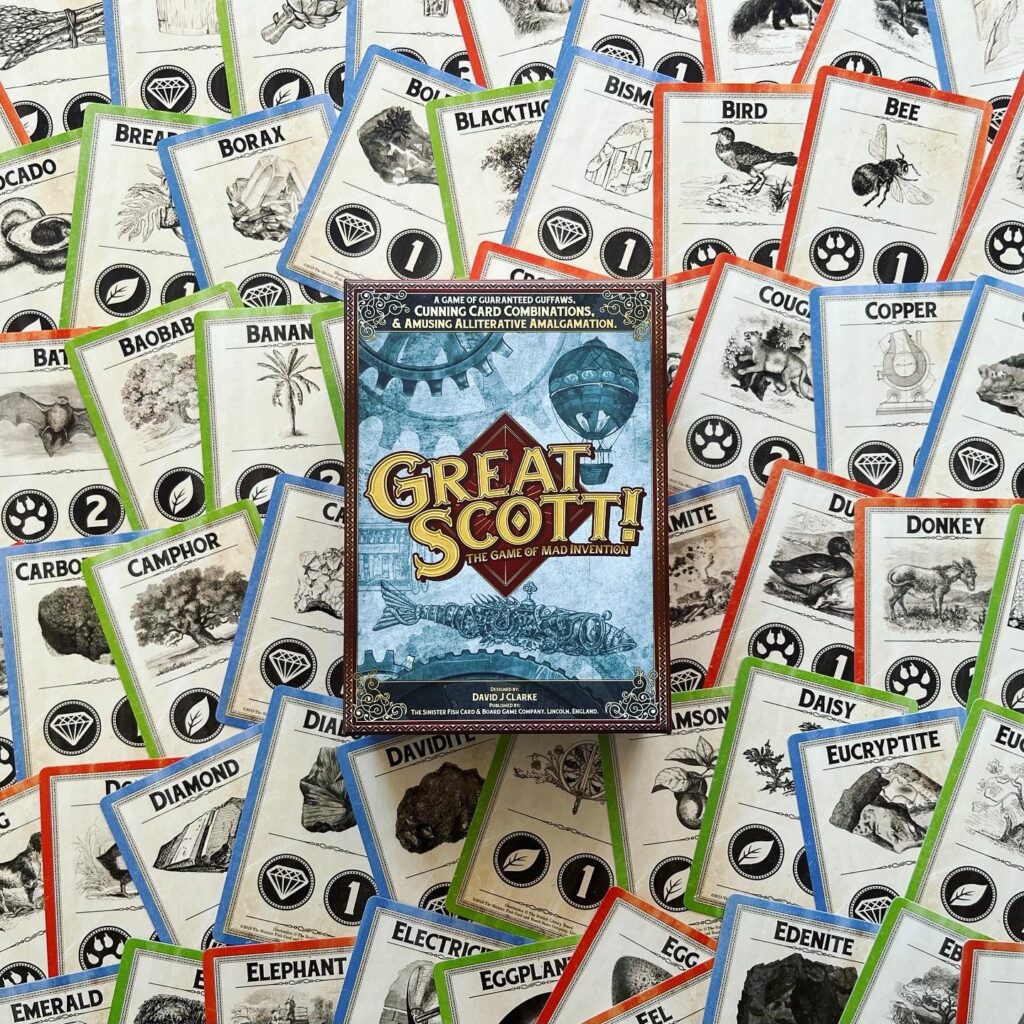 Spelers beginnen met tien kaarten, maar elke beurt trekken ze een kaart en plaatsen ze een van de vijf onderdelen van hun uitvinding gesloten op tafel. Hierna geven ze hun handkaarten door aan de volgende speler en onthullen een deel van hun uitvinding. Dit gaat net zo lang door tot iedereen een uitvinding met vijf verschillende onderdelen heeft. Zowel de concepten en de assets hebben verschillende categorieën, punten en namen. Spelers ontvangen de punten die op de uitvindingen staan afgebeeld, maar ook meer punten als ze kaarten in dezelfde categorieën weten te combineren, maar niet geheel onbelangrijk: ook voor allitererende namen.
Spelers krijgen niet alleen punten voor hun setje aan kaarten, maar ook op basis van de presentatie van hun uitvinding. Iedere speler krijgt ongeveer een minuut om een elevatorpitch te geven over hun uitvinding. Humor en creativiteit is hierbij belangrijk, want de andere spelers belonen de, in hun ogen, beste uitvinding en ook de runner up. Na drie rondes hebben spelers uitvindingen gemaakt, gepresenteerd en punten verdiend. De speler met de meeste punten, mag meedoen aan Dragon's Den om een angel investor te zoeken.
Great Scott! is een verdacht omvangrijk partyspel dat creativiteit, humor en sociale interactie combineert met een simpele set collector. Denk aan Cards Against Humanity gecombineerd met Sushi Go. De regels zijn eenvoudig en de presentaties zijn met de juiste groepen hilarisch. Vaak zijn partyspellen met een sociaal element niet voor iedereen geschikt, maar in Great Scott! verdien je de meeste punten vooral door setjes samen te stellen, waardoor het ook goed speelbaar is voor zelfs de introvertste speler aan tafel.