Peaky Blinders te Brits? De Italiaanse maffia te eng? De penoze te dichtbij? En is Kolonel van Geelen alweer de moordenaar? Verplaats jezelf dan naar het Sydney van weleer en pak zoveel boeven als nog nooit iemand heeft gepakt in Fallen Angels. Ben jij de reddende engel van justitie of draai jij ook de nor in?
Achtergrond en doel
Een van de eerste dingen die opvalt aan Fallen Angels zijn de foto's op de kaarten. Alle foto's zijn zogeheten mugshots. Foto's die zijn gemaakt van verdachten en veroordeelden na respectievelijke hun arrestatie of veroordeling. Alle foto's die in Fallen Angels zijn gebruikt zijn genomen in Sydney, Australië in de jaren 20. De voormalige "gevangenkolonie" bleek in sommige opzichten een broedplaats voor criminaliteit en georganiseerde misdaad. Naast de spelregels bevat Fallen Angels ook een klein boekje met historische achtergrond van de gebruikte foto's. Een interessante bonus.
Spelverloop
Fallen Angels is een coöperatief deductiespel. Spelers zullen dus moeten deduceren om het tot een succesvolle veroordeling te breiden. Wat bedoelen we met deduceren? Spelers moeten op basis van beperkte informatie, die door andere spelers met hints wordt gegeven, achterhalen welk bewijst stukken of bewijsstukken nodig zijn om een verdachte succesvol te verdenken en aan te klagen. Andere deductie spellen die je misschien kent: Cluedo of Awkward Guests. Fallen Angels wordt echter enkel gespeeld met een klein stapeltje kaarten dat op ingenieuze wijze wordt gebruikt.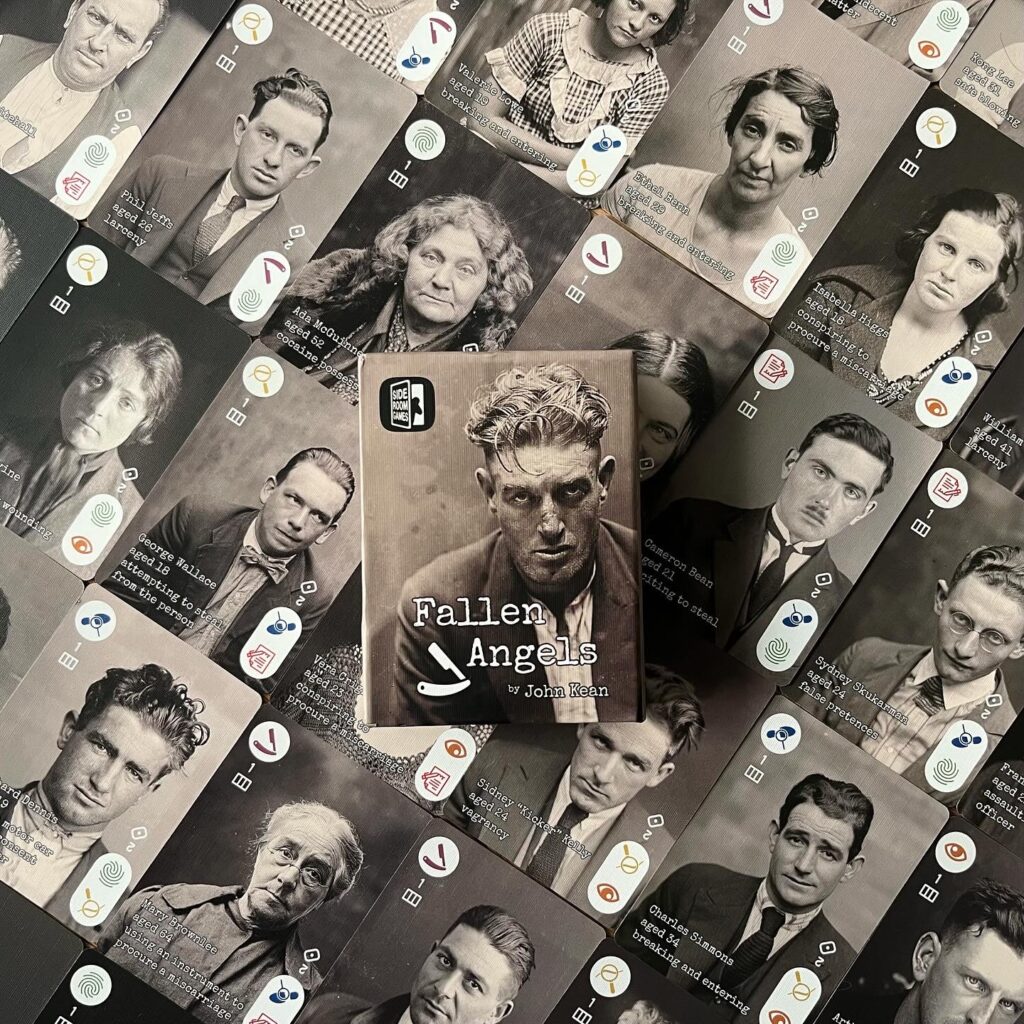 Iedere kaart met een verdachte is dubbelzijdig en elke zijde heeft twee helften. Iedere helft bevat heeft één of twee van de zes mogelijke bewijspictogrammen. Als er op een helft van een zijde twee symbolen staan, bevat de tegenovergestelde helft op de andere zijde van de kaart slechts één symbool. Spelers moeten raden wat er op de tegenovergestelde zijde staat afgebeeld. Als zij het juiste symbool raden krijgen ze een beloning. Ze mogen de kaart draaien of omkeren of de verdachte veroordelen. Als de spelers gezamenlijk genoeg verdachte hebben veroordeeld, is het spel gewonnen, maar als spelers een fout maken, wordt de verdachte vrijgesproken en als er teveel vrijspraken zijn, hebben de spelers verloren.
Aan het begin van het spel worden, afhankelijk van de gekozen moeilijkheidsgraad en afhankelijk van de hoeveelheid spelers, de kaarten in de stapel geschud, gedraaid en uitgedeeld. Met drie of meer spelers is er een informant die extra hints kan bieden (een extra stapeltje kaarten met symbolen). Met twee spelers is er en fictieve derde detective aan het spelen en helpen.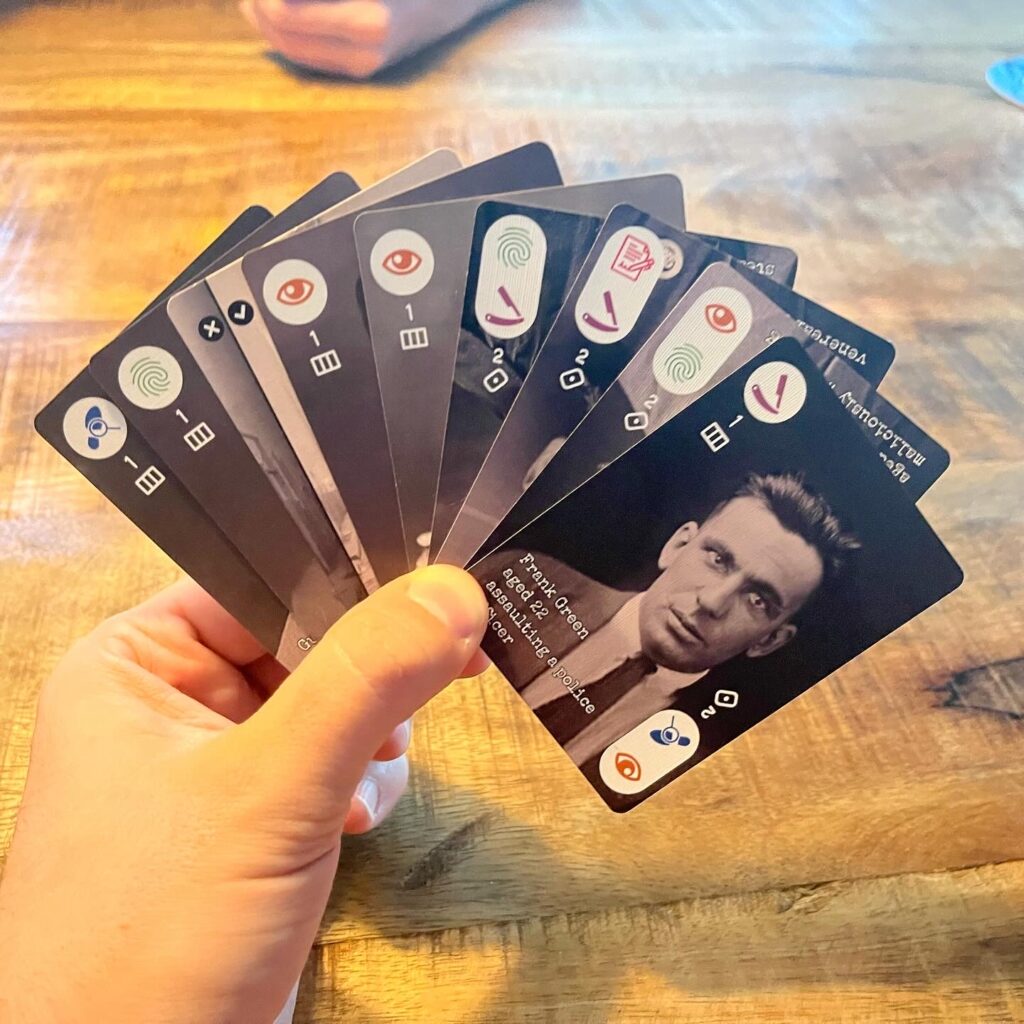 Als het hun beurt is, kiest een speler een kaart en de andere spelers rangschikken de kaarten die zij op hand hebben om aan te geven op welke van hun eigen kaarten de pictogrammen (mogelijk) staan die ze op de achterkant van die kaart kunnen zien. De speler moet dan afleiden welk icoon of welke iconen op de achterkant van diens eigen kaart staat. Hierbij moeten spelers uiteraard wel rekening houden met het feit dat wat ze in de handen van andere spelers zien niet precies is wat die spelers zelf kunnen zien.
Conclusie
Fallen Angels is een slim spel dat al bij de uitleg je hersens kraakt, omdat het spelconcept erg vernieuwend is. Zodra je een ronde hebt gespeeld, voelt de deductie echter als tweede natuur. Voor je het weet zijn de spelers aan het instrueren en deduceren om gezamenlijk voldoende veroordelingen tweet te brengen. Voor ervaren liefhebbers van deductiespellen is de makkelijkste moeilijkheidsgraad wellicht iets te eenvoudig, maar zeker voor de beginnende deductiespeler heeft Fallen Angels veel te bieden in een kleine verpakking.