Wat als de mensheid al veel eerder, namelijk in 1927, richting de sterren kon reizen? In de alternatieve tijdlijn van Factions of Sol luidde de mensheid, dankzij ondernemer Mark Megacore van MegaCore Inc., in 1927 al het ruimtereistijdperk in. Zoals gebruikelijk eigende de mensheid gelijk verschillende planeten en hoekjes van de melkweg toe, ontstonden er verschillende cliques en facties en namen de spanningen vanzelfsprekend toe. Wat is een sci-fi verhaal zonder wat science fiction drama? De verschillende facties azen op het fortuin van Megacore en nu de beste man met ruimtepensioen gaat, is het tijd voor de facties om hun spreekwoordelijke en zwaartekrachtloze slag te slaan.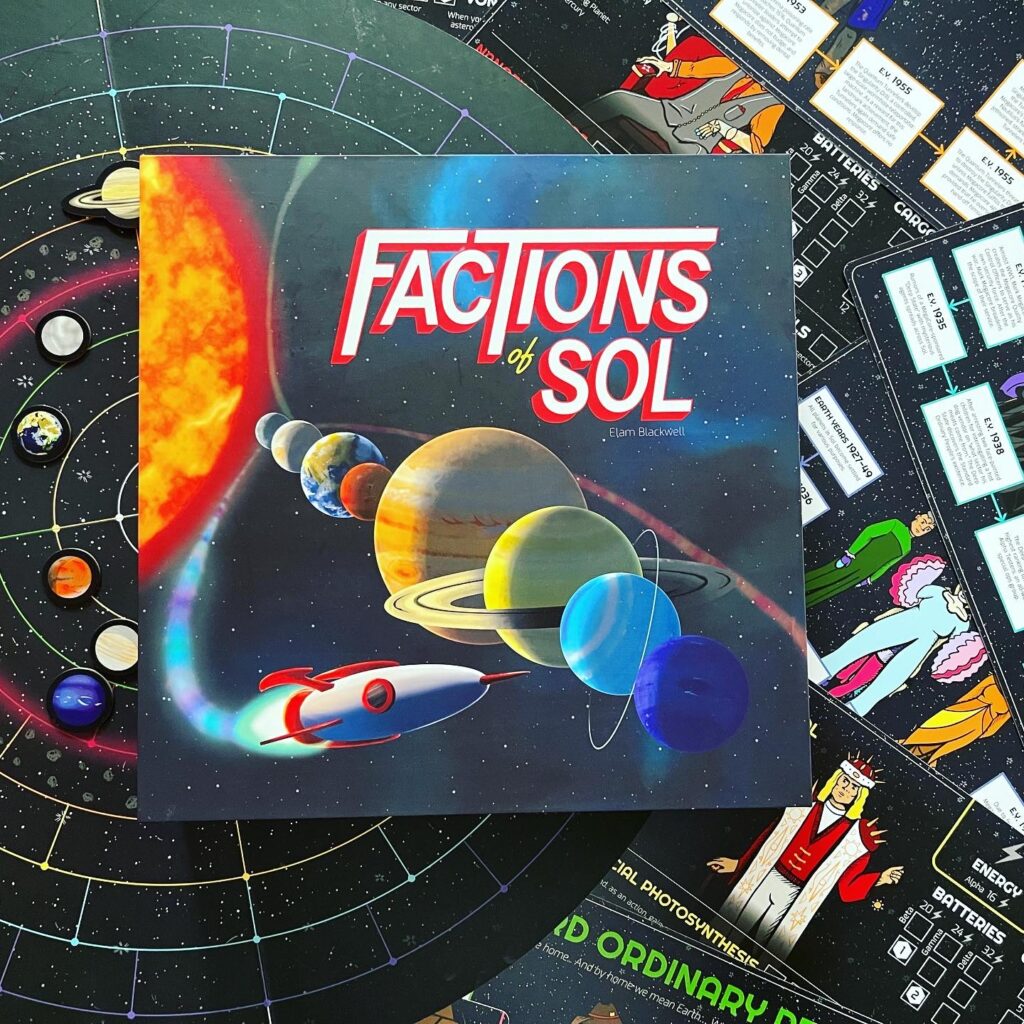 Om de gunsten van Megacore voor zich te winnen, proberen spelers met hun factie het heelal door te reizen, hun machines te upgraden, exoplaneten te verkennen, geheime doelen te vervullen en grondstoffen te verzamelen om de meeste overwinningspunten te verdienen. Om te reizen moeten spelers energie verbruiken en energie is niet goedkoop. Energiekosten zijn exponentieel, dus loopt het bord (en daardoor ook een speler) snel vast. Gelukkig kunnen speler energie bijtanken in de kleine planeet Mercurius. Ik had woordgraptechnisch verwacht dat spelers konden tanken bij gasgiganten zoals Jupiter en Saturnus, maar wellicht is Saturn wel koploper in ruimte renewables. Als spelers zonder gas langs de melksnelweg komen te zitten kunnen ze met de ruimte ANWB weer richting Mercurius worden gesleept, maar dat kost een hoop tijd als je jouw droomvrouw op Venus probeert te vinden en tevens kost het een hoop minpunten… Gelukkig kunnen spelers door slim gebruik te maken van loopbanen en zwaartekracht sneller en efficiënter reizen.
Alle planeten leveren spelers verschillende acties op. Op het stoere Mars kun je jouw schip upgraden. Op Saturnus kun je geheime objecten verkrijgen en op Aarde kunnen spelers de regels van ht spel op hun kop zetten ala Cosmic Encounter. Veel acties kosten grondstoffen. Hoe krijgen spelers grondstoffen? Door asteroïden te mijnen. Elke ronde wordt er slechts een beperkt aantal asteroïden op het bord geplaatst, waardoor er een schaarste en een race ontstaan. Door de verschillende facties is Factions of Sol tevens een assymetrische uitdaging.
De artwork van Factions of Sol doen mij erg denken aan klassieke pulp sciencefiction boeken zoals John Carter of Mars. Heeft deze preview jouw interesse gewekt? Kijk dan snel op Kickstarter.