Explorers is een nieuw flip-and-write spel van Phil Walker-Harding, bezige bij en bedenker van onder meer Berenpark en Lamaland, uitgegeven door de reislustige Ravensburger. In Explorers gaan jij en andere ontdekkingsreizigers (jouw medespelers) onontdekt terrein verkennen en tempels beroven…. Ik bedoel: bestuderen! Welke speler ontdekt de overwinning?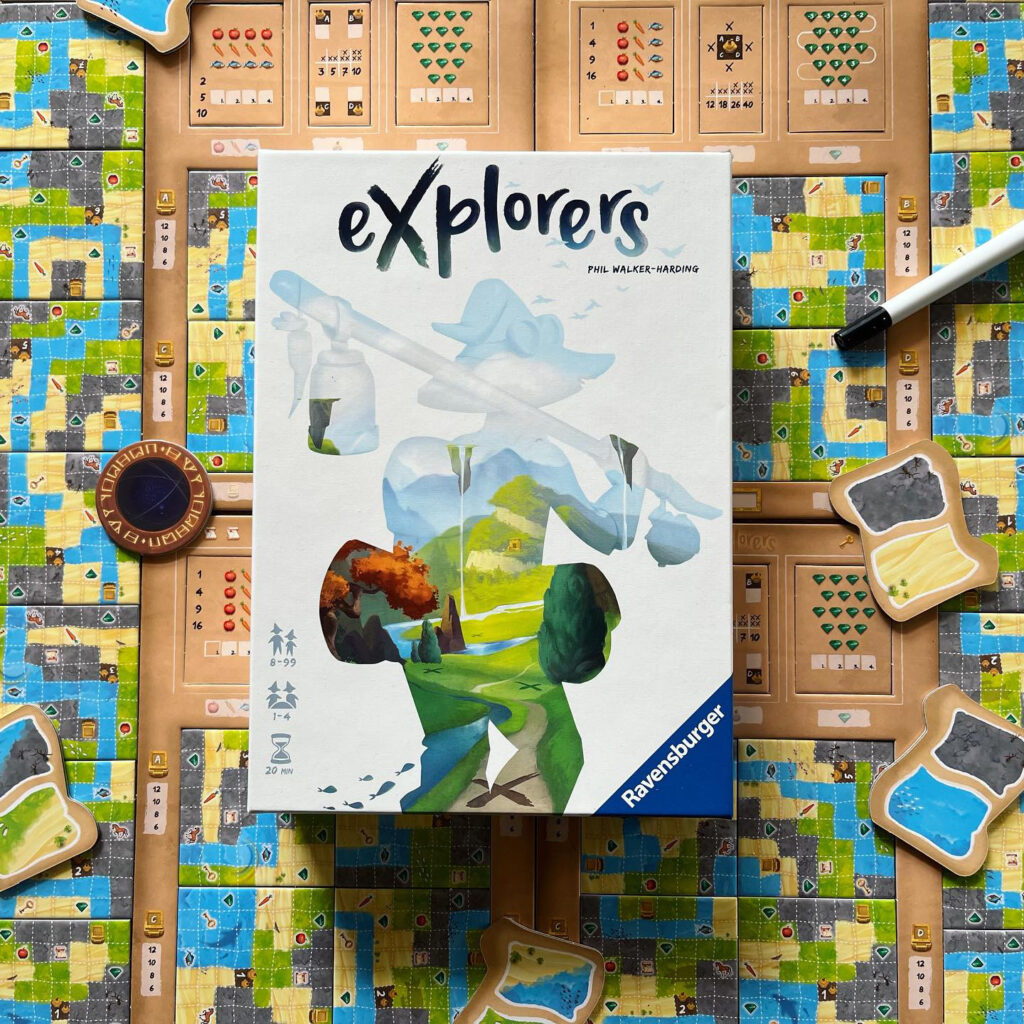 Aan het begin van een potje Explorers krijgen alle spelers een soort van kartonnen frame. In de vensters in dat frame plaatsen de spelers vier landschapstegels met daarop grasland, water, woestijn of bergen die spelers gaan ontdekken. Spelers plaatsen deze terreintegels allemaal in dezelfde oriëntatie. Daarnaast plaatsen spelers ook drie scoretegels in het frame. Elke speler kruist nu een van de vier dorpen aan op de terreintegels en kiest ook een terreinsoort en plaats vier kruisjes in dat terrein naast het afgestreepte dorp en spelers zijn klaar om op ontdekkingsreis te gaan!
Het spel bestaat uit 4 rondes en elke ronde worden er 7 verkenningstegels opengedraaid. Op de verkenningskaarten, staan telkens twee terreinsoorten of twee combinaties aan terreinsoorten afgebeeld. De actieve speler kiest één van de twee afgebeelde terreinsoorten of combinatie aan terrein en mag vervolgens drie kruisjes plaatsen op dat terrein. De overige spelers mogen drie kruisjes zetten op het ongekozen terrein of twee kruisjes op het hetzelfde terrein gekozen door de actieve speler. Geplaatste kruisjes moeten altijd aangrenzend aan andere kruisjes worden geplaatst.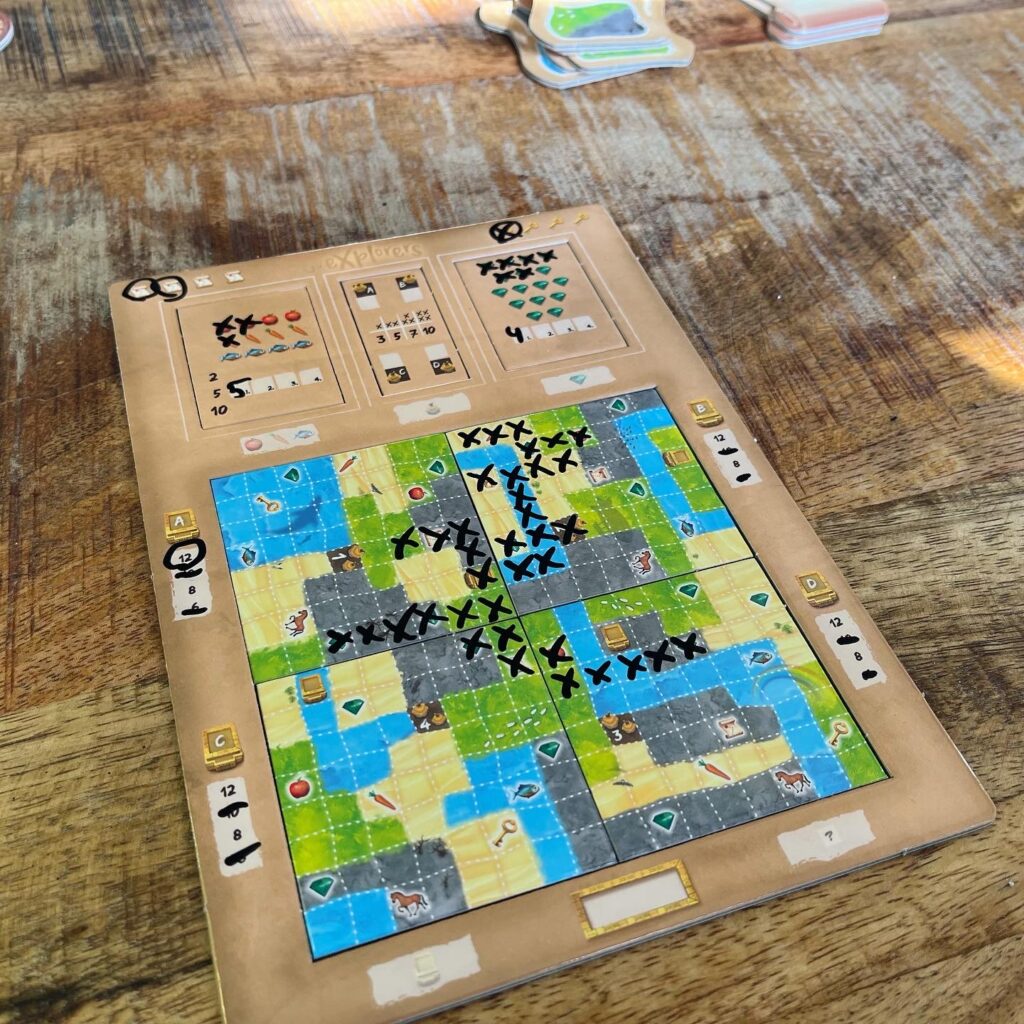 In de spelwereld ontdek je voorwerpen, proviand, edelstenen, paarden en tempels. Een van de voorwerpen die je kan ontdekken zijn sleutels, waarmee je tempels kan openen om punten te verdienen. Met paarden kun je gratis een willekeurig kruisje op je speelbord plaatsen en door proviand en edelstenen te sparen kun je tijdens de vier rondes punten verdienen. Hiernaast zijn er nog meer mogelijkheden om punten te verdienen, en spelers die opzoek zijn naar wat extra uitdaging en variatie kunnen zelfs met extra doelen/missies spelen. Aan het begin van het spel worden dan ongebruikte terreintegels omgedraaid waarop scoremogelijkheden staan afgebeeld.
Al spelenderwijs vullen spelers hun terreintegels en ontdekken op deze wijze de wereld. Explorers is mooi vormgegeven en bevat mooi en herbruikbaar speelmateriaal, wat bij roll-and-writes of flip-and-writes altijd een welkome toevoeging is (al is een oldschool velletje papier nooit verkeerd). Daardoor het spel meerdere terreintegels bevat en spelers deze aan het begin van het spel in een willekeurige oriëntatie plaatsen bevat het spel ook voldoende variatie. Het spel zelf is eenvoudig te leren, maar is voor de doorgewinterde bordspeler wellicht minder vernieuwend. Voor de beginnende spelers en liefhebbers van simpele roll-and-writes zoals Keer op Keer en Clever biedt Explorers een mooi vormgegeven en gevarieerd alternatief! Kortom, Explorers is een leuke ontdekking!