Roll-and-writes zijn aardig volwassen geworden, want inmiddels zijn dat lang niet meer enkel spellen zonder thema waarbij spelers net als Yahtzee kruisjes en punten noteren op een scorevel. De basisprincipes blijven hetzelfde (dobbel, kies en noteer), maar de uitwerking van veel roll and writes is inmiddels een stuk complexer. Zo kunnen spelers in Fleet aan hun haven en schippersboten werken door te dobbelen en kruisjes te zetten, zetten spelers heuse infrastructuren op in Railroad Ink en gaan ze op avontuur in kerkers in Paper Dungeons. Ook in Dungeons, Dice & Danger (DD&D) gaan spelers op avontuur, monsters verslaan en schatten verzamelen in een Dungeons & Dragons (D&D) geïnspireerde wereld. Geen lastige dobbelstenen in rare vormpjes, want in DD&D gaan spelers de gevaren te lijf enkel uitgerust met een potlood, een vijftal normale dobbelstenen en een velletje papier.
Dungeons, Dice & Danger is bedacht door Richard Garfield die je wellicht kent van Magic the Gathering, King of Tokyo, Keyforge, Bunny Kingdom en zijn voorliefde voor lasagne. Spelers krijgen een groot, kleurrijk vel papier onderverdeeld in verschillende vakjes. In sommige vakjes ligt een schat, in sommige schuilt een monster en sommige vakjes bevatten bonussen of gevaren. In de meeste vakjes staan getallen. Elke beurt gooit de actieve spelers de 5 dobbelstenen. Er zijn 4 witte dobbelstenen en 1 zwarte. Elke speler mag nu twee paren maken van de beschikbare witte dobbelstenen. Alleen de actieve speler mag in beginsel gebruik maken van de zwarte dobbelsteen. Andere spelers die gebruik willen maken van de zwarte dobbelsteen, dienen hiervoor te "betalen".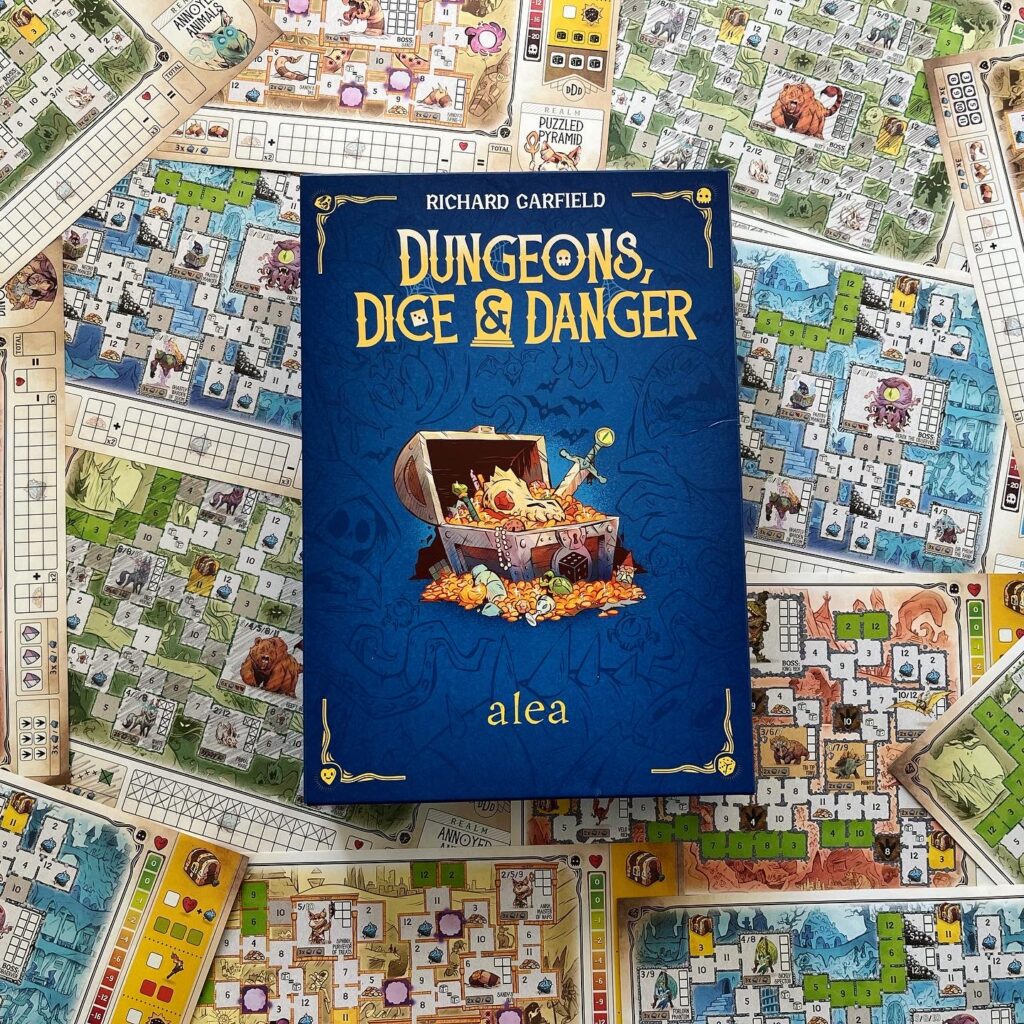 Afhankelijk van de paren kunnen spelers vakjes aankruisen op hun speelveld. Ze kunnen enkel vakjes afstrepen aan het begin van de kerker of aangrenzend aan eerder afgestreepte vakjes. De vakjes met monsters kunnen spelers op vergelijkbare wijze te lijf gaan, maar deze monstervakjes bevatten meerdere vakjes die spelers moeten afkruisen. Door monsters te verslaan en de kerker te verkennen, kunnen spelers diamanten verzamelen. Aan het einde van het spel leveren deze diamanten punten op. De speler die als eerste een monster weet te verslaan, krijgt een bonus en het spel is teneinde als een speler alle monsters op zijn of haar vel heeft verslagen. Het spel bevat 4 verschillende kerkers en dus ook 4 verschillende bijbehorende scorevellen. Al deze kerkers bevatten ook unieke vakjes en verrassingen waar spelers mee worden geconfronteerd.
Dungeons, Dice & Danger kun je vergelijken met Qwixx met een sterk thema. Het is een simpel en luchtig spel waarbij spelers zich op een relaxte manier mee kunnen vermaken. De vergelijking met Paper Dungeons is makkelijk gemaakt vanwege het genre en thema, maar Paper Dungeons is een complexer en sneller spel. Dungeons, Dice & Danger is simpeler en duurt tegelijkertijd wat langer. Door de lange speelduur en afhankelijk van de snelheid van spelers en de gekozen kerker, kan het spel soms wat langdradig aanvoelen. DD&D is prachtig vormgegeven, makkelijk te leren en dus ideaal voor spelers die zoeken naar een eenvoudig en luchtig spel dat wat langer duurt dan normale dobbelspelletjes.