Hoe is Doodle Dash als partyspel? Sommige partyspellen zijn het nét niet. Sommige partyspellen zijn verre van wat het zou moeten zijn: het recept voor een 'party'. En sommige partyspellen zijn juist perfect en doen precies wat ze behoren te doen. Doodle Dash hoort in de laatste categorie thuis. 
Het concept van het spel is eenvoudig: door het juist raden van de tekeningen van anderen, scoor je punten. Iedere speler krijgt een eigen tekenbordje met stift. In het midden van de tafel moeten drie dingen liggen: de gouden staaf, de dobbelsteen en een stapel kaarten gelijk aan het aantal spelers keer twee (of als er met drie of vier spelers gespeeld wordt, twaalf kaarten). De actieve speler (of: rader) noemt een getal en de speler rechts van de actieve speler bekijkt welk woord er getekend moet worden. Deze speler laat het gekozen woord aan de andere spelers zien, waarna iedereen als een gek aan het tekenen gaat. Ben je klaar met tekenen of denk je dat jouw tekening goed genoeg is om geraden te kunnen worden, pak dan de gouden staaf zo snel mogelijk van tafel. Degene die daarna komt, pakt de dobbelsteen. Deze speler blijft de dobbelsteen gooien totdat de dobbelsteen aangeeft dat er gestopt moet worden. De stiften gaan neer en de actieve speler begint met raden.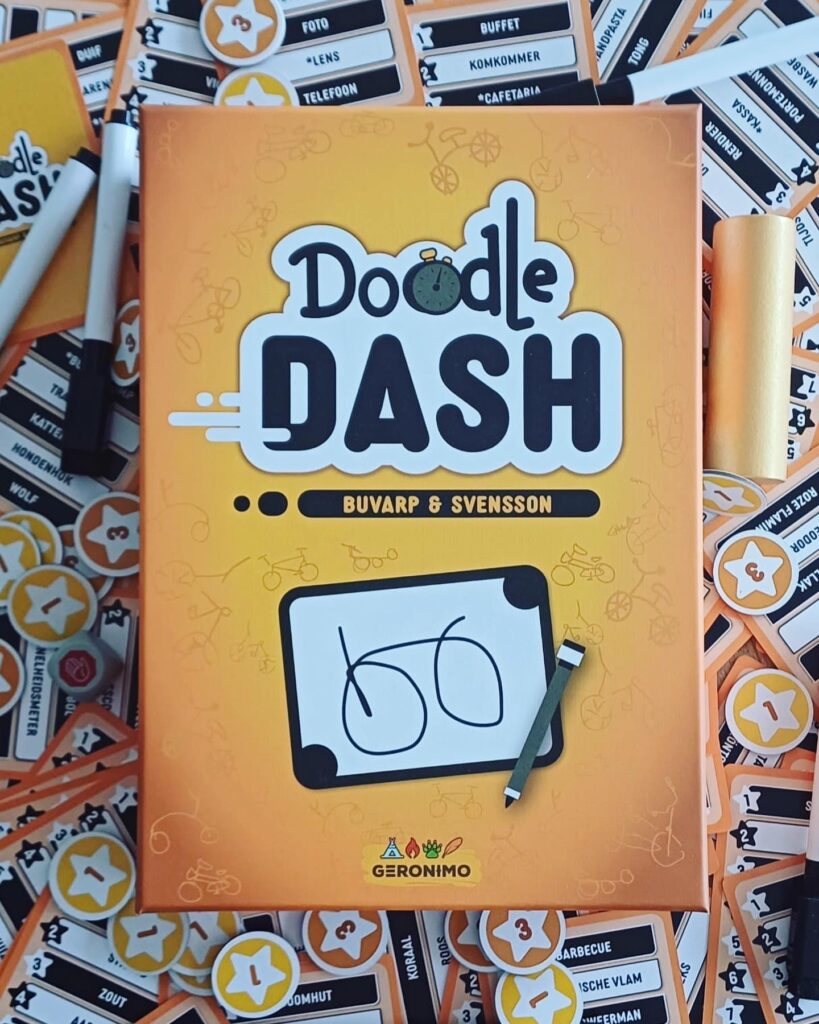 Als eerste is de speler met de gouden staaf aan de beurt. Wordt het woord geraden, dan krijgen de actieve speler en de speler met de gouden staaf één punt. Wordt het woord niet geraden, dan wordt de tekening van de speler met dobbelsteen bekeken. Bij een juist antwoord krijgen de actieve speler en de speler met de dobbelsteen één punt, bij een fout antwoord worden alle overige bordjes laten zien. Op dit moment moet de actieve speler toch wel door hebben wat het woord is, tenzij alle tekenaars een beroep hebben gedaan op hun artistieke vrijheid. Afijn, nadat alle kaarten gespeeld zijn wordt er bekeken wie de meeste punten verzameld heeft en dat is de Doodle Dasher van de avond!
Of je nu kunt tekenen of juist helemaal niet (dat is vaak nog leuker dan dat er een Vermeer of Van Gogh onder de spelers schuilgaat), Doodle Dash zorgt voor lachende gezichten. Het is ontzettend leuk om te zien hoe iedereen én met de tijdsdruk omgaat én met de stift te werk gaat. Men zegt wel eens: een kat in het nauw maakt rare sprongen, maar de spelers van Doodle Dash doen soms al helemaal bijzondere dingen. Wanneer je in je Doodle Dash zit of als je haast hebt (lees: Doodle Rush, maar niet het spel met deze titel), het levert hoe dan ook verrassende taferelen op. Het tekenen van een toerist of een clown biedt bijvoorbeeld al heel veel ruimte om de creativiteit de vrije loop te laten.
Een simpel spelletje, gemakkelijk op tafel te krijgen en sfeer verhogend. Meer heb je niet nodig. Hup tekenen. En snel een beetje!