"Stick em up, you dirty dog!" De sheriff van het stadje Deadwood heeft een nare bandiet staande gehouden. De bandiet krijst het uit dat een nog grotere bandiet achter zijn verworven goud aanzit. "Je moet bang zijn sheriff!" De goudkoorts houdt al tijden het stadje in zijn greep. Goud verandert tenslotte goede mannen in kwade demonen. Dramatische fluit- en mondharpmuziek speelt op de achtergrond. Wind blaast tuimelkruid vooruit op de droge ondergrond en op de horizon in de verte verschijnt een duister schaduwfiguur. Naarmate de schaduwfiguur nadert, ziet de sheriff het getrokken wapen… Is hij nog op tijd? In Dexterity Jane nemen spelers deel aan een echte Mexican stand-off. Weet jij als eerste jouw wapens te trekken en of de grond te raken? Fingers crossed!
In Dexterity Jane zijn jouw handen jouw wapens. Op tafel liggen een aantal tegels. De bovenste tegel geeft niet alleen het nummer van de huidige ronde aan, maar ook de hoeveelheid kaarten die de spelers moeten opendraaien.
Alle kaarten worden tegelijkertijd opengedraaid (hierbij proberen spelers deze taak zo evenredig mogelijk te verdelen). Op de kaarten staan allemaal handen afgebeeld. Sommige handen hebben gebogen vingers of duimen. Spelers proberen nu zo snel mogelijk alle vingers te buigen die ook op de verschillende kaarten gebogen staan. Let wel goed op: je hebt een linker- en een rechterhand en ook de kaarten maken dit onderscheid. Daarnaast kaarten met dezelfde gebogen vingers elkaar op. Wees snel, maar let goed op! De speler die als eerste zijn vingers op de juiste manier weet af te vuren, ontvangt de rondetegel en bijbehorende punten. De speler die aan het einde van het spel de meeste punten heeft, mag zichzelf tot sheriff uitroepen.
Het spel bevat ook meerdere opties voor spelers die het verschil tussen links en rechts wat lastiger vinden en ook een optie waarbij spelers goud van elkaar kunnen stelen door op elkaar te "schieten" door een pistool te vormen met hun hand ('pieuw pieuw').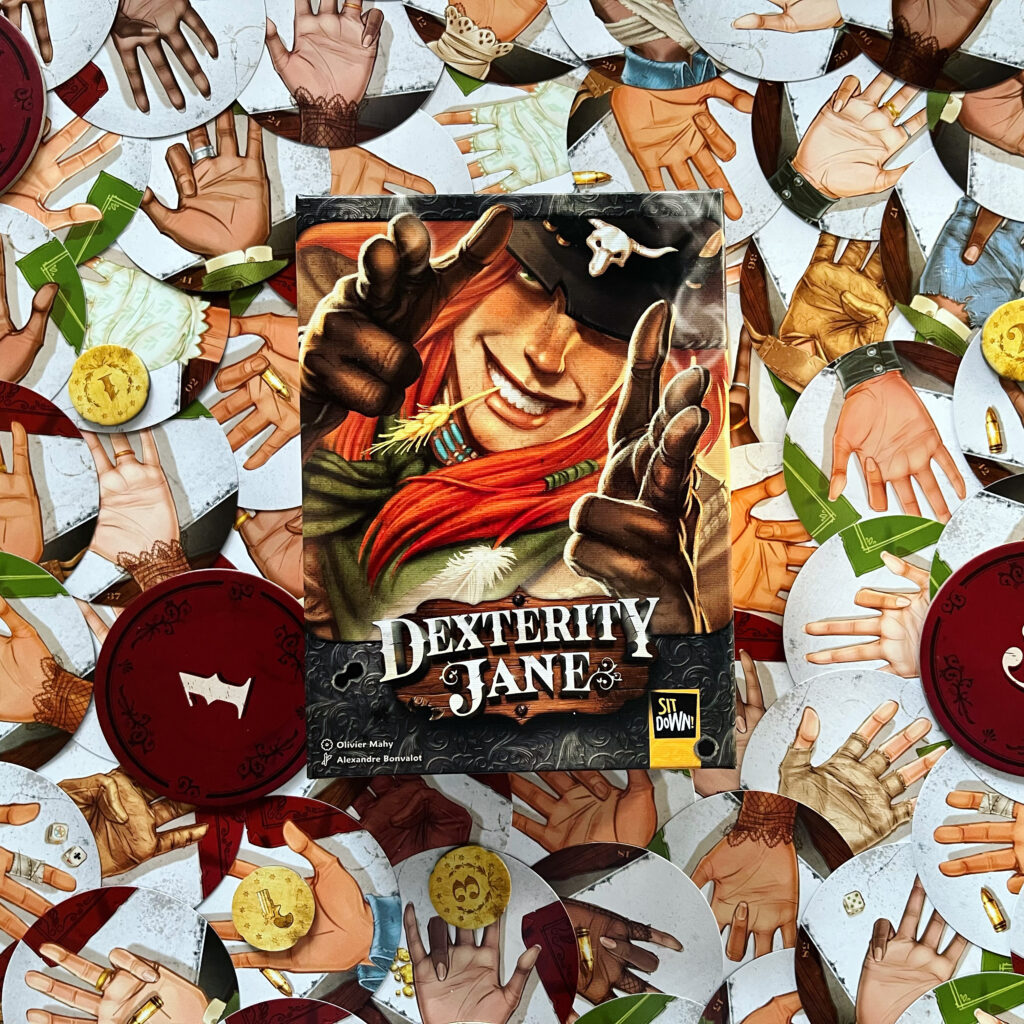 Dexterity Jane is een simpel partyspel voor spelers die van behendigheids- en snelheidspelletjes houden. Spelers moeten namelijk niet alleen hun vingers op de juiste wijze zien te buigen, maar ook nog eens als snelste. Hierdoor is het spel uiteraard niet voor iedereen weggelegd. Hou je niet van snelheidsspelletjes, dan kan het spel wat droogjes aanvoelen. Spelers zullen dan vooral zoekende zijn en veelal ook de draad kwijtraken. Heb je een groepje spelers die van behendigheidsspelletjes, snelheidspelletjes en brain fart inducing uitdagingen houdt en zich laat meeslepen in het western thema? Dan is dit spel een schot in de roos!