In een wereld vol scams, multi-level marketing, piramidespellen en de grote eindbaas 'Debtzilla', staan een aantal superhelden op om de arme burgers te beschermen. Ga jij ervoor zorgen dat de burgers van Banana Republic niet bezwijken onder de enorme schuldenlast?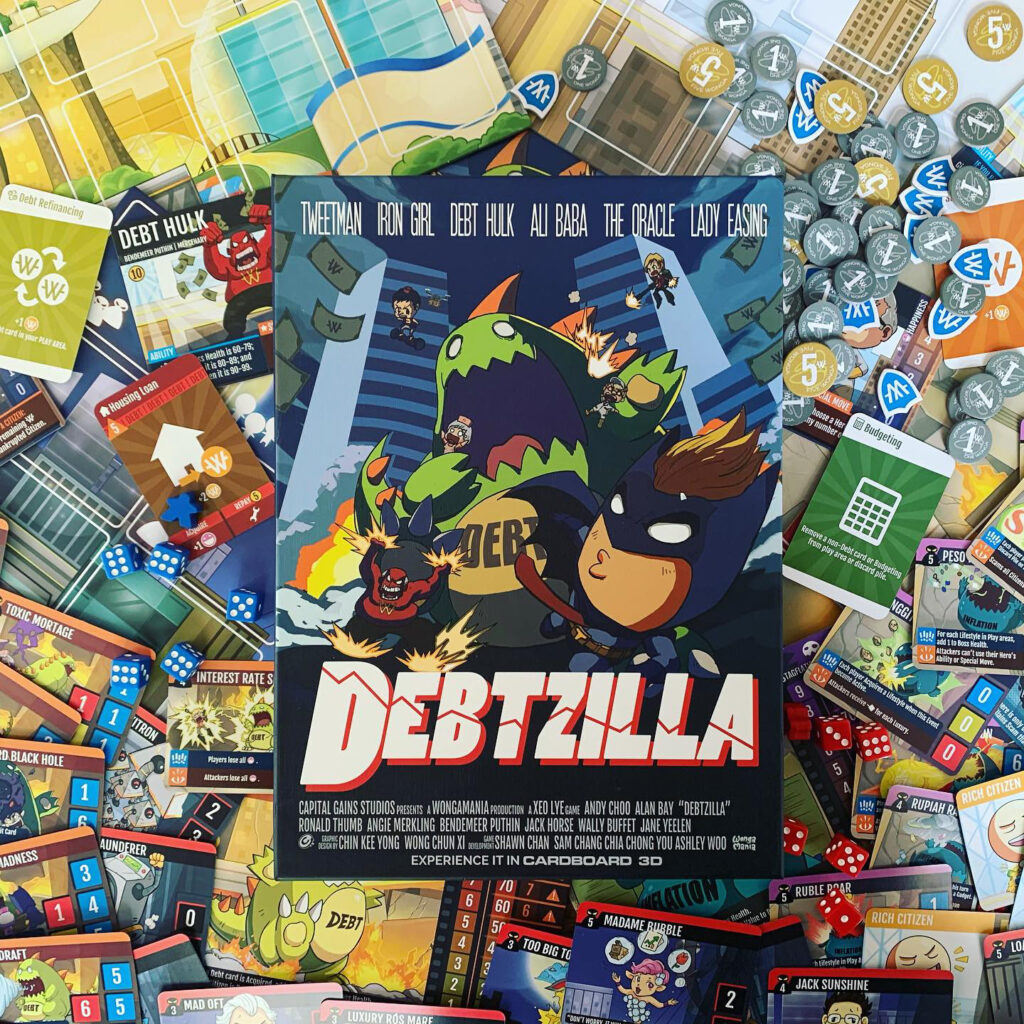 In Debtzilla werken spelers coöperatief samen om de burgers van Banana Republic te beschermen tegen allerlei geldklopperij. De spelers kiezen daarbij allereerst een alter ego van een lichtelijk geanonimiseerd bekend persoon, met ieder eigen superkrachten. Om een aantal voorbeelden te noemen: The Oracle ('Wally Buffett'), Tweetman ('Ronald Thumb') en Iron Girl ('Angie Merkling').
Hierbij springt Tweetman er natuurlijk uit in deze lijst, aangezien 'Ronald Thumb' niet de meest voordehand liggende keuze lijkt om schulden te bestrijden vanwege zijn – naar verluidt – enorme eigen schuldenlast. De makers van het spel, Capital Gains Studio, hebben dit dan ook zeer vernuftig verwerkt door van Tweetman een soort antiheld te maken die zijn krachten ontleent door op zijn beurt geld afhandig te maken van de burgers. Dit element is erg mooi gevonden.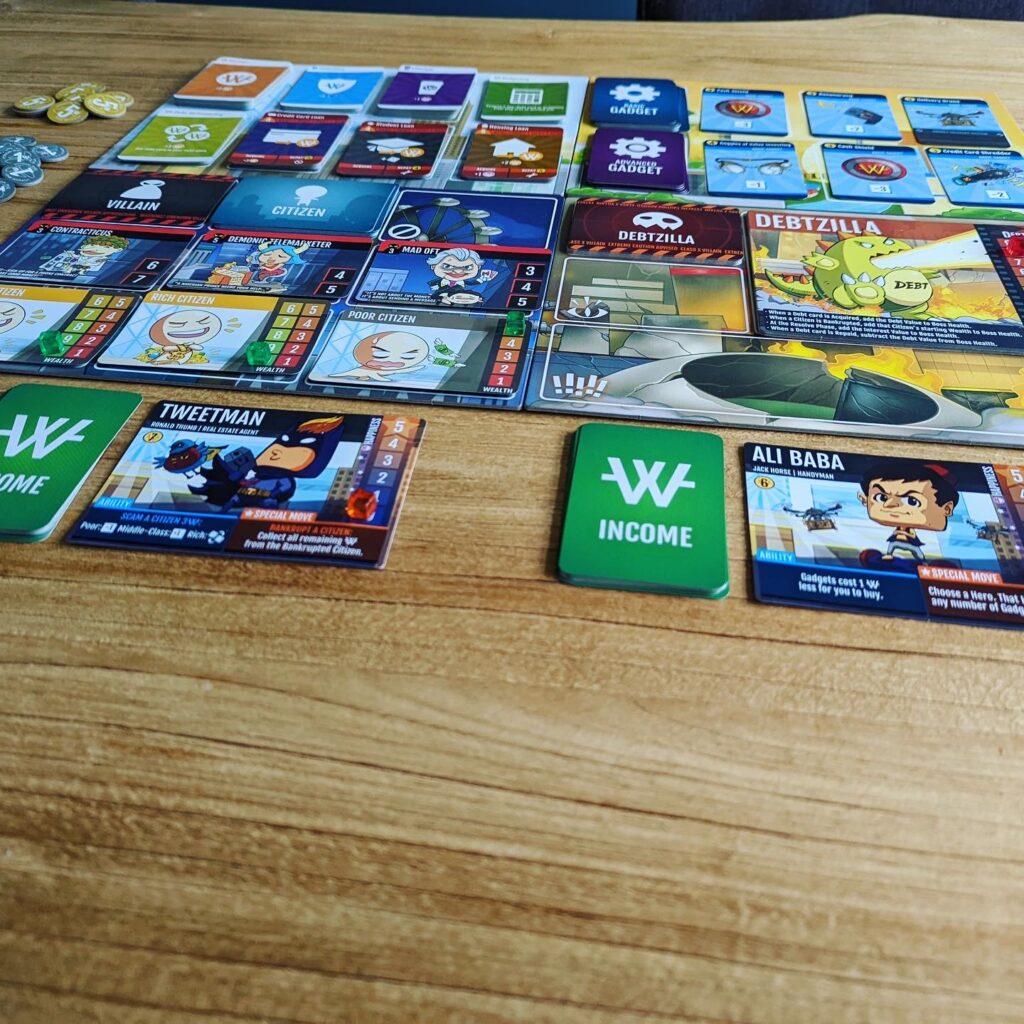 De 'helden' krijgen als eerste inkomen (Working Phase), waarmee zij bepaalde gadgets kunnen kopen (Shopping Phase) om de schurken te verslaan (Vigilante Phase) en zich vervolgens weer voor te bereiden op een nieuwe zware dag van misdaadbestrijding (Resolve Phase).
Het concept van het spel is goed, de artwork is leuk gedaan en de verwijzingen naar elementen uit de 'echte wereld' zijn vooral fantastisch. Er valt voordat het spel begint al genoeg plezier te beleven om de stapel schurken er even bij te pakken en door te kijken. Om je een voorproefje te geven, ik heb goed gegniffeld om de Demonic Telemarketer ('A Nigerian prince needs your help…'), de Layman Brothers ('Your money? It's gone!'), Madame Bubble ( 'Don't worry, it will never burst') en de Ponzitron ('Join us and be rich'). Omdat de spelwereld en de 'echte wereld' zo verweven zijn door de gebruikte elementen, bevat het spel veel potentie.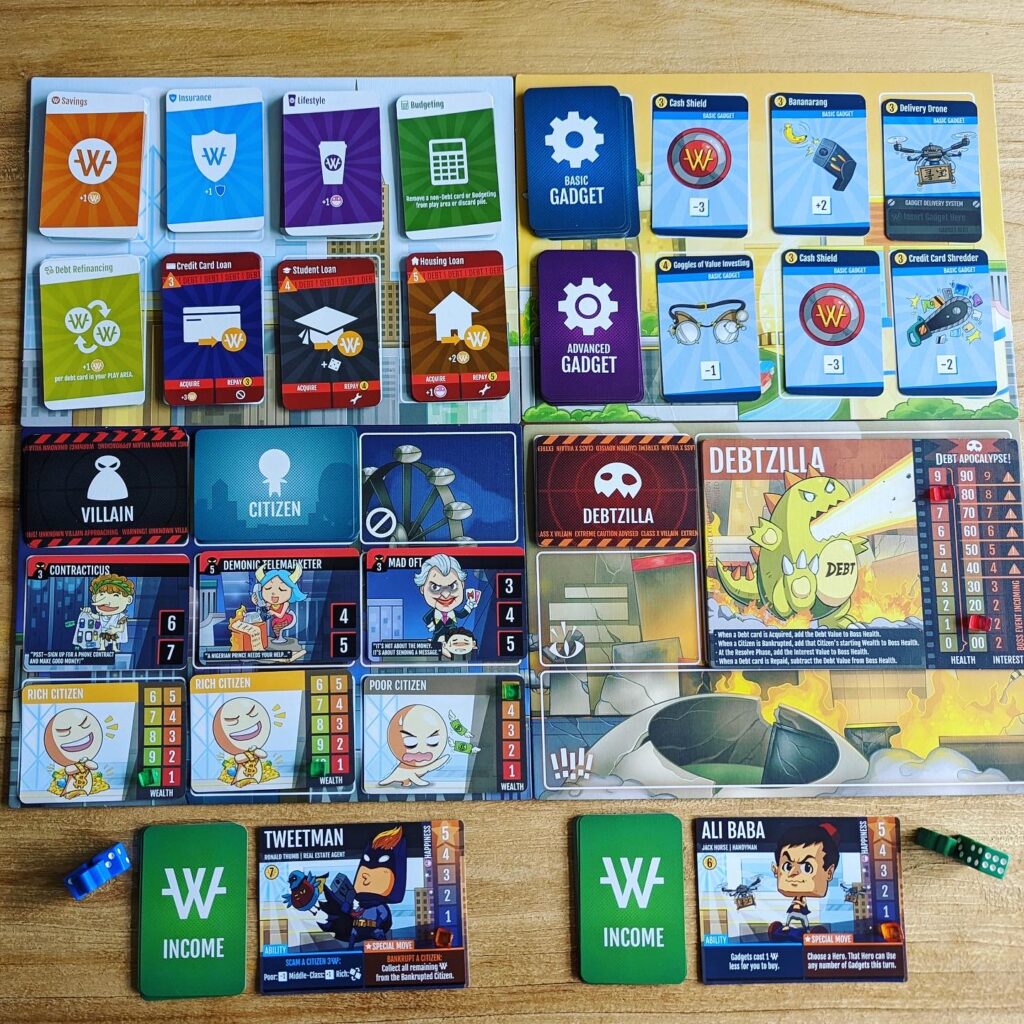 Voor mij bleef het grotendeels bij die potentie. De gameplay (uitleg) laat namelijk wel wat te wensen over, omdat het spel op een aantal punten erg onduidelijk is. Ik heb de spelregels er vaak bij moeten pakken, omdat ik het idee had dat ik bepaalde acties niet juist aan het uitvoeren was. De spelregels gaven daar helaas niet altijd doorslaggevende duidelijkheid over. Wellicht dat daar enige punten verloren zijn gegaan tijdens het vertalen? De onduidelijkheid zorgde er ook voor dat het spelen mij enigszins tegenstond, maar dat zou misschien anders zijn als ik het met een meer ervaren speler had gespeeld die mij kon uitleggen wat er daadwerkelijk werd bedoeld. Misschien dat dan ook de potentie zich kan omzetten in een leuk spel voor een druilerige zondagmiddag, waarbij je een beetje wilt balanceren tussen de 'echte wereld' en de spelwereld om de wereld te beschermen van Ponzitron en Debtzilla.
De spellen van Capital Gains Studio zijn goed te gebruiken als lollig lesmateriaal om tijdens (eenvoudige) economielessen te gebruiken om wat basiskennis op een speelse manier over te brengen. Voor Debtzilla is dat niet anders!