Heb je ooit weleens Cuphead gespeeld? Het bijzonder uitdagende en prachtig geïllustreerde videospel van Studio MDHR. Ik kan mij bijzonder goed vermaken met Cuphead hoewel ik er verschrikkelijk slecht in ben. De illustraties en animatiestijl van het spel zijn geïnspireerd op de absurdistische, surrealistische en tikje kindonvriendelijke "rubber-hose" stijl van animeren uit de gouden eeuw van Amerikaanse tekenfilms. Denk bijvoorbeeld aan de eerste tekenfilms van Walt Disney zoals Oswald the Lucky Rabbit en Steamboat Willy. Net als de inspiratiebron is Cuphead heerlijk absurdistisch en ademt het spel sfeer uit. Ik kan daarom ook niet wachten tot de Cuphead tekenfilmserie die binnenkort op Netflix verschijnt. Gelukkig heb ik nu Cuphead: the Fast Rolling Dice Game! om mezelf in de tussentijd te vermaken en gelukkig biedt dit spel mij uitzonderlijk veel vermaak!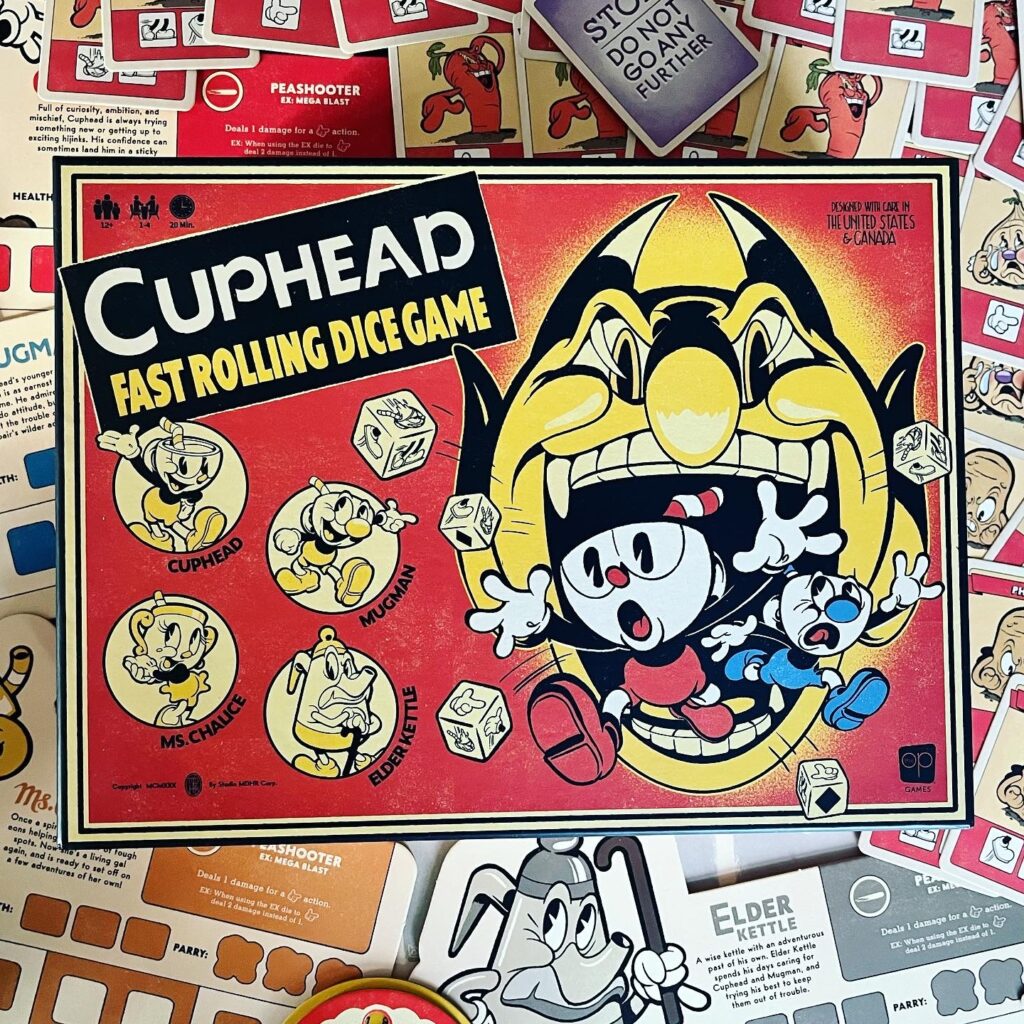 Grappig genoeg begint Cuphead het videospel met onze helden Cuphead en Mugman die stiekem een casino bezoeken en gaan dobbelen voor geld net als dat je in dit bordspel gaat dobbelen. De duivel verschijnt en doet de jongens een aanbod: als zij nog een keer kunnen winnen is al het geld in de casino van hen, maar als de verliezen is hun ziel van de duivel! Uiteraard verliezen de jongens, maar de duivel is coulant in dit geval. Als deze koppige kopjes zielen voor de duivel kunnen verzamelen van een aantal kwade geesten, mogen zij hun eigen zielen behouden. Ondanks hun uiterlijk gaan de jongens niet mokken en gaan zij op pad. In het zeer hectische videospel probeer je vooral een serie aan eindbazen met verschillende krachten en gedaantes te verslaan door in een rap tempo aanvallen te ontwijken en te schieten. In dit bordspel verloopt dat eigenlijk hetzelfde!
Het spel bevat verschillende boss fights (met verschillende regels en spelelementen die ik in deze recensie niet teveel ga prijsgeven) die spelers kunnen verslaan. De eindbaas bevat een stapeltje kaarten die spelers moeten doorspelen. Er worden een aantal kaarten opengedraaid die symbolen bevatten. Spelers zetten en timer en moeten als de sodemieter binnen de timer dobbelstenen werpen om symbolen in de juiste volgorde te matchen. Geplaatste dobbelstenen mogen niet meer veranderen en overgeslagen symbolen mag je later niet alsnog plaatsen. Hierdoor is Cuphead een heerlijk uitdagend en zeer vlot spel.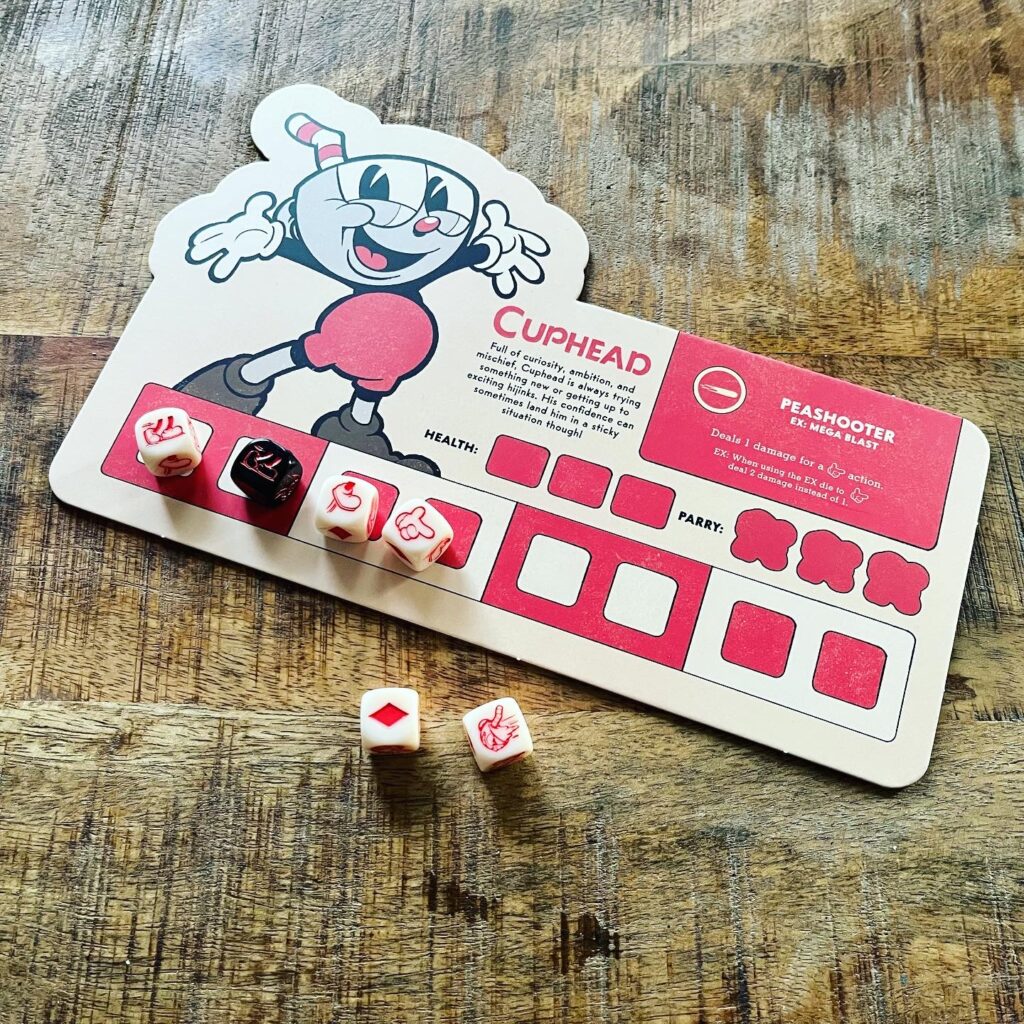 De verschillende eindbazen bieden voldoende vernieuwing, variatie en uitdaging. Als spelers een eindbaas hebben verslagen krijgen ze een score en muntjes. De muntjes kunnen ze gebruiken om wapens vrij te spelen waarmee ze de andere eindbazen te lijf kunnen gaan. Het spel moedigt spelers ook aan om eerder eindbazen nogmaals uit te dagen om een betere score te halen. Dit is een erg leuk spelconcept. Het is niet echt een champagnespel, maar spelers spelen wel langzaam meer elementen vrij die ze vervolgens weer kunnen gebruiken om een eerdere uitdaging te lijf te gaan.
Cuphead is een heerlijk en hectisch spel dat het videospel goed weet te vertalen in bordspelvorm. Met de verschillende dobbelstenen moet je namelijk aanvallen ontwijken en proberen om gaatjes te vinden in de aanval van de eindbaas om zelf ook voltreffers te maken. Echt een aanrader en een favoriet die al vaak bij ons op tafel verschijnt!