Veel detectiveverhalen beginnen met de introductie van een oude doorgewinterde politierot. Deze detective wordt op een laatste grote zaak gezet en vaak een week voordat hij of zij met pensioen gaat. In Crime Scene Brooklyn nemen de spelers de rol aan van een stereotype pre-pensionado en proberen zij het laatste moordmysterie van hun carrière op te lossen. In een kamer in een onguur hotel wordt het lichaam van een jonge vrouw aangetroffen in een badkuip. Verzamel bewijs, los puzzels op en kraak de zaak. Weet jij de moordenaar te vinden?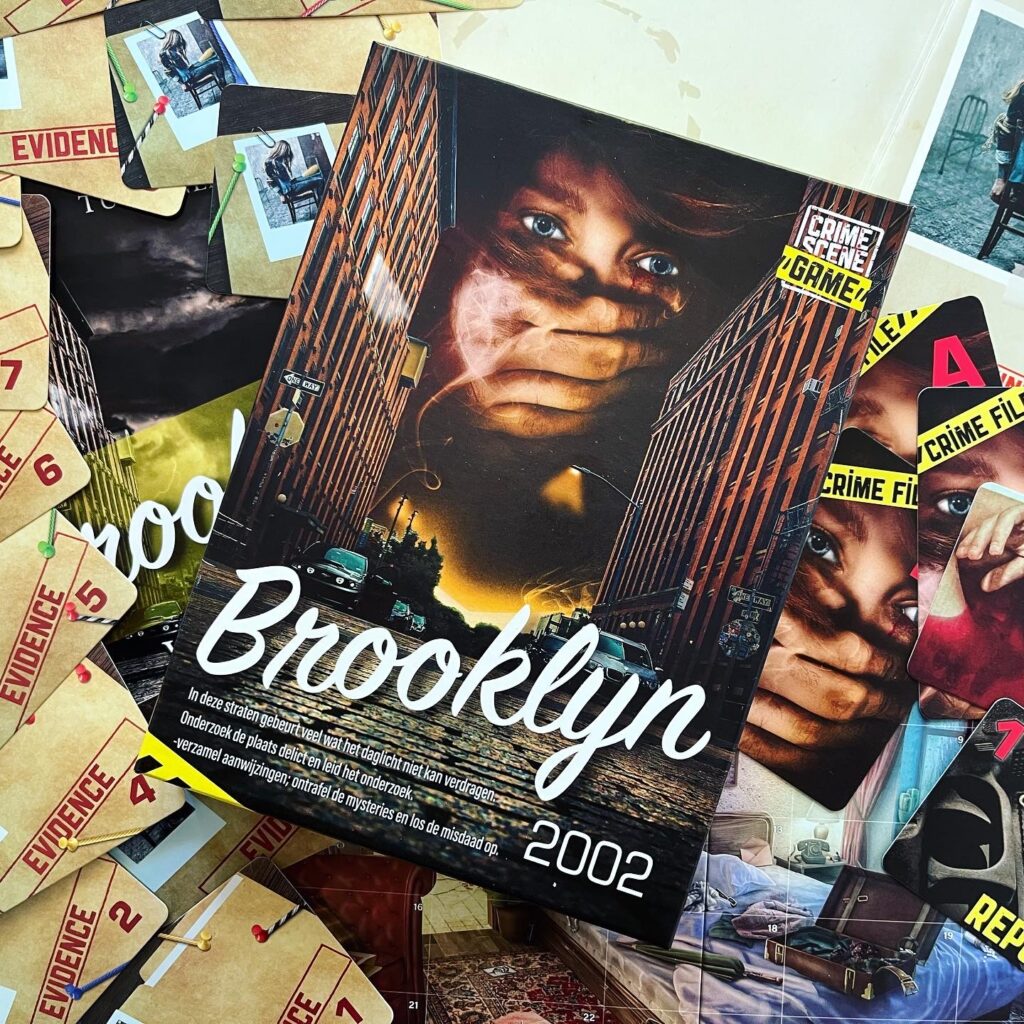 Moordmysteries worden steeds populairder en liefhebbers hoeven niet te vrezen voor een schaarste. Crime Scene Brooklyn is een nieuw moordmysterie (eigenlijk meer een puzzelspel) van Selecta games. Uitgerust met een foto van het plaats delict (het spelbord) en een set kaarten (bewijs, codes, hints en reputatie) proberen spelers het mysterie te ontrafelen. Het speelbord met de foto bevat een hoop details en is in verschillende genummerde vakjes verdeeld. Elk nummer correspondeert met de bewijskaarten. Op de bewijskaarten staan puzzels en spelers moeten de juiste combinaties van kaarten/bewijs maken om de puzzel te onthullen en de code van de puzzel te kraken. Indien de speler denkt dat hij of zij de juiste de code heeft gevonden, dan verwijst de code naar een specifieke paragraaf, regel en woord in het verhalenboekje. Het juiste woord levert de volgende puzzel op.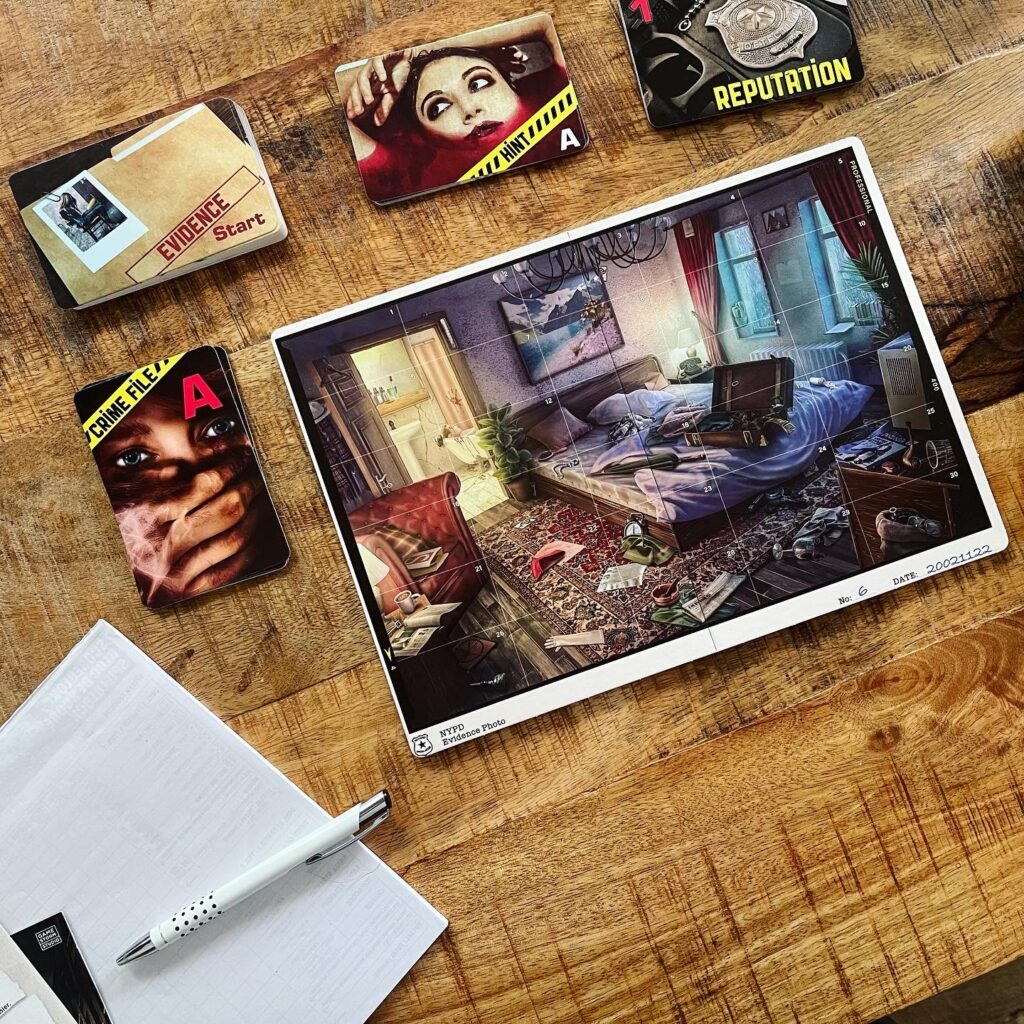 Komt een speler vast te zitten? Dan kan deze speler een hintkaart van de desbetreffende puzzel spelen. De speler verliest hierdoor wel een reputatiekaart. Nadat de speler alle puzzels heeft opgelost, krijgt de speler een vraag voorgeschoteld. De reputatiekaarten die speler nog heeft, geven een hint voor het juiste antwoord op de finale vraag.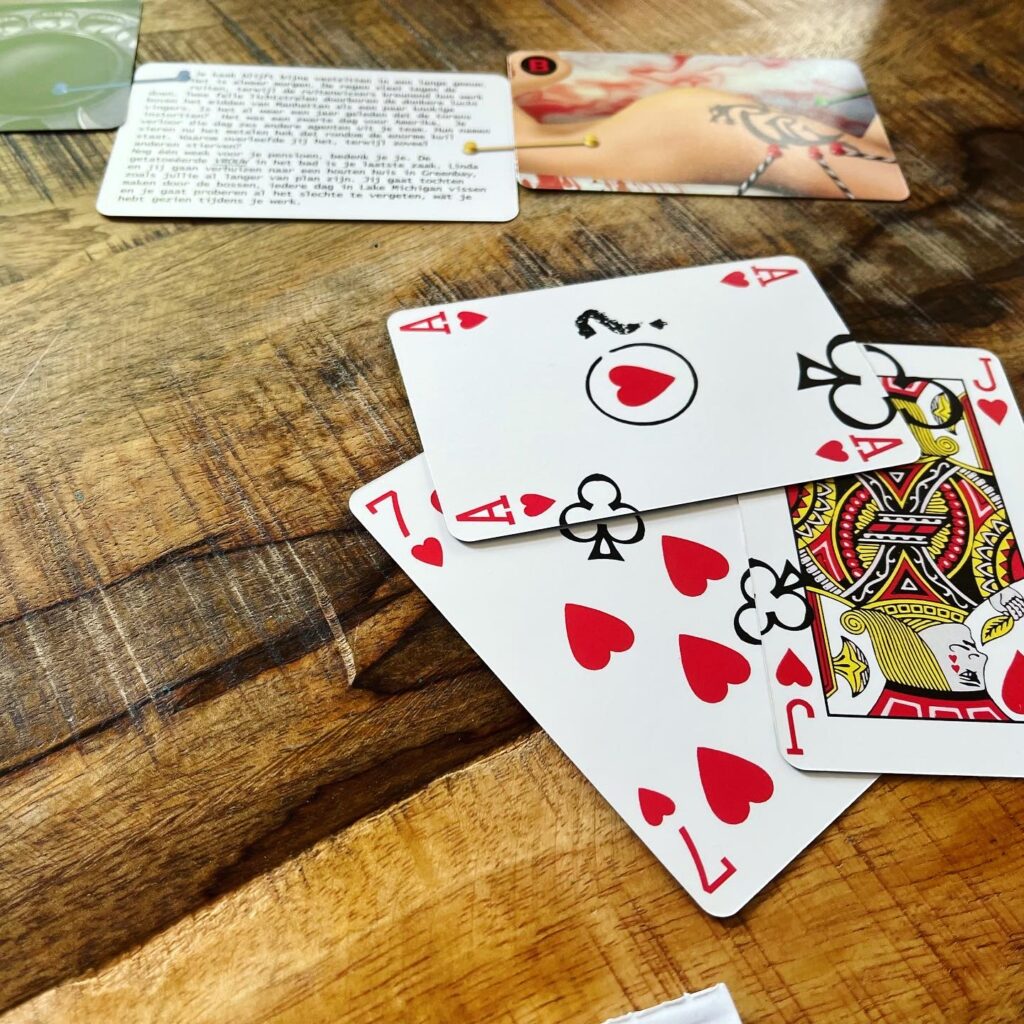 Crime Scene Brooklyn is een leuke combinatie tussen het verhalende van een moordmysterie en verschillende puzzels die een speler kan oplossen. De manier van progressie van het verhaal is interessant gedaan doordat spelers steeds een nieuwe puzzel en stukje verhaal vrijspelen. De speler dient puzzels in een vaste volgorde op te lossen en het grootste deel van het verhaal is dan ook gericht op het oplossen van deze puzzels, waardoor het spel soms meer lop een escape room spel met een detectivethema lijkt dan op een daadwerkelijk moordmysterie. Het vinden van bewijs op de foto van het plaatsdelict is vooral gericht op het vrijspelen/completeren van puzzels. Dit spelmechanisme zelf is vermakelijk, maar het voelt daardoor minder alsof je daadwerkelijk een detective bent, aangezien de puzzels de verbanden tussen het bewijs legt en niet jij als speler. Het spel is daardoor heel goed geschikt voor spelers die van puzzelen houden, maar mogelijk minder voor spelers die een daadwerkelijk moordmysterie willen oplossen.