Ben jij snel, weet jij binnen de lijntjes te kleuren en ben jij ook goed in het ontcijferen van je eigen handschrift (eigenlijk tekenschrift)? Als het antwoord op al deze vragen ja is, dan is het partyspel Connecto wellicht op het lijf geschreven voor een speler zoals jij en anders word je voor het leven getekend!
In Connecto gaan spelers tegelijkertijd 8 'raadsels' oplossen. Elk 'raadsel' is een kaart met allemaal kleine plaatjes. Deze plaatjes geven aan hoe spelers de hint moeten tekenen op hun persoonlijke bordje. Je hebt me goed verstaan: spelers gaan de hints tekenen. Dat doen ze overigens allemaal tegelijkertijd, dus tijdsdruk speelt een rol. Heb je vroeger wel eens tekeningen gemaakt waarbij je verschillende nummers in volgorde met elkaar moest verbinden door rechte lijntjes te tekenen tussen de nummertjes en dat je op deze manier een tekening maakte? Connecto is exact dat, maar in spelvorm gecombineerd met een vermakelijk element van stress.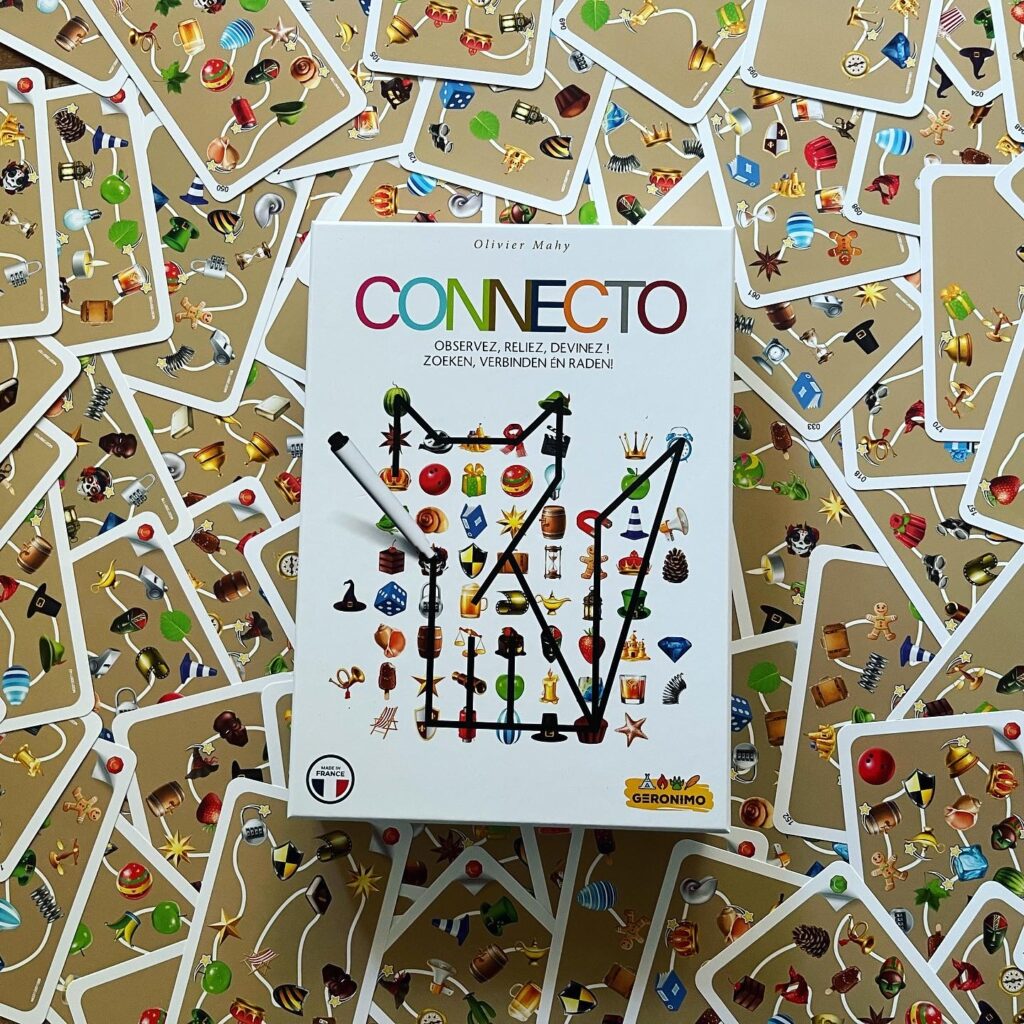 Alle spelers hebben ieder een bordje met allemaal rijen en kolommen bestaande uit verschillende kleine plaatjes. Elke beurt ligt er in het midden van een tafel een kaartje met eveneens kleine plaatjes. Door sommige plaatjes loopt een lijn. Dat geeft aan dat spelers tussen deze plaatjes een rechte lijn moeten tekenen. Als er op de kaart naast een plaatje een vallende ster staat, geeft dat aan dat spelers met een boogje om dit plaatje op hun bordje heen moeten tekenen. Als een plaatje op het kaartje geïsoleerd staat afgebeeld, dan moeten de spelers dit plaatje omcirkelen alsof het met een bubbel in quarantaine is geplaatst.
Zodra een speler na wat gekrabbel in de smiezen heeft welk woord hij of zij aan het uittekenen is, kan hij of zij de zandloper pakken, deze omdraaien waarna de overigens spelers nog maar luttele seconden hebben om ook verder te tekenen en een gokje te wagen. Na afloop van de tijd wordt het woord van de bijpassende kaart onthuld. Als een speler het juist antwoord heeft gegeven, krijgt deze speler 1 punt. De speler die de zandloper pakte het juiste antwoord wist te geven, krijgt een bonuspunt. Voor een speler de zandloper pakt, moet deze wel zeker van zijn of haar zaakjes zijn, want bij een onjuist antwoord krijgt deze speler een minpunt.
De te raden woorden staan in het boekje en er zijn maar een beperkt aantal raadsels, maar er zitten zoveel kaarten in het spel dat je deze niet allemaal makkelijk gaat onthouden. Althans dat denk ik. Connecto is een grappig partyspel voor tussendoor en leuk om met een grotere groep te spelen. Het is leuk om te zien dat spelers door de tijdsdruk fouten maken en sommige raadselkaarten zijn nog best lastig te raden. Leuk voor liefhebbers van snelle partygames.