"Cause I got a golden ticket… I've got a golden twinkle in my eye!" Je heb een gouden ticket gevonden en nu mag je een bezoekje brengen aan de snoepfabriek! Een snoepfabriek is in werkelijkheid niet zo magisch als de fameuze fabriek van de wonderlijke Willy Wonka. Jij bent geen prijswinnaar, maar je hebt gewoon gesolliciteerd. Die gouden ticket van jou? Een arbeidscontract. Uitgekozen om te werken in de snoepfabriek. Maar snoep maken is vast leuk toch? Nou…. Je gaat aan de slag op de logistieke afdeling en je moet zoveel mogelijk prijswinnende snoepjes in doosjes zien te stoppen. De grootste snoepkont wint, maar pas op: de kantoorpolitiek van deze snoepfabriek is moordend en de andere snoepjes (spelers) zijn minder zoet en proberen jouw leven zuur(tjes) te maken… dus minder Sjakie – meer Patrick Bateman!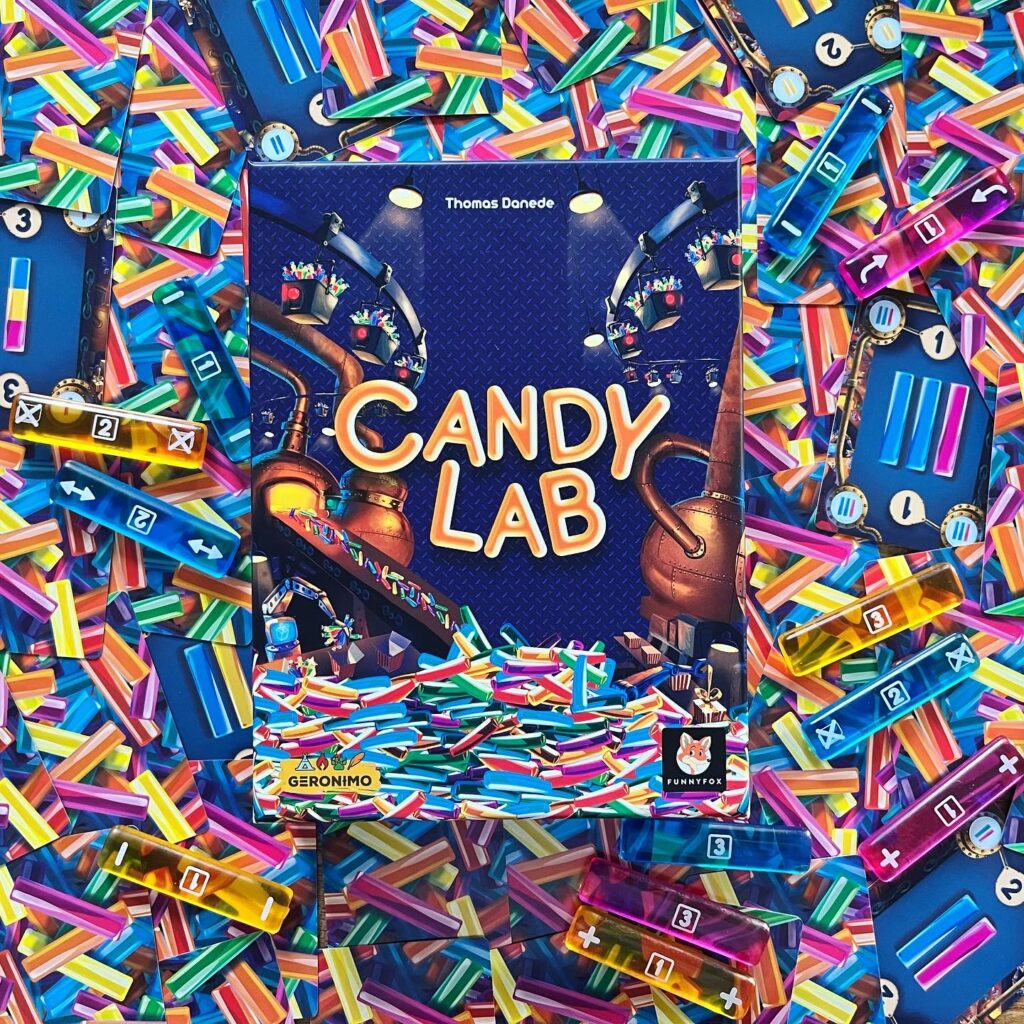 Candy Lab is een "take-that"-kaartspelletje van Geronimo games. Oftewel Candy Lab is een luchtig, simpel en chaotisch kaartspelletje met hoge mate van interactie. Spelers vallen elkaar direct en proberen letterlijk en figuurlijk het snoep onder elkaars neuzen vandaan te stelen.
Op tafel liggen (in willekeurige volgorde) allemaal kleurrijke plastic staafjes: de zuurstokken. Spelers proberen orders te vervullen en zuurstokken te vergaren om zo de meeste punten te verdienen. Tijdens een beurt kan een speler een kaart met een order spelen of zuurstokken aanleggen om nieuwe kaarten te treken.
Door een orderkaart te spelen, mogen spelers zuurstokken van het midden van de tafel pakken. De adder onder het gras: op de orderkaart staan kleuren in een bepaalde volgorde en die moet overeenkomen met de zuurstokjes die je wilt pakken. De gespeelde orderkaart levert overwinningspunten op. Elke zuurstok bevat ook overwinningspunten, maar sommige zuurstokjes die pakt bevatten daar bovenop ook symbolen. Deze symbolen vertegenwoordigen effecten die je mag uitvoeren als je deze stukjes pakt. De effecten zorgen meestal voor een mogelijkheid om de andere spelers te pesten. Met effecten kun je bijvoorbeeld zuurstokken of kaarten bij tegenstanders wegnemen.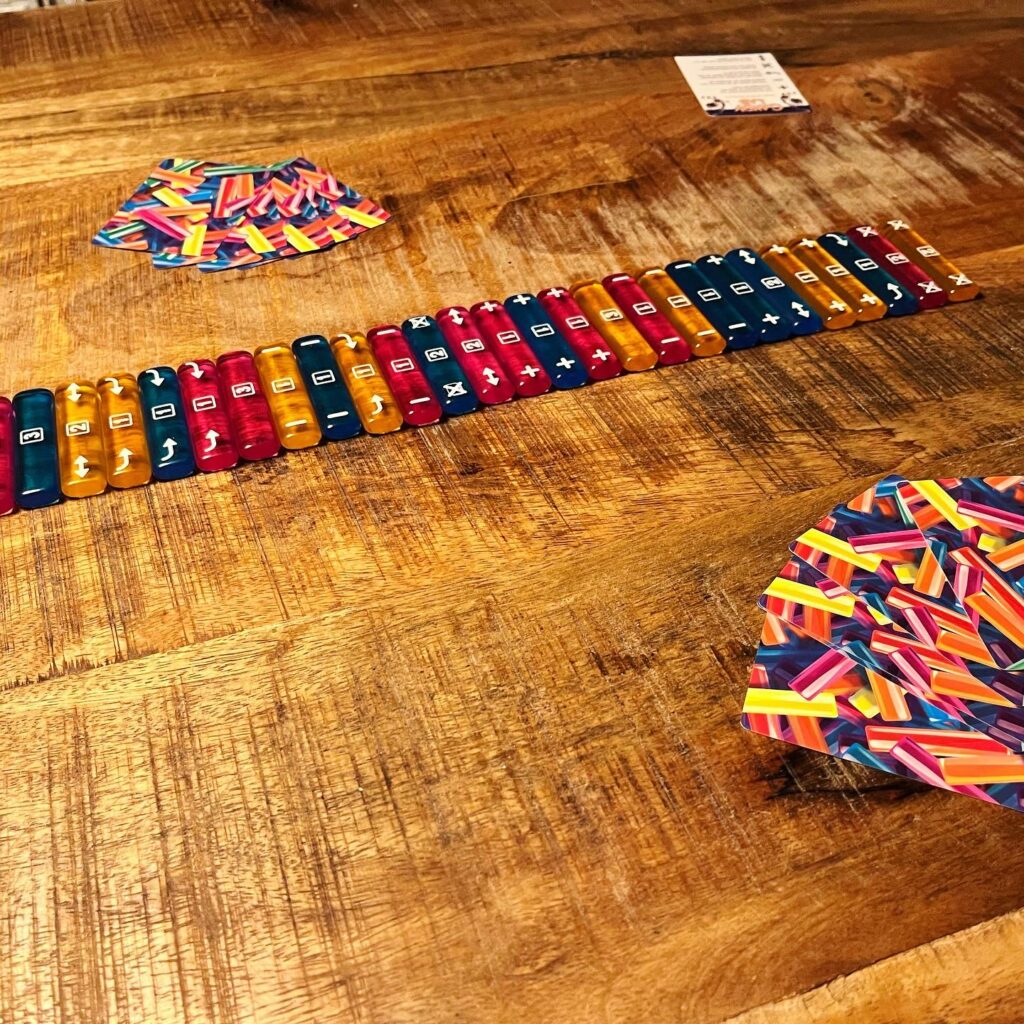 Orders raken uitgeput, dus spelers moeten ook acquireren (dat kun je tenslotte leren). Tijdens je beurt kun je daarom één tot en met drie zuurstokken terug op tafel plaatsen. Deze speler mag vervolgens kaarten pakken gelijk aan de hoeveelheid overwinningspunten die deze speler terug in de (snoep)pot legt. Kan een speler tijdens een beurt niet een van de twee voorgaande acties doen? Dan mag je een enkele kaart trekken. Het spel is afgelopen zodra de spelers zijn uitgesnoept (als er geen snoepjes meer op tafel liggen) of als er geen orders meer te vervullen zijn (de trekstapel leeg is).
Is Candy Lab een verzadigend snoepje? Voor de veelspeler is dit spel waarschijnlijk net iets te chaotisch en teveel gedreven op geluk. Door de verschillende acties en effecten is het spel interactief, maar is het lastig om vast te houden aan een specifieke tactiek. Candy Lab is juist vooral lekker voor de beginnende spelers en zoetekauwen vanwege de simpele gameplay en de heerlijke chaos.