Saddle up, cowboy en maak je klaar om het wilde westen nog net iets wilder te maken. In Blasting Billy gaan jij en andere leden van de posse van Billy buit verzamelen. Bankbiljetten, munten, sieraden, klompjes goud en diamanten liggen voor het oprapen. Druk een deel van de buit achterover, maar zorg ervoor dat Billy je niet in de smiezen krijgt. Heb je namelijk meer buit dan Billy, dan schiet ie sneller dan zijn schaduw. Overleef jij deze Mexican Standoff?
Blasting Billy is een snel en simpel, deductief blufspel waarbij twee tot vijf cowboys de buit na een grote rooftocht verdelen. Om de beurt kiezen spelers telkens of ze een van hun drie handkaarten voor zichzelf spelen, aan Billy geven of wegleggen. Als de trekstapel leeg is, worden de gewonnen rijkdommen geteld. Als jij voor een bepaalde schat een hogere score hebt dan Billy, schiet hij je genadeloos neer en telt jouw score voor die schat niet meer mee. De last outlaw standing met de hoogste score wint. Zijn alle spelers door Billy neergeschoten dan wint de speler met de hoogste overgebleven score.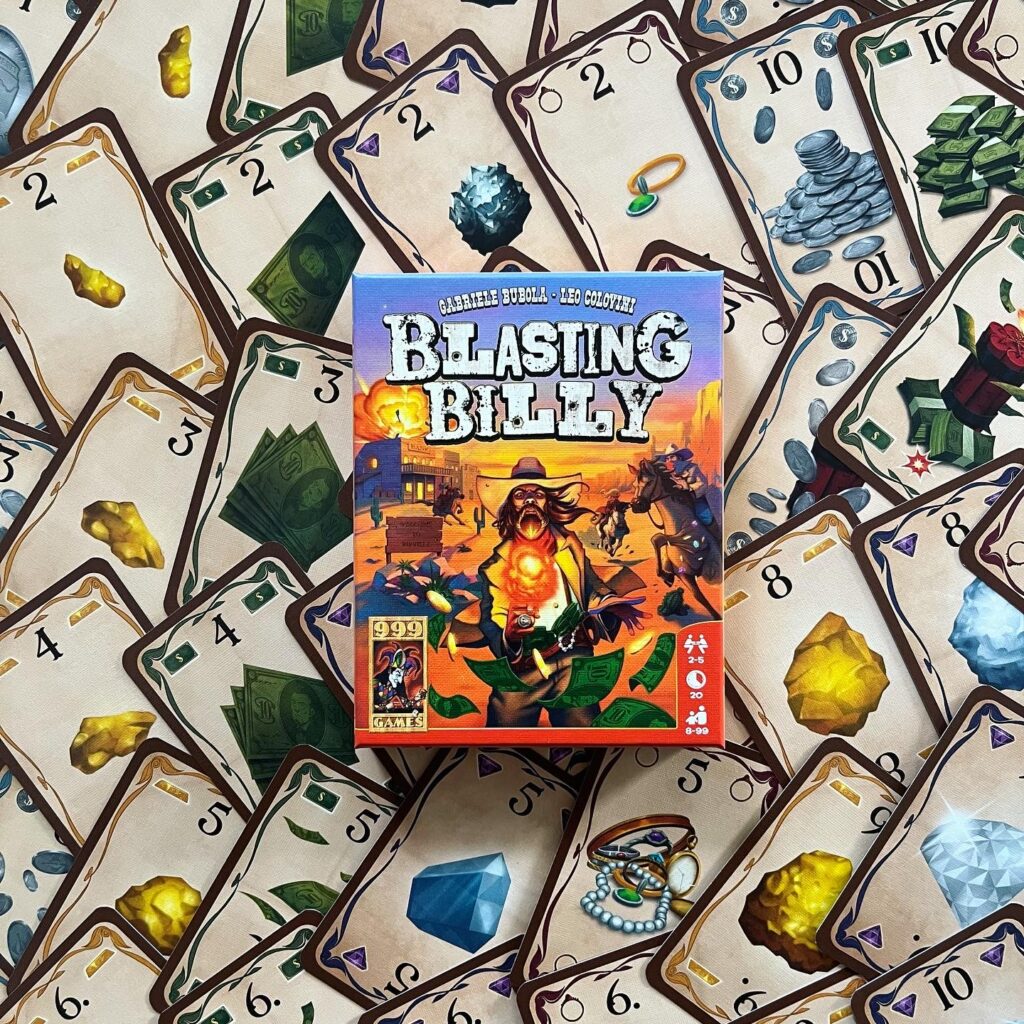 Er zijn verschillende kaarten in oplopende waardes en in verschillende kleuren. Aan de achterkant van een kaart kun je zien welke kleur en schat deze kaart heeft, maar niet welke waarde. Alle kaarten bij Billy worden gesloten gespeeld en bij spelers enkel de eerste kaart van een kleur. Spelers moeten, op basis van beperkte informatie, ontcijferen en gokken wat andere spelers aan schatten hebben verzameld. Door te bluffen, probeer je andere spelers om de tuin te leiden. Speel bijvoorbeeld veel kaarten met een lage waarde bij Billy om andere spelers het idee te geven dat ze veilig zijn.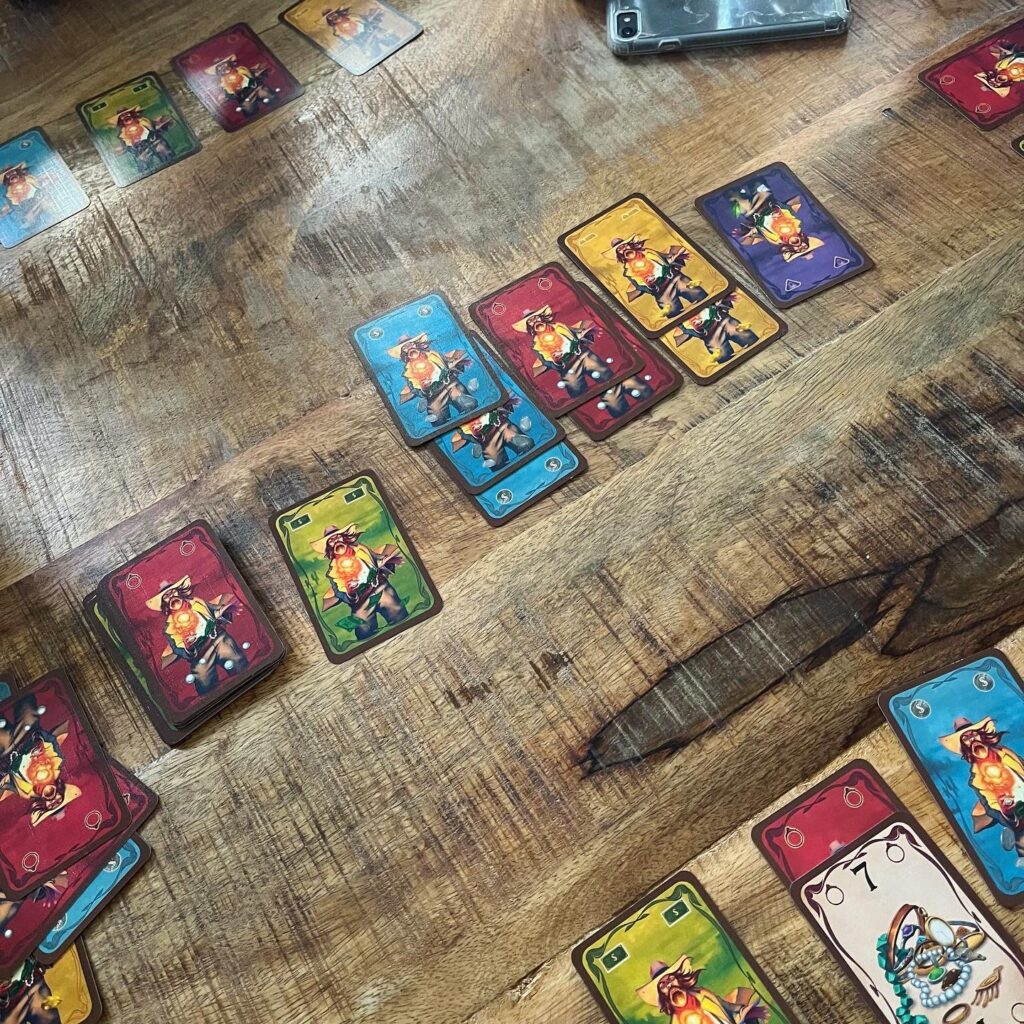 Blasting Billy heeft geen onbekend spelmechanisme. Dit mechanisme kennen we onder meer van Foodie dat al eerder door 999 Games werd uitgegeven. Dat neemt niet weg dat dit vlotte spel vol bedrog uiterst vermakelijk is en een toepasselijk thema heeft. Als echte outlaws en sharpshooters proberen spelers elkaar te bestuderen onder dreiging van een mogelijk vuurgevecht. Als je een andere speler doorhebt, kun je proberen om deze speler genadeloos te grazen te nemen. Daarvoor dien je nog wel de juiste kaarten te trekken, dus geluk geeft soms ook nog een verrassende wending. Voor echte Lucky Lukes!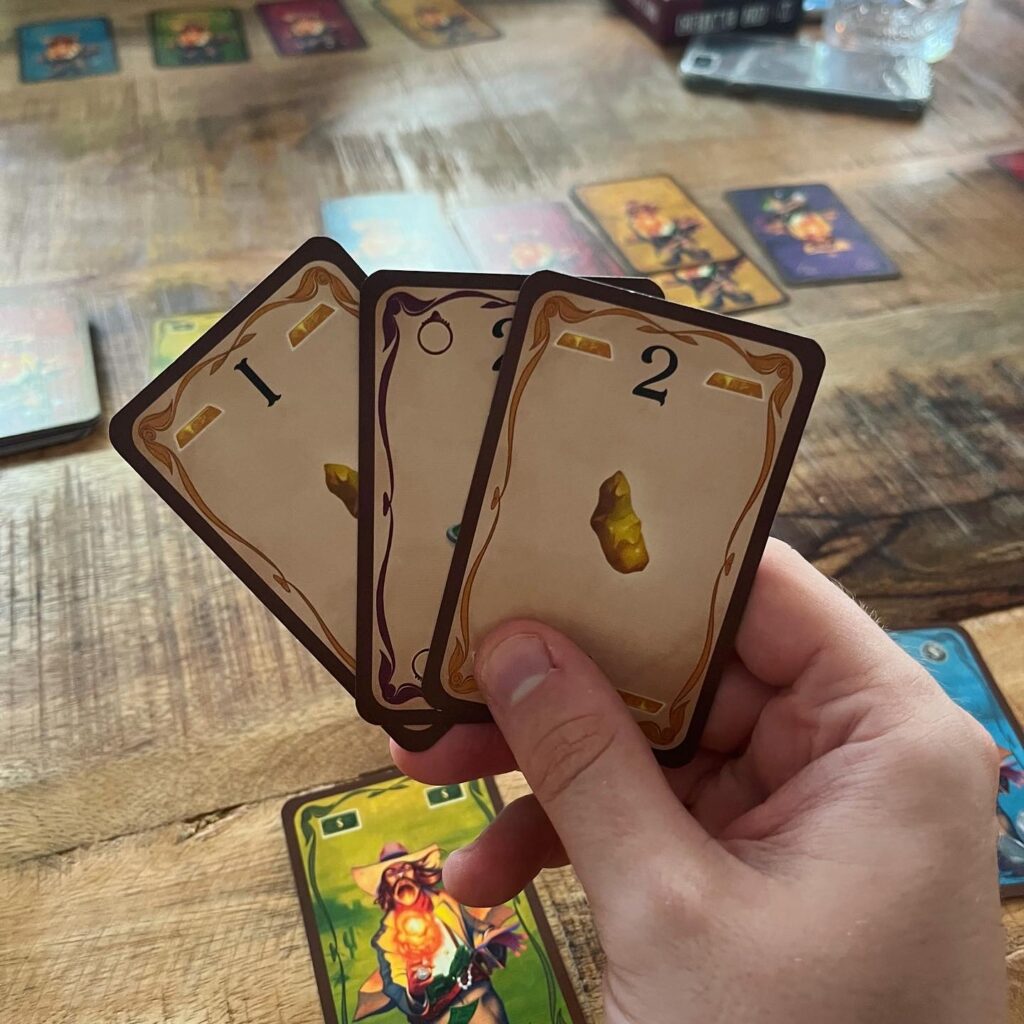 Wat vinden de anderen:
Wat het spel heel goed doet, is dat je steeds bezig bent om de andere speler te lezen. Op die manier is het ook wel echt een soort standoff.

Chris
Het spel wordt leuker als het vaker achter elkaar gespeeld wordt: je leest de tegenstander beter en kan dus beter inschatten of de opgebouwde stapel kaarten daadwerkelijk een groot aantal punten bevat.

Per