"Beam me up, Scotty!" is een vaak geciteerde Star Trek zin, die nooit op deze manier uitgesproken in de ooit zo populaire televisieserie. "Beam me up" (of vergelijkbaar) werd vaak gebruikt als de hoofdpersonages van de oorspronkelijke Star Trek serie terug naar de veiligheid van hun ruimteschip de Enterprise wilde teleporteren. Vaak werd de uitspraak gericht aan de chief engineer van de Enterprise Montgomery Scott. Beam Me Up! is tevens de naam van een geheel nieuw bordspel voor twee spelers ontwikkelt door de Nederlandse uitgever White Goblin Games, waarbij spelers naar verschillende plekken in de ruimte teleporteren.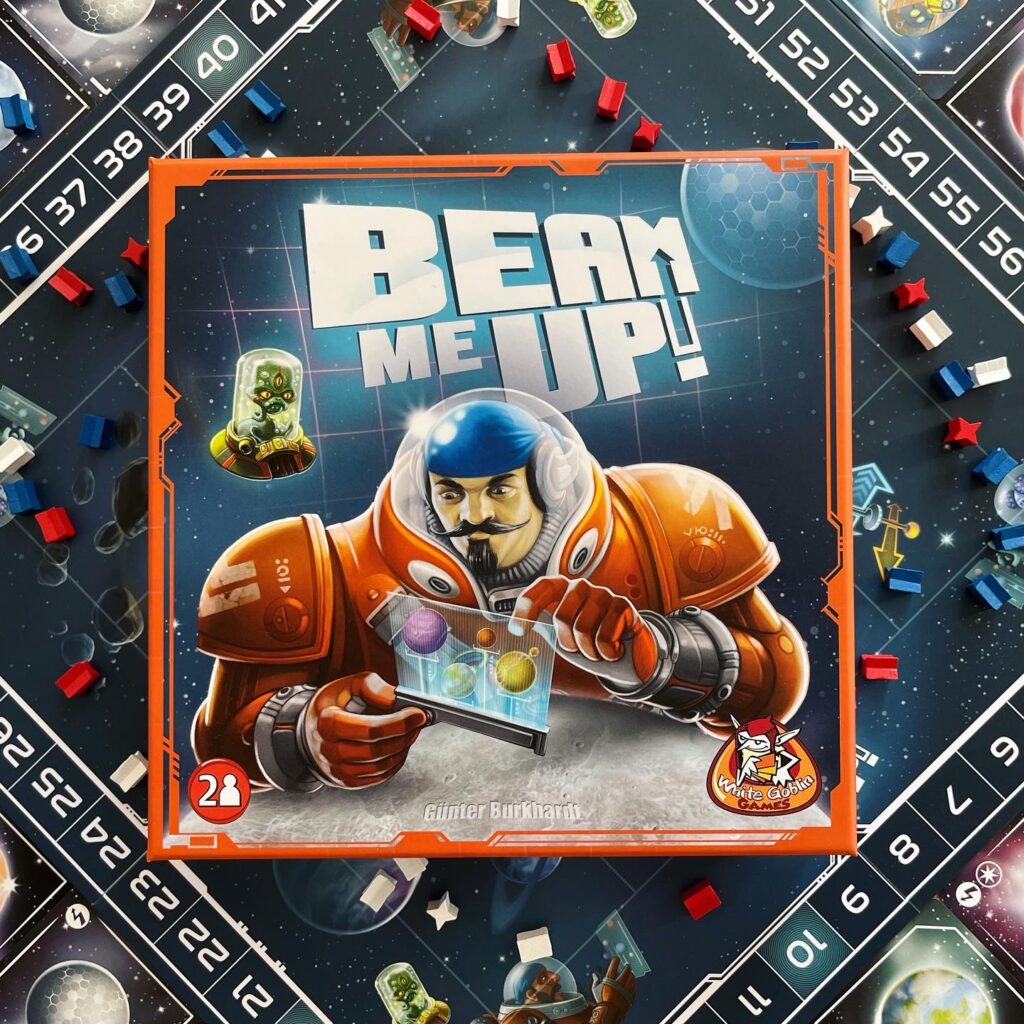 Spelopzet
Aan het begin zetten spelers het speelbord klaar. Uit detrekzakhalen ze willekeurige sterren (in drie verschillende kleuren) en leggen drie willekeurige sterren per vakje op het speelbord. Naast het bord leggen de spelers een grind neer van 4 x 4 willekeurige kaarten. Er liggen nu net zoveel kaarten als er vakjes op het speelbord zijn. Iedere speler kiest 1 van de 3 kleuren en leggen hun scorestenen bij het bord. Er wordt een speelstuk op het bord geplaatst en parallel op de bijbehorende kaart. Spelers zijn dan klaar om te beginnen!
Spelverloop
Tijdens het spel verplaatsen spelers om de beurt het speelstuk naar een beschikbaar vakje op het speelbord waar nog drie sterren aanwezig zijn. Spelers verplaatsen vervolgens ook het speelstuk op het grind met kaarten op vergelijkbare wijze.
De actieve speler pakt de drie stenen van het bord en plaatst deze sterren op drie verschillende kaarten op de dezelfde kolom of rij van het speelstuk op het grind van de kaarten. Deze sterren mag de speler niet op de kaart plaatsen waar het speelstuk op dat moment al staat.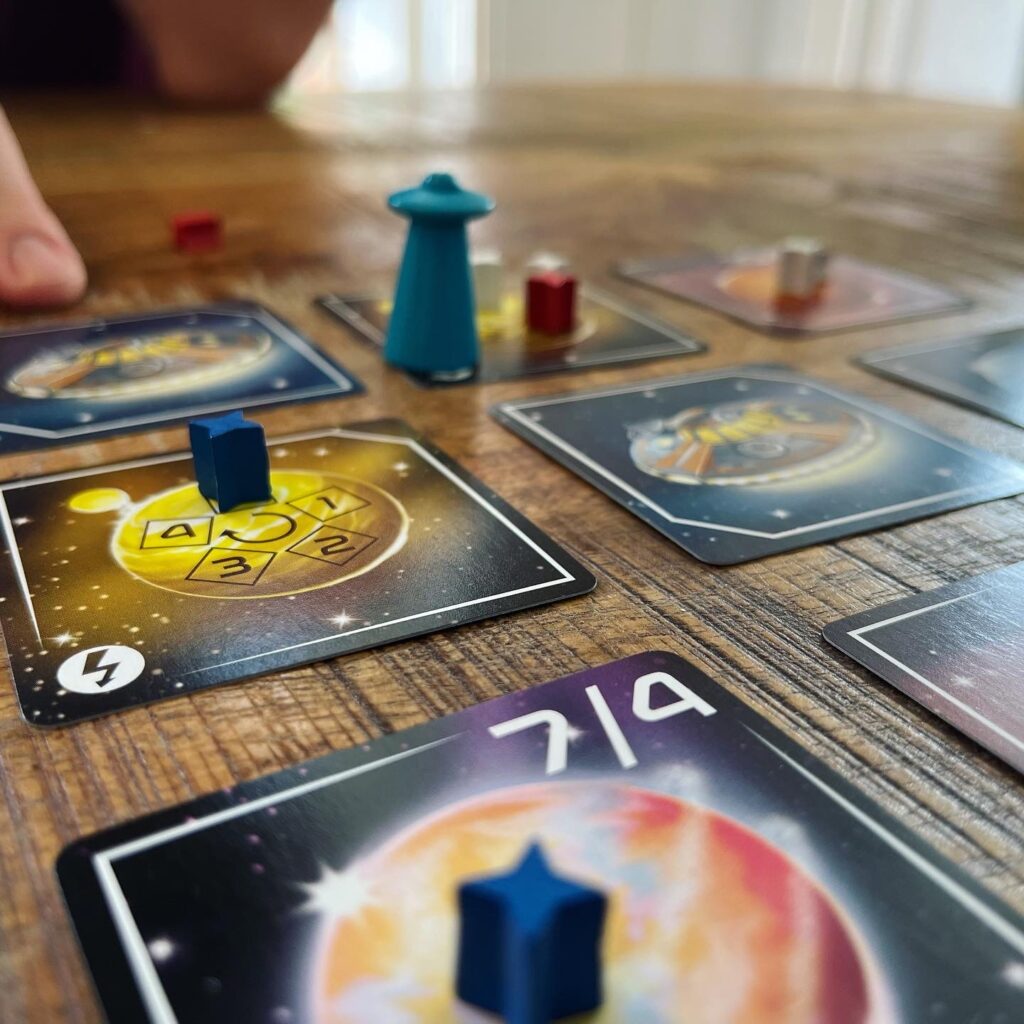 Elke kaart heeft een unieke eigenschap of actie waarde sterren punten en/of spelers punten mee scoren. De sterren hebben de kleuren die spelers hebben gekozen en een neutrale kleur. Voor sommige kaarten scoort een speler gelijk omdat er sterren worden geplaatst en bij sommige kaarten wordt er pas aan het einde van het spel een score toegekeerd (bijvoorbeeld bij de meerderheid van een kleur).
Conclusie
Op deze manier gaan spelers een vaste aantal rondes punten vergaren en het speelstuk verplaatsen in hun gewin, maar ook zodanig dat de andere speler minder een kans heeft op dezelfde overwinning. Het spelmechanisme leidt tot een dynamisch, maar reactief duel tussen de twee spelers. Het gaat hierbij meer om snelle tactiek dan doordachte strategie, want het is lastig vooruit te plannen aangezien jouw tegenstander onverwacht het speelstuk naar een andere uithoek van het heelal kan sturen. Maar, wat overblijft is een prettige tactische en vlotte puzzel.