Hebben jij en jouw vrienden ook altijd ruzie over de muziekkeuze tijdens een feestje? Guus moet altijd zonodig iedereen laten meegenieten van Hollandse hits die hij maar al te graag afspeelt via een goedkoop en blikkerig Bluetooth speakertje, Linda wilt iedereen introduceren aan onbekende bandjes en Sjaak denkt telkens weer dat hij op een hardstylefeestje is. Iedereen vecht om de controle van het speakertje, muziekstijlen van andere worden niet gewaardeerd en door het constante wisselen van liedjes en artiesten lijkt het alsof DJ Benny Naadloos een gastoptreden verzorgt. In All Stars Playlist kunnen spelers onder het genot van tijdloze en populaire hits de perfecte playlist samenstellen en uiteraard meezingen. De speler met de beste playlist mag het volgende feestje de muziek uitkiezen. Ben jij DJeeej of DJ liever niet?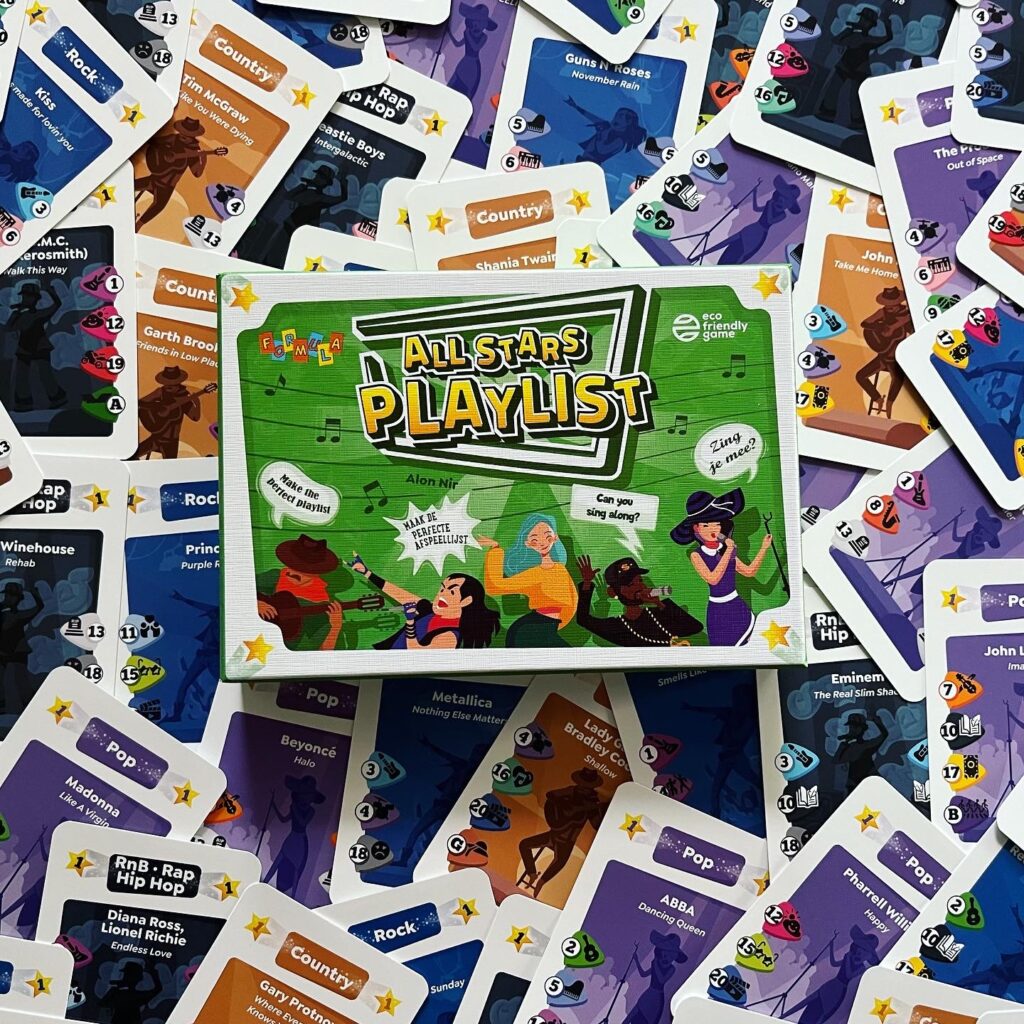 Spelopzet en doel
All Stars Playlist is een vlug en (afhankelijk van de spelers) muzikaal kaartspel waarbij spelers nummers uit de downloadlijst in hun persoonlijke playlist proberen te verzamelen. Met de juiste liedjes en combinaties verdien je de meeste punten. Op tafel ligt een downloadlijst met vijf opengedraaide muziekkaarten. Dit zijn liedjes die spelers kunnen "downloaden" om toe te voegen aan hun eigen playlist. Iedere speler krijgt aan het begin van het spel wee opdrachtkaarten, twee muziekkaarten en twee actiekaarten. De opdrachtkaarten bevatten voorwaarden waar de speler aan moet voldoen om de weergegeven hoeveelheid punten te verdienen. Zodra een speler tijdens het spel een opdracht heeft voltooid, krijgt deze speler een nieuwe opdrachtkaart. Zodra een speler 15 kaarten in zijn of haar playlist heeft, eindigt het spel en volgt de puntentelling.
Spelverloop
Tijdens een beurt voegen spelers tot tweemaal toe nummers uit de downloadlijst toe aan hun hand. Spelers kunnen vervolgens net zoveel kaarten uit han hand toevoegen aan hun playlist, hiervoor gelden echter wel een paar regels. Zo moet tenminste een eigenschap van een nummer (symbolen op de kaart) overeenkomen met een eigenschap van het nummer dat als laatste in de playlist is geplaatst. Spelers moeten hun playlist naadloos in elkaar spelen. Met de actiekaarten kunnen spelers het verloop van het spel beïnvloeden. Als een speler drie kaarten met hetzelfde genre in zijn of haar playlist heeft, krijgt deze speler een nieuwe actiekaart.
Aan het einde van de beurt moet de actieve speler een stukje van het laatste nummer in zijn of haar playlist zingen of neuriën. Lukt dit niet of zingt de speler het verkeerde nummer, dan krijgen de andere spelers een kans om zo een kaart te stelen. Spelers die liever niet zingen, kunnen er voor kiezen om dit muzikale element weg te laten, maar een groot deel van de lol van het spel hangt uiteraard af van het gezang (of poging daartoe) van de medespelers. Zonder het muzikale element is het spel een vlug en simpel kaartspel, maar met "karaoke-element" veranderd het spel in een partyspel dat met name gericht is op liefhebbers van snelle partyspellen, waarbij ze tussendoor van de achtergrondmuziek kunnen genieten, niet hun aandacht 100% bij het spel moeten houden, maar juist ook bij het sociale aspect en de aanwezigheid van hun vrienden.