Lukt het jou om in zeven rondes de meeste punten te winnen in 7 Rounds? What's in a name?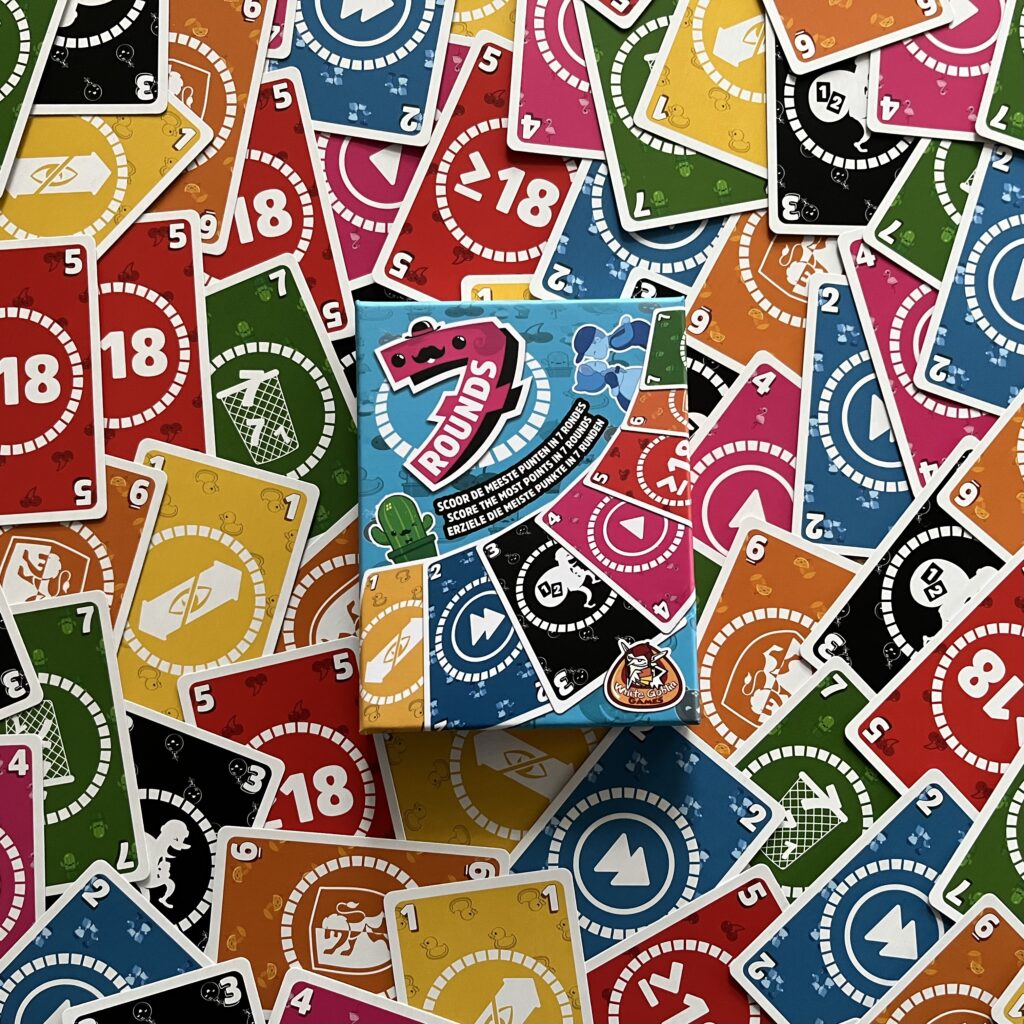 Een spelauteur heeft mij ooit verteld dat als je simpel spelconcept hebt, dat je het beste het spelidee of spelverloop al in de titel kunt verwerken. LAMA staat bijvoorbeeld voor leg alle minpunten af. Het doel van het spel is gelijk duidelijk. Ook 7 Rounds heeft een zeer beschrijvende titel. Na 7 ronden is het spel voorbij. Wie de meeste punten heeft aan het einde van deze 7 ronden die wint. Simpel? Dat klopt, maar het spel heeft een kleine twist, want het is niet altijd even makkelijk om de meeste punten te krijgen of behouden. Na 7 rondes vol chaos hoop je vooral de overwinning te pakken te hebben, maar je bent hier nooit zeker van.
Het spelverloop van 7 Rounds is simpel. Iedere speler krijgt vier kaarten van de centrale trekstapel. De startspeler krijgt ook een stapeltje met 7 kaarten die gebruikt worden om de verstreken hoeveelheid rondes in de gaten te houden. Tijdens je beurt pak je een kaart en speel je een kaart. Hierdoor lijkt het qua spelverloop al aardig op spelconcepten waar zelfs de minst ervaren spelers bijzonder bekend mee zijn.
Op de kaarten staat hoeveel de kaarten waard zijn als zij aan het einde van het spel nog in je hand zitten. De 7 in de titel van het spel slaat niet enkel op de hoeveelheid rondes maar ook de kaart met de hoogste waarde van het spel: de 7. Een speler kan maximaal 28 punten halen aan het einde van het spel en het doel is dan ook duidelijk.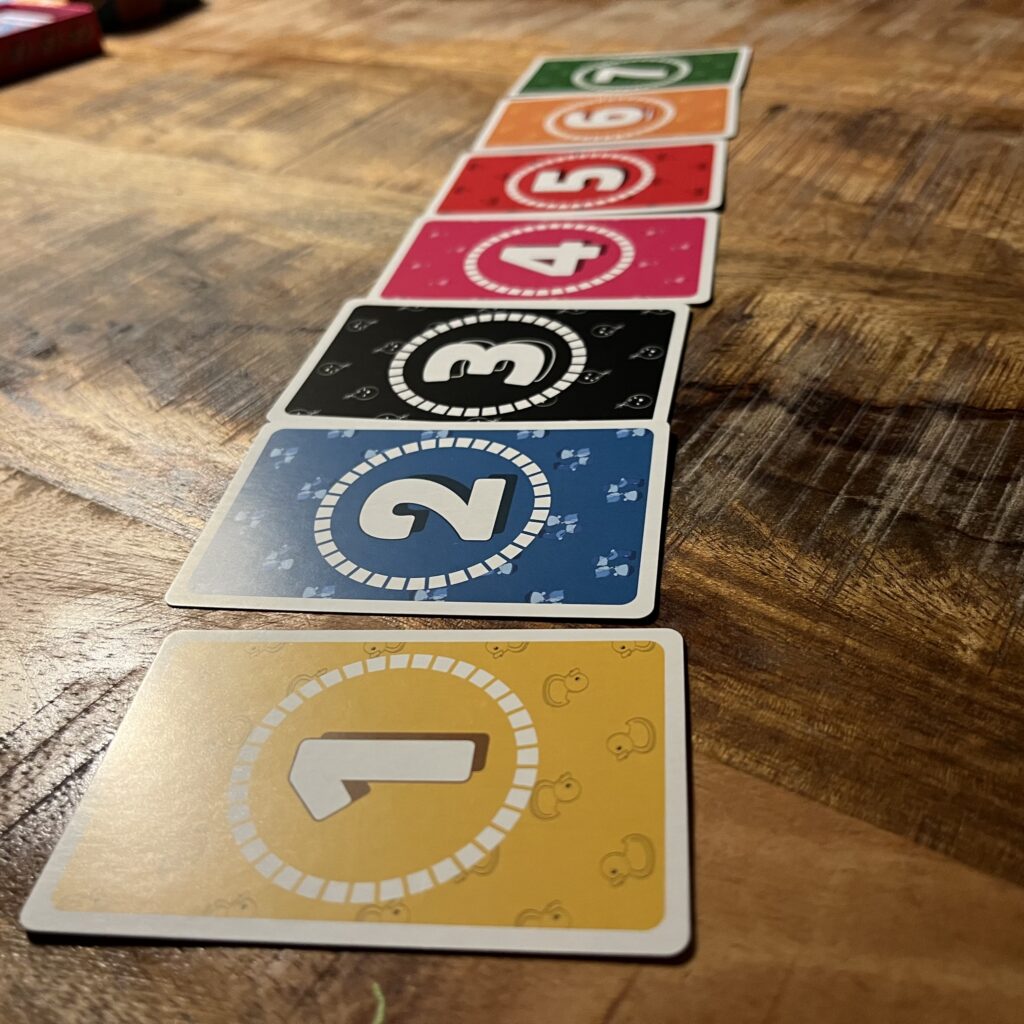 Kaarten hebben niet enkel een waarde maar 6 van de 7 kaarten hebben ook een speciale actie zodra je deze kaart speelt. Zo kun je met een 1 blind een kaart wisselen met een andere speler, met een 2 kun je gelijk nog een beurt verrichten, met een 3 kun je blind twee kaarten uit de hand van een andere speler afleggen, een 4 doet niks bijzonders, als je een 5 speelt moeten alle spelers die op dat moment een waarde van 18 of meer in hun handje hebben hun twee hoogste kaarten afleggen, met een 6 kun je jijzelf beschermen tegen effecten van andere kaarten/spelers (de klassieke 'nope'-kaarten) en door de felbegeerde 7 te spelen, moeten alle spelers hun zevens afleggen. Spelers dienen altijd 4 kaarten op hand te hebben, dus als kaarten (moeten) worden afgelegd, vullen spelers hun hand direct weer aan tot vier.
7 Rounds is een simpel spel dat zich met name richt op spelers van simpelere kaartspellen zoals het eerder genoemde Lama, maar ook Uno, Exploding Kittens en de drietal spellen waar Bevers een grote rol spelen. 7 Rounds is door de verschillende effecten soms chaotisch, omdat spelers aan de ene kant zelf bepalen welke kaarten ze willen spelen om hun hand te beïnvloeden, maar tevens weinig controle hebben door de kaarten die andere spelers spelen. 7 Rounds is echter niet bedoeld voor de ervaren veelspeler die strategisch spel zoekt, maar voor de speler die wat minder graag nadenkt over keuzes. Geluk speelt dan ook een grote rol, maar het spel heeft een korte speelduur, waardoor het spelers die niet vies zijn van een beetje geluk en op zoek zijn naar een simpel en snel kaartspel, dat ze gemakkelijk meerdere potjes achter elkaar zullen spelen zeker zal bekoren.