Een reis om de wereld in slechts 80 dagen? Uitdaging geaccepteerd! Ik kan namelijk rond de wereld reizen in slechts ongeveer 30 minuten! En ondanks mijn korte reisduur heb ik meer dan voldoende tijd om allerlei mooie kiekjes te maken van de beroemdste locaties en bezienswaardigheden en neem ik meer dan souvenirs mee voor het thuisfront! In Trekking the World reizen spelers rond de aarde zonder dat zij een ticket to ride nodig hebben. Reis jij een rondje om de wereld, of keer je halverwege toch maar terug?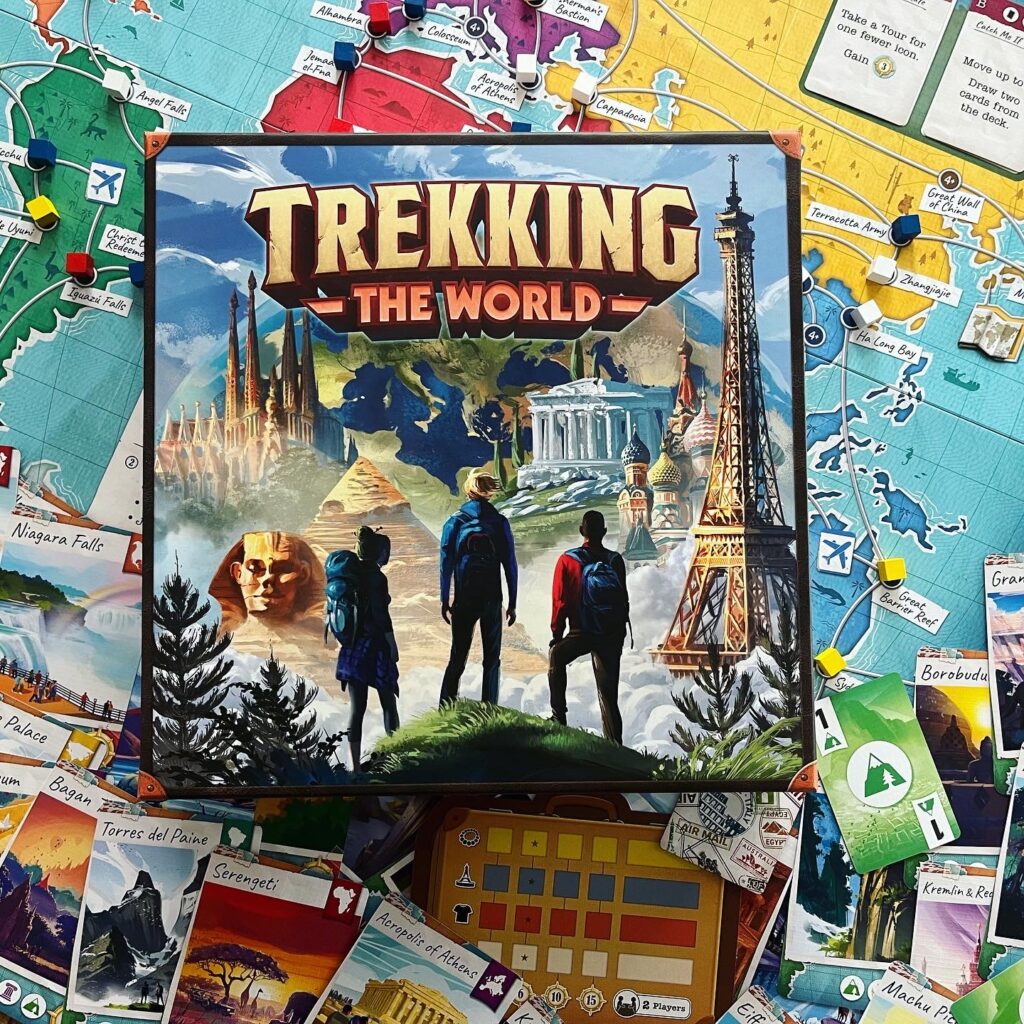 In Trekking the World reizen de spelers ronde de aarde en verdienen zij punten door continenten te bezoeken, souvenirs mee te brengen en bijzondere locaties te bezoeken. De speler met de meeste spreekwoordelijke stempeltjes (punten) in zijn of haar paspoort wint! Wanderlust was nog nooit zo werelds!

Op het kleurrijke speelbord worden allerlei verschillende kleuren houten blokjes geplaatst: de souvenirs. Naast het bord liggen bezienswaardigheden (bestemmingen) waar spelers een bezoekje aan kunnen brengen voor punten. Populaire locaties leveren meer punten op (en uiteraard bragging rights op social media, dus vergeet die selfie niet).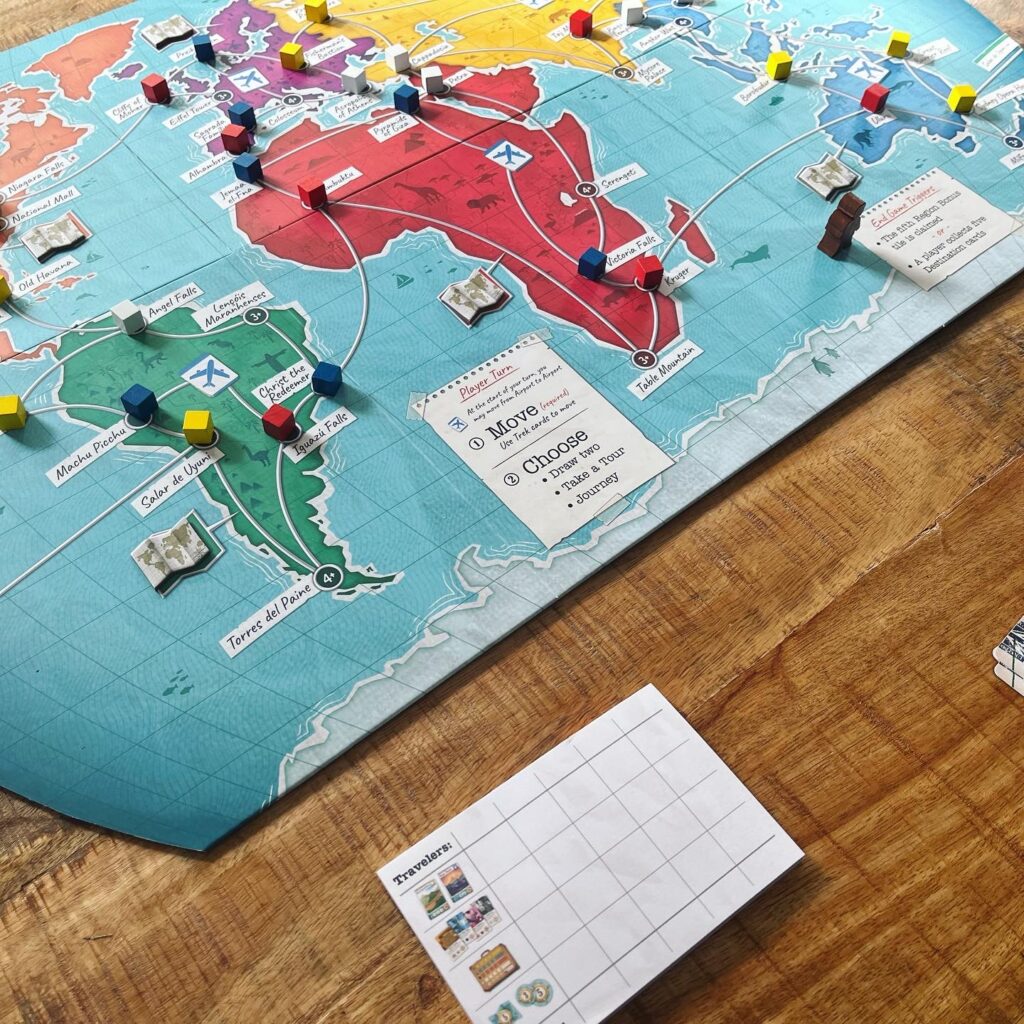 Elke speler begint het spel vanaf een luchthaven en krijgt een aantal Trek-kaartjes. Op de deze staat een symbool en een getal. Met de waarde van de kaart kunnen spelers verplaatsen en de symbolen moeten zij inwisselen om bezienswaardigheden van locaties te kunnen bezoeken.
Elke beurt verloopt als volgt: indien mogelijk, moet de actieve speler een Trek-kaart afleggen om naar een nieuwe locatie op het bord te verplaatsen. Als hier een souvenir ligt, neemt de speler de souvenir mee in zijn of haar koffertje. Souvenirs leveren punten op en als je de meeste souvenirs van een bepaalde soort bezit, krijg je zelfs een bonus. Nadat de speler zich heeft verplaatst, mag deze speler een actie kiezen: 1) 2 nieuwe reiskaarten op hand nemen, 2) een openliggen bestemming bezoeken (als de speler op de juiste locatie is en de juiste symbolen kan afleggen) of 3) een van de 2 speciale reiskaarten spelen (om zo speciale effecten te activeren).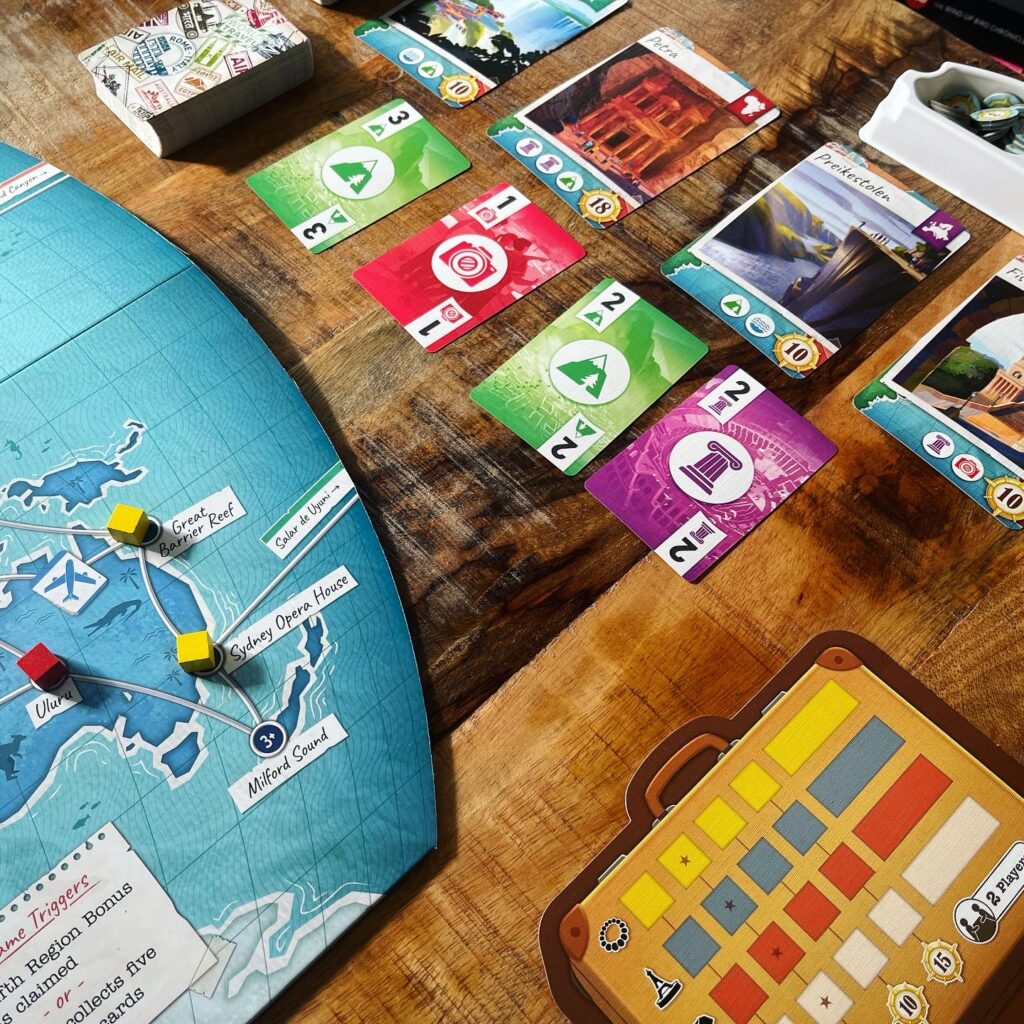 Trekking the World is een kleurrijk en eenvoudig spelletje. Het is wellicht geen complexe wereldreis voor ervaren en reislustige globetrotters, maar eerder een ontspannende vakantie voor beginnende reizigers. Een instapmodel als het ware. Je kunt het spel in zekere zin vergelijken met Ticket to Ride. Spelers hebben keuze in een aantal simpele acties die gevarieerd en tactisch genoeg zijn, maar niet zodanig complex dat het niet uitnodigend is. Het thema is vriendelijk en de productiekwaliteit is erg goed. Wil jij iemand introduceren aan de hobby of gewoonweg een eenvoudig te leren spel op tafel zetten? Dan is deze reis het nemen waard.